Everything Else
College Football Musings from the Train: Week 5
10:15 AM EDT on September 29, 2014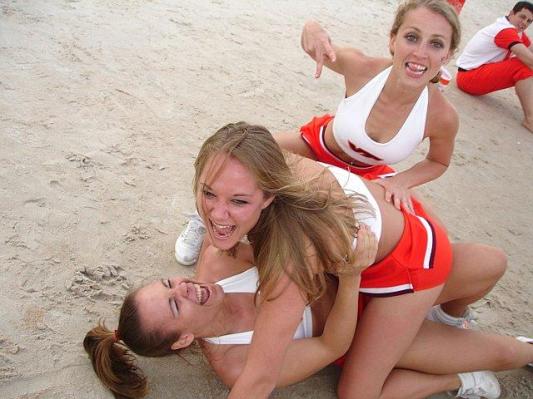 10) Oklahoma State and the worst people on the planet not from Louisiana
On a beautiful Thursday night, Oklahoma State defeated Texas Tech 45-35 in a game that featured five turnovers and 26 penalties. And left me wondering if either of these teams are any good. I mean, I guess OSU is sorta good. The Cowboys, who struggled much of the game running the ball against a porous Red Raider run defense, lit up an overmatched Tech secondary to the tune of 370 yards on only 17 completions, or like 87 yards per completion. Though the Poke faithful can't be thrilled the Cowboys averaged under 4 yards a carry, it was obvious Tech stacked the box, daring the Pokes to throw over the top. Which they did. All damn night.
The Oklahoma State defense was a tale of two halves. Tech amassed 340 yards to go with 21 first downs the first 30 minutes. The Pokes defense was completely gassed and frankly if not for a few big defensive plays and costly Tech penalties, the Pokes trail at half, and probably by multiple touchdowns. The defense turned it around in the second half, surrendering less than 200 total yards and 11 first downs. Davis Webb came into the game without having been sacked. In the second stanza, the Pokes managed to pressure Webb and his backup, who was ill-prepared to play, keeping the Tortilla Throwers from Asshole, TX from mounting any sort of comeback.
Let's be frank - this is the same Tech team that has struggled in each game this season. They nearly lost to both UTEP and FCS "power" Central Arkansas. They were depantsed by Arkansas. And aside from terrible coaching and an unfortunate injury, they stayed with OSU in Stillwater. Oklahoma Stat's inability to control the line of scrimmage on either side of the ball has to be discouraging to Mike Gundy. Tech's discipline was abysmal, but OSU wasn't much better, having been flagged 10 times. And the injuries ... my God, the injuries. This OSU team has some problems.
On the flip side, Gundy must be encouraged by his defense, particularly the tackling. Tech thrives off short passes and run after the catch. For the most part, OSU was able to secure the Tech receivers with little to no yards after the catch. And despite the injuries with supposed lack of depth, OSU didn't miss a beat on defense when starters went down. He also must be excited about what he sees in Daxx Garman, who is doing his best Jason White impersonation this year. This is still a work in progress in Stillwater, and we probably won't know if OSU is any good for another month or so.
-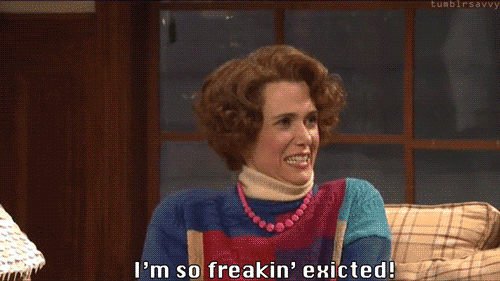 9) Daxx Garman and the Receivers
Daxx Garman has earned it. And by "it" I mean me actually learning his name.
Garman sure can throw a deep ball. Against Tech, he averaged 20 yards a completion. And his incomplete passes weren't the quick hitch, receiver screen types. Run, play action deep, hell, just go deep. That was the Cowboy drive summary on most all drives Thursday night. This isn't a Josh Heupel, horizontal passing frenzy in Stillwater.
And why not? You have some big, fast, productive receivers at OSU. Marcell Ateman - 6'4", 210. James Washington 6'0", 193. Jhajuan Seales 6'2", 200. And as a throw in, how about Tyreek Hill? You know, he of the 10.1 100 and 20.1 200. This is an offense built to go deep on every play, and potentially presents nightmare matchups on the outside.
(tapping the brakes a bit ...)
Though let's see what happens when they get past ISU and Kansas.
-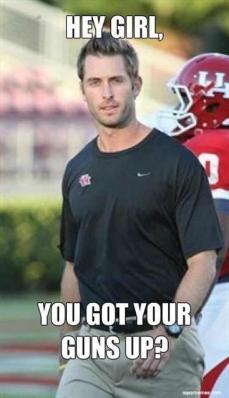 8) Kliff Kingsbury - number 16 on the field, number one in your hearts
If this guy looked like Mark Mangino, he would be in deep shit. By all accounts, this Tech team should be 0-4 on the season. As noted above, Tech has struggled in every game this year. Yes, they actually showed up in Stillwater, but shockingly bad discipline and horrible play calling doomed Texas Tech.
The Red Raiders entered Thursday as the 5th most penalized team in college football. They did themselves no favors in Stillwater, racking up 159 yards on 16 penalties. Flags negated big gains. They created impossible 3rd downs. They brought back a special teams touchdown. That is all coaching, and all on KK.
Penalties are just part of the issue. Hellbent on making Davis Webb's arm fall off, Spliff flatly refused to run the ball with DeAndre Washington, who, despite averaging 6.0 yards a carry, was given the ball only 13 times.
Criminal.
Oklahoma State adjusted to the short and intermediate routes of the Red Raiders, narrowing the field for Webb. So instead of continuing to run Washington through and around the OSU front 7, Tech passed, and passed, and passed it again.
Kingsbury shit coaching lost this game for Tech.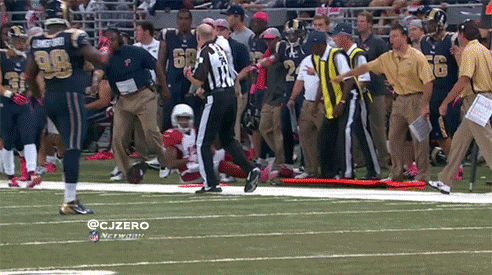 7) Penalties
How to make an entertaining game between two diverse and potentially great offenses damn near unwatchable:
26 penalties. 287 yards.
6) State of the Big XII
Baylor and Oklahoma are clearly the class of the Big XII. Both have multi faceted, at times dynamic offenses. Both have fast athletic defenses. Both are likely to be undefeated when the meet the second Saturday of November setting up a top 5 matchup for a possible playoff berth. Kansas is clearly the worst team in the conference.
Nothing else about this conference  is clear
After the top two ... who really knows. OSU and Kansas State are probably good. West Virginia might be OK a long with TCU. Texas might be 5 days away from the beginning of a couple of shellackings, but they are OK, especially if they play defense. Iowa State? Texas Tech? There are more questions than answers as conference play heats up.
But based on what we have seen so far, the conference can be divided up into three categories:
Top Tier - Oklahoma and Baylor
Dumpster Fire - Kansas
Who in the hell knows - Everyone else
5) What did Oklahoma need to do during the bye week
The Sooners had Saturday off before travelling to DFW consecutive weekends to take on an intriguing TCU and a who in the eff knows Texas. This was a good time for Oklahoma to have an off date. In addition to playing in the metroplex on back-to-back weekends, Kansas State comes to town the week following OU/Texas.
The Sooners need a few guys to get healthy. Keith Ford, now just a member of a stacked running corps, was the best tailback for the Sooners the first month of the season. There are rumors Jordan Phillips' back is acting up. He needs the week off before the Sooners play three teams more likely to run the ball versus the forward pass. Charles Tapper needs some time to recover from his sickle cell outburst. And Zach Sanchez ... in addition to learning how to tackle, needs to allow that shoulder to heal.
The Sooners need to practice the deep ball. Garman has a deep pass OU fan would trade a body part for. Trevor Knight continues to struggle (Alabama relatively speaking), especially throwing the deep ball. And throwing to pretty much anyone not named Sterling Sheppard. Finding a couple more receivers who can catch the ball wouldn't hurt either. Like, oh I don't know, rediscovering Blake Bell in the middle of the field.
What the Sooners should not do:
1) Grab a sandwich on Campus Corner
2) Ride in the bed of a pick up truck
3) Visit Burlington Coat Factory
4) Pump gas and then not pay for it
5) Drink beer at a professional sporting event
6) Apply for a job at Big Red Sports and Imports
4) Over/Underrated
Overrated
SEC East - there isn't a good team in this division. I don't think many of them suck, but Georgia isn't any good. Missouri lost at home to Big 10 doormat Indiana. South Carolina lost to that Missouri team at home Saturday evening. Tennessee is young. Florida seems on being the most overhyped program in the country. It's a bad, bad group of teams.
SMU - loljk, they suck big Rhino testes.
Notre Dame - the domers haven't played anyone this year with a pulse. Yet, somehow (well, I know how) pundits are starting to pencil in the Irish as a potential Final Four team. And it's not just Lou Spittle. Let's see what happens this week against Stanford before we knight these guys.
Underrated
Michigan State - fell off the radar after collapsing in the final quarter at Eugene a few weeks ago. This is a really good team in a really bad conference. They are also likely to be a one loss team with the "best loss" on its resume. They will be in the discussion come December.
Arkansas - the Razorbacks are the only team on the other side of the SEC that isn't ranked. They would win the SEC East with ease.
Georgia Tech - they aren't going to finish in the four team playoff, but they have a difficult offense to prepare for and play a grand total of ONE ranked team this season, and that team belongs in that shit division of the SEC (Georgia). Tech could very well end the season with at most two losses.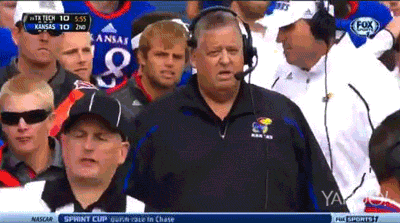 3) Texas is so bad this year ...
(How bad are they?)
They are so bad that when a universally reviled head coach loses to them 23-0, he loses his job. It took four Kansas interceptions and far and away the best game of Tyler Swoopes young career for Texas to defeat the hapless Jayhawks in Lawrence.
The Texas offense still isn't any good, primarily because the Longhorns can't run the ball. Against a brutal front 7, the 'horns managed 111 yards on the ground, averaging just over 3 yards a carry. Though Swoopes was relatively good, Texas cannot rely on him leading them to many more victories through the air. Texas plays Baylor, Oklahoma, and Kansas State (in Manhattan) in October.
If this team can't establish some sort of running game between now and Saturday, they are going to be 3-5 going into Lubbock, with Oklahoma State and TCU still left to play.
2) Final Four
Texas A&M - Didn't look great in beating Arkansas, but that offense is crazy good. Alabama has proven to struggle against such offenses.
Florida State - Again, didn't look good against an average conference opponent. But who is going to beat them in conference?
Oklahoma -  Excited to see this offense against a good defense the next two weeks.
Oregon - So perhaps UCLA is back? Could make for a great conference championship game.
1) Predictions
Oklahoma/TCU
TCU isn't Alabama. But they aren't Texas Tech either. This would be a much more interesting game if TCU fan showed up and this game was at night.
Oklahoma: 24
TCU: 13
-
Oklahoma State/ISU
Again, much more interesting game if this was at Ames at night. As it is, ISU won't have the horses to hang around late.
Oklahoma State: 34
ISU: 14
Stay in touch
Sign up for our free newsletter