ICYMI
Dog the Bounty Hunter is attending a campaign fundraiser for the Fetus Food lawmaker…
12:01 PM EDT on September 17, 2014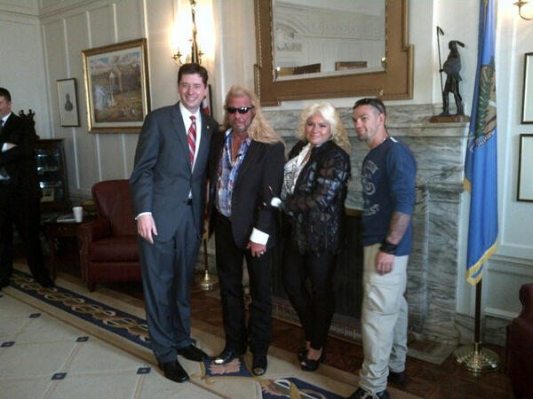 Last year, Dog the Bounty Hunter and his wife Hulk Hogan made a much publicized visit to the Oklahoma State Capitol to pitch new laws and regulations designed to protect Oklahomans from poorly trained, thrill-seeking, only-in-it-for-the-attention bounty hunters like Dog the Bounty Hunter. Nothing ironic with that. Maybe next session we can bring out the Duck Dynasty gang to talk about hunting safety, racism or the hazards of beard ticks.
Dog was a popular man during his trip and felt right at home being surrounded by his target demographic of low IQ irrational simpletons. Just about every lawmaker, staffer and 10 Commandments Monument installer lined up to get their picture made with the celeb. My favorite was the one above where Dog appears to give State Senator David Holt, leader of the Senate Goober Caucus, a move called "The Tickler."
If you missed your chance to meet Dog, don't cry you like you've been cuffed and sprayed in the face with pepper spray. You'll have another chance to make your friends from Meeker and Chickasha jealous.
Yesterday, it was announced that Dog and his wife will headline a fundraiser for State Senator Ralph Shortey on October 2. You may remember Ralph. He's the mouth breather who introduced totally serious legislation in 2012 that would have prevented aborted fetuses from being sold as food in Oklahoma grocery stores. He also once killed a mad turkey... with a club.
Here's a pic of Ralph from an Oklahoman article to help refresh your memory. I've also included a few more a details about the fundraiser: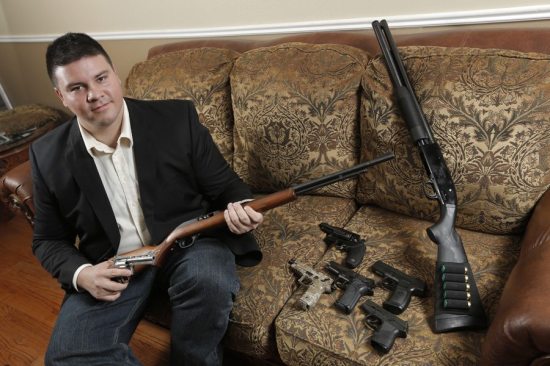 Question. While we're passing totally necessary laws to regulate the Dogs and Boba Fetts of the universe, can we do something about getting guns out of the hands of crazy people who think aborted fetuses are used as food? I'm a first time caller and I'll take my questions off the air.
Here are some details about the event from the Dog and Beth OKC webpage:
Dog and Beth OKC Event – October 2nd

Dog the Bounty Hunter and his wife Beth will be coming to Oklahoma City for a Campaign Rally for Senator Ralph Shortey. Anyone is welcome to this event with a minimum donation of $25 for a ticket and a canned food item. Dog and Beth will be delivering all food donated from the evening to the Regional Food Bank the next day. Dog will be speaking about his past and his experiences as a bounty hunter over the last 30 years. He will also speak about his support of Senator Ralph Shortey who has been a friend to the bail industry and who has been featured on the show "Dog and Beth: On the Hunt". This will be an action packed event featuring Dog and his unique approach to bounty hunting. Come and meet Dog the Bounty Hunter LIVE in person and see him in action on the stage.
Uhm, please explain how this will be an action packed event? Is Dog going to make a live arrest and freeze someone in carbonite, or is Ralph turning this thing into a carnival? That would be kind of fun. Games could include a gigantic turkey piñata, shoot the tail off the donkey, and bobbing for fetuses. If Shortey is an a dunk tank, I'll be there.
Anyway, since Dog has such a large fan base in Oklahoma, I'm thinking we should just buy a couple of tickets to this show and send Annette Colbert-Latham, Joe Exotic and possibly Danny Glover out to pitch a new reality show called "The Real Bounty Hunters of Oklahoma City." Sadly, I think it would be a runaway smash.
If that doesn't work, maybe we can get The Street Outlaws involved. You know how sitcoms on the same network occasionally have the crossover episode where they merge casts and stories? Perhaps we could do something similar? I'm sure half the Street Outlaws guys have outstanding warrants. We could send Dog out to closed off roads and abandoned airports to hunt them down. We could even make Ralph Shortey his trusted assistant that says stupid things and provides unintentional comic relief. He's fills that role very well.
Stay in touch
Sign up for our free newsletter