Everything Else
College Football Musings from the Train: Week 3
10:00 AM EDT on September 15, 2014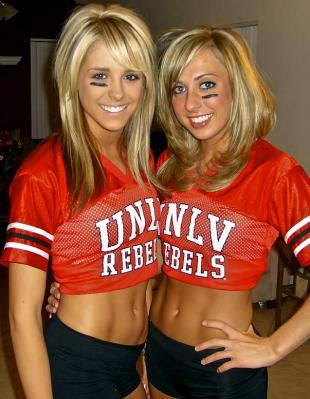 10) SEC < Big XII
In a strong effort to duplicate the first two weeks of the season, Oklahoma played near flawless football for a little over one half, then let off the pedal on both sides of the ball, cruising to a 34-10 win against Tennessee on Saturday night. The Sooners ran out to a 20-7 halftime lead, increased said lead to 27-7 three minutes into the second quarter, then stopped playing football for the most part the remainder of the contest. In fact, if not for two endzone turnovers, one of which was run back by Julian Wilson for a touchdown, the game takes on quite a different tenor late in the fourth quarter.
Trevor Knight continues to play solid if not spectacular football. Knight was 20 of 33 for two touchdowns (one rushing) and had a couple of timely quarterback draws/read option keepers sprinkled throughout the game. He appears to become more comfortable each game. Though his deep passes aren't perfect, and he seems at times hellbent on not running the football, this is the guy most rational Sooner fans were hoping for after the Sugar Bowl. He isn't going to have an Alabama game every week. But he also isn't going to have a ULM or West Virginia or Landry Jones game either. As the coaches continue to force feed a passing game, he and Sterling Shepard, and emerging Durron Neal and Blake Bell, will be on the same page as the schedule increases in difficulty.
As for the defense, they get their own section of the article.
I said before the game that this Oklahoma team just seems different. Very businesslike. Efficient. Yes, they made a few mistakes Saturday night. And yes, the offense went in a damn shell the last 25  minutes of the game. And yes, the defense game up a few big yardage plays. But this is not the same team that pussy footed through a bad West Virginia in 2013, or got boat raced by Aggie in 2012, or got embarrassed by Oklahoma State in 2011. They may not be superior at any one position (save one really big exception), but they are good at every position.
-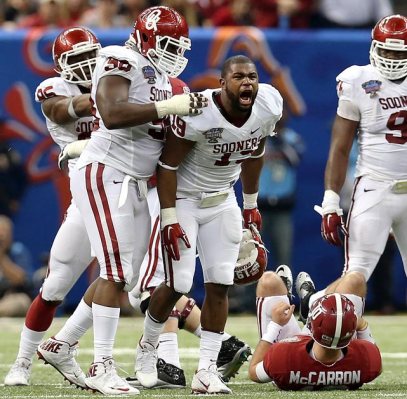 9) The Oklahoma Defense .. or rather Eric Striker
Oklahoma has a superior defensive line.
The Sooners defense sacked Tennessee quarterback Tyler Worley five times this past weekend, forcing him into two turnovers and under 50 percent completion percentage. And if not for true freshman running back Jalen Hurd's and back up Marlon Lane's 99 rushing yards the final 20 minutes, Tennessee would have ended with a negative on that side of the ledger. With five minutes left in the 3rd quarter, the fake UT had 131 total yards of offense. For most of the night, Oklahoma dominated a young, yet talented Tennessee offense.
But the story within the story was the Oklahoma defensive line and pass rush, aka the Eric Striker show.
Genoa Grissom, Jordan Phillips, and by God Eric Striker were the best players on the field Saturday night. Phillips broke through double teams to stuff the Volunteer run and harass the quarterback. Grissom was a monster off the end and in the short passing game.
But Eric Striker dominated Tennessee.
No, he didn't have double digit tackles. No, he didn't record a single sack. But with 6 tackles, 2 of which went for negative yards, and three quarterback hurries, he made the Tennessee offensive line and tight ends look middle school-esque. He was seemingly in on every play. He created sacks for his teammates. He ran down running backs. He hammered pass catchers. It was the best individual performance by an OU defender since Roy Williams 2001 in Lubbock.
-
8) Another OSU humdinga!
Oklahoma State held UTSA to 206 total yards, including paltry 2.1 yards per rush in beating a game and frankly decent UTSA squad 43-13. With UTSA having pulled to within 14 early in the fourth, Daxx German went 7 of 8 in leading OSU on two long scoring drives resulting in 10 points and effectively putting the game away.
At this moment in the young season, no one really has any idea what this OSU team is.
The Pokes are an evolving team on both sides of the ball. The loss of JW Walsh has moved the offense from dual threat, zone read, short passes to run run run throw downfield and hope no pressure gets to Garmin. The defense is moving from a big run plugging front seven to a multiple pass rushers, multiple look defensive front. Dacks was at times great, at times uninterested in dealing with the pressure. And when he was great, his receivers didn't help him much.
But this is still an offense that was able to run 79 plays without a turnover and with few penalties. That in itself is an accomplishment considering the inexperience on the offensive line and Guard Man has played one season of football the past EIGHT years. The defense completely shut down a decent Roadrunner attack that just a few weeks ago humiliated Houston.
The Jimmies and Joes are there for OSU, especially at the skill positions and on defense. If they can continue to gel through this month and next, they are going to pose a large problem for the perceived elite of the conference in November.
-
7) Speaking of the OSU quarterback situation ...
Former starter and current sidelined running back JW Walsh is out for at least six weeks after undergoing surgery on his right foot. Which sucks for him because surgery to, say, his right shoulder might have enabled him to complete a pass more than 30 yards downfield. He could have been like that kid in Rookie of the Year who then played Kevin in American Pie.
More unfortunately for J Dub, we now have this: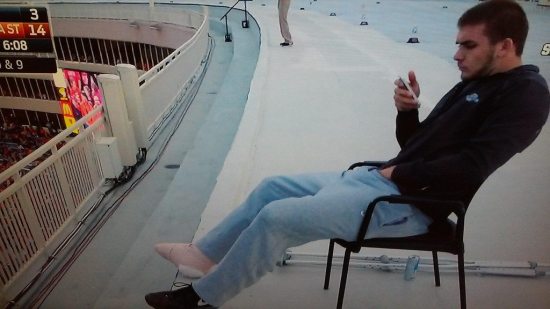 Hope he has unlimited data or one helluva wifi signal.
-
6) The Fall of Adrian Peterson
What in the hell is with the running back position at OU these days?
Current Viking running back, former Sooner, and soon to be former namesake of the Adrian Peterson Team Meeting Room at Gaylord Memorial Stadium, Palestine's favorite son All Day was indicted by a Montgomery County Texas grand jury of "reckless or negligent injury to a child". Peterson is accused of and copped to whipping his four-year-old child's bare ass, back, legs, and scrotum with a switch 10-15 times. Until they looked like THIS.
I have a soon-to-be four-year-old who acts like a little asshole on occasion. So far be it for me to criticize how a dad punishes his son for being an asshole. But if you can't get your point across without causing SEVERAL welts and breaking skin, you deserve what you have coming to you. And for AD that's a nice little criminal charge and the possible end of your career.
Adrian Peterson ... *sigh* ...
Sooner. A damn Oklahoma legend. Beloved by the Sooner faithful. Complete badass on the field. By all accounts good guy off the field.
Adrian Peterson ... now an alleged child abuser.
-
5) Mixongate, 2.0
Speaking of the running back position, a quick rant about the student rally and Joe Mixon's presence with other players.
For those that don't know, who don't read the local paper online or in print, who don't listen to sports radio or venture to local sports related blogs/message boards ... Joe Mixon was photographed at a voluntary student pep rally last week with several teammates OU football players, prompting a f*cking shitshow created by Jason Kersey and Regular Jim Traber. One intimates Mixon was inappropriately participating in a team-related activity. The other just says it.
I'm sorry ... I must have missed the part where Mixon's punishment was directly from or sanctioned by the NCAA. Or even the Big XII. He was punished by the University of Oklahoma via year-long suspension using vague, sweeping terms. Which means the University is free to interpret those terms how they see fit. Which means if OU and the football program believe that Mixon can show up at a voluntary, student-related activity, and walk on stage with the OU football team, then that is the prerogative of OU. Kersey and Traber can talk about the moral implications of Mixon's actions, but don't give the public some line of bullshit about how said action violates this that and the other. That's talking above your pay grade, gentlemen.
That is unless, of course, Kersey and Traber are trying to run Mixon out of town. We are talking about the modern journalist, after all. If you can't report any exciting news, simply create it!
-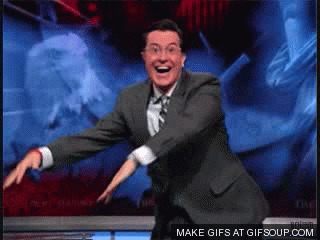 4) The Resurgence of USC was greatly exaggerated
I guess the whole "USC will be distracted by all the off the field stuff because the team captain didn't rescue dying nephew and racist Sark" was off by a week.
One of the worst teams in one of the worst power conferences straight up bitch slapped the mighty Trojans 37-31 Saturday afternoon in Boston. The Eagles amassed 452 rushing yards, outgaining SC by 170 total yards in hammering the Trojans into the ground. Boston College lost the turnover battle, converted two third downs, and completed less than 40% of their pass attempts ... and won.
USC still has talent, just not depth. They can still win the Pac 12, but won't. They are still a few years away from returning to championship caliber. Just not yet.
-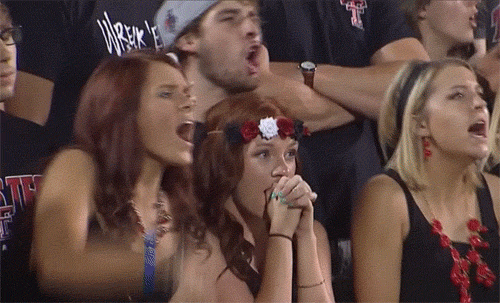 3) SEC > Big XII
If Kliff Kingsbury wasn't Ryan Gosling's doppelganger, he'd be fired mid-season.
Texas Tech did their dead level best to embarrass a conference that already boasts Kansas football in allowing Arkansas to win back-to-back games for the first time in over a year. It was the first win by the Razorbacks against an FBS opponent in 364 days. It was Arkansas' first road win since October 6, 2012. So perhaps that whole undefeated streak to start 2013 was the mirage, and humiliating losses to Arkansas and close calls to that other Arkansas team are the norm.
The Red Raiders, at home, gave up 438 yards rushing and seven touchdowns. Did I mention this is the same Arkansas that won a grand total of no conference games last year? Of the 80 plays ran by Arkansas, 68 were on the ground. The 'backs completed six forward passes and were still able to run for 6.4 yards per carry. They held a 41:00 to 19:00 minute time of possession advantage. Arkansas had five touchdown drives that covered 68 or more yards. The vaunted Tech offense was held to 353 total yards.
And it didn't look that close on television. Even when the Red Raiders got to within a touchdown entering the fourth, it didn't matter - Tech had no answer to the Razorback running game.
So that means Baylor and Oklahoma and maybe Kansas State and OSU are good? We will find out more about K-state on Thursday. Auburn hammering the Wildcats would render this weak conference pathetic.
-
2) The Final Four
Oklahoma - Passes a test in Norman. How big a test remains to be seen. West Virginia will not be a pushover in Morgantown.
Oregon - The Pac 12 is all of a sudden pretty average. Ducks biggest test has looked bad early this year. Could run roughshod over the conference until the title game
Alabama - Good call on that Georgia team. Alabama has some tough road games (Ole Miss and LSU), but gets Auburn at home.
Florida State - if Notre Dame is the toughest game left on your schedule in mid-September, you are as "shoe in" as "shoe in" gets.
1) Predictions
Gravy Train/Vegas
I am going to the city of sin this Thursday for an educational conference attempt to kill my liver once and for all. I fully expect near death experiences and multi-million dollar payouts.
Vegas: 43
Train: 2
Oklahoma/West Virginia
Oklahoma is giving 11 points to West Virginia. This is one of the spreads that scares me as an OU fan. Vegas thinks this is a one possession final. Agreed.
Oklahoma: 38
UWV: 35
Stay in touch
Sign up for our free newsletter