Politics
Mary Fallin isn't so popular…
1:51 PM EDT on July 15, 2014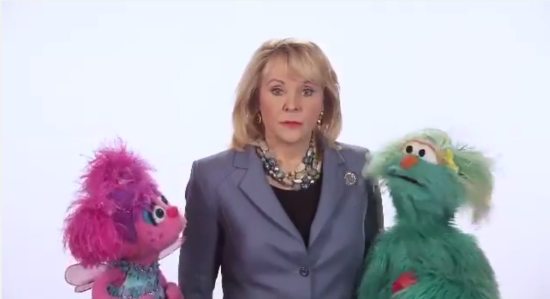 Earlier this week, The Tulsa World reported that Governor Mary Fallin's approval rating hit an all time low of 52%. To put that in perspective, The Phantom Menace has a 57% approval rating at Rotten Tomatoes. So basically, people approve of shitty movies more than our bad governor.
From The Tulsa World:
The past year has taken a bite out of Gov. Mary Fallin's approval rating, polling over the past four years indicates.

Fallin's favorability with Oklahoma voters dipped to 52 percent in early June, according to an Oklahoma Poll conducted for the Tulsa World by SoonerPoll.com.

That represents a new low for Fallin in Tulsa World polling, and a 19-point drop from her high of 73 percent in September.

Falling's rating stood at 71 percent a year ago.

Bill Shapard of SoonerPoll.com said some difficult political situations have likely cooled the enthusiasm of both conservatives and moderates. He specifically mentioned Fallin's continued resistance to the Affordable Care Act's expanded Medicaid program, and a revolt against important elements of the governor's education agenda.
Yeah, this isn't too big of a surprise. As Bill Shapard mentioned, there are several good reasons for people not to like Mary Fallin. He did miss some obvious ones, though.
First of all, she's a woman. That definitely can't help her cause. Whether we're putting them in prison or simply telling them what they can or can't do with their body, Oklahoma has a long, storied history of doing everything possible to make life miserable for women. The fact that we even have a female Governor is kind of a surprise.
Second, there's that whole open records thing. How could you approve a Governor who wants to keep open records secret? If you're going to turn down federal dollars that provide healthcare coverage for poor Oklahomans in order to advance your own political career, at least let us see the emails that helped you decide.
Third, she's the George W. Bush of governors. Whenever she gives a speech, you can tell that she literally doesn't comprehend a word of what she's saying. Thank God a state can't declare war, otherwise we'd be occupying Alberta, Canada to protect the interests of Continental Resources. I can't wait to see her paintings once she retires.
Anyway, these new polling numbers have to be good news for Democratic Gubernatorial candidate Smokin' Joe Dorman, right? According to The World, maybe not.
Shapard sees little chance that Fallin's slipping poll numbers will change November's general election. Fallin is opposed by term-limited Democratic state representative Joe Dorman and two lesser-known independents.

"I don't see a scenario where Joe could (win)," Shapard said.
That sucks. I wouldn't bet money on Joe Dorman to win, but upsets can happen, right? Just ask Brad Henry. Maybe someone can convince Gary Richardson to run as an independent again?
Seriously, Joe Dorman would be a cool Governor. And no, I'm not just saying that because we both have crushes on Joleen Chaney and I'd probably be invited to his keggers at the Governor's mansion. You see, Joe also hates The Phantom Menace. According to sources, it's Mary's favorite Star Wars film. There's another reason to disapprove.
Stay in touch
Sign up for our free newsletter