Everything Else
Breaking News: Street Outlaws is staged
11:55 AM EDT on July 10, 2014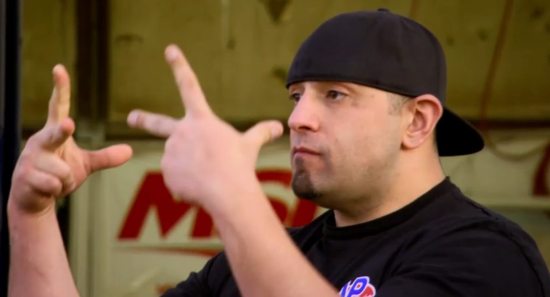 The third season of the Oklahoma City-based reality show Street Outlaws premiered on the Discovery Channel a few weeks ago. It's a pretty exciting time for us here at TLO. Thanks to our very popular critique of the first episode, we're usually hit with a couple of thousand page views each Monday from racing fans searching for answers to questions like:
"Is Street Outlaws real?"
"Where is Street Outlaws made?"
"Will watching Street Outlaws make me gay?"
After finding the answers to their questions, confused boys and grown men who drink Bud Ice send me totally real emails where they either a) express their extreme displeasure in The Lost Ogle or b) think we're part of the show. Here are a few we've received over the past week:
i like what your doing keep being outlaws fuck the haters but i have a buell 2007 tt lightening that id really want to trade for a 350 chevy engine that i can put in 81 silverado can you help not much cash but clean bike to trade- Joey-

My girlfriend and I would love to ride out on vacation this year just to ser flipscar no disrespect he just reminded myself of me. Like all yall just really want a pic of the slut to hang on my wall with some autographs We dvr every episode. By the way when the Crow and the truck face off I prolly be jumpin up and down thank God for fast forward time. You guys be safe and take it easy.

- Ray-Fuck you.!! You don't know ANYTHING about racing based on the really bad article loser! How do you have ajob. WOrst writer ever lol.- Earl
You know how you'll spell out a word in front of your kid or dog when you don't want them to know what you're talking about? Something like "Should we give princess a T-R-E-A-T?" Well, I'm pretty sure you can do the same for Street Outlaws fans. Knowing that, and since I don't want to ruin the dreams of people like Joey, Ray and Earl, I'm going to tell you a little secret:
Street Outlaws is S-T-A-G-E-D.
If you read our first review, you'd know that. But don't just take our word for it. News 9 recently reported that the Union City Police Department – the same people who the "rebels" on Street Outlaws are allegedly trying to avoid – helped shut down a highway so the gang could put on their lady helmets and race safely without any distractions:
"Illegal" Street Racing Show Shuts Down Highway With Police HelpA show about illegal street racing in Oklahoma is raising some serious red flags, this after the show's producers close a major US Highway. And News 9 has learned a local police department was helping them.State Highway 81 in Union City was shut down for about 10 hours Saturday night while the crew taped the show. Burn out marks and a black oily substance still remained on the highway Wednesday.The Discovery Channel show Street Outlaws is said to be about illegal racing on the streets of Oklahoma City, but in reality they were shooting about 20 miles outside OKC in Union City.When News 9 photojournalist Cody McDonell showed up with a camera Saturday night he was told he had to leave. A guy wearing a T-shirt flashed a badge and identified himself as a "police officer in Oklahoma"."It is a permitted area. It is closed," he said.And even though News 9 was on a public street, a Union City police officer stepped in and threatened to throw our photojournalist in jail."If you don't want to leave I will put you under arrest," he said.Officers on the scene said since this was permitted area we were not allowed to be there. On Wednesday Union City Police Chief Robert Ague said we were creating a hazard."Creates a hazard for the motoring public and whenever you have vehicles sitting off on the side of the road it creates a traffic hazard," he said.
Wait a second. Union City Police Chief Robert Ague? He's the same guy who was arrested wouldn't investigate when one of his employees stole a gun from a fellow officer and sold it to a convicted felon. I'm glad he's warning us of the traffic hazards created by having the media park their cars along a public road that's closed so guys can drag race at high speeds.
That's just nuts. It makes me wonder if Street Outlaws is more real than we thought. Whether you're racing street cars on closed roads, stealing copper wiring or making meth in a shed in your uncle's backyard, getting protection from a crooked small town police department is important to any illegal enterprise. Hopefully that becomes a plot point on the show. Maybe they'll have Big Chief give the police chief a set of freshly stolen rims and tires as payoff.
Anyway, News 9 talked to apparent first amendment expert Joey Senat and the Oklahoma Highway Patrol about the legality of shutting down a public road to film a staged reality show and then blocking the media from being there. You can watch the video here. Or, if you simply want to send us an email complimenting the great work we do on Street Outlaws, visit our contact us page.
Stay in touch
Sign up for our free newsletter