ICYMI
The Oklahoman issued a sad, eye-rolling and suspect endorsement for Janet Barresi…
2:19 PM EDT on June 16, 2014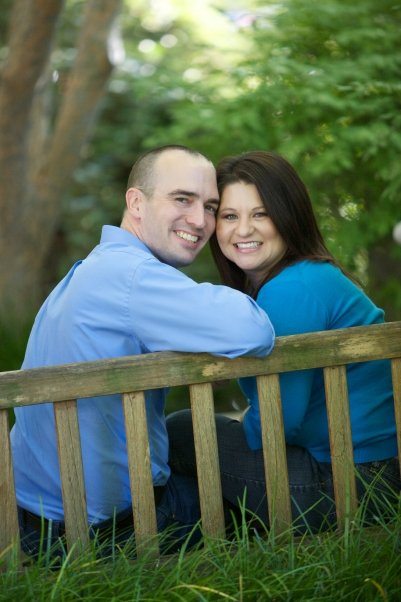 The boring couple that looks like they just stumbled out of a church adoption brochure are Ray and Jennifer Carter.
Jennifer is a close ally of State School Superintendent Janet Barresi. She was Barresi's first campaign manager, first chief of staff, and oversaw the creation of Barresi's squadron of evil winged flying monkeys. She also pulled a Barresi in 2011 and referred to educators as "dirtbags" on Twitter. She's now doing work for the Barresi campaign through her firm Jennifer Carter Consulting.
I'm telling you this because Jennifer's husband, Ray, is a former PR flack who just happens to be an editorial writer for The Oklahoman. For a living, he regurgitates conservative talking points, protects the newspaper's friends and allies, and attacks and destroys their enemies.
Knowing all that, you probably wouldn't be surprised to learn that "The State's Most Trusted News" recently endorsed Janet Barresi for State School Superintendent. Tomorrow, expect them to outline the awesomeness of Kendrick Perkins' contract and tuberculosis.
Anyway, even with a Barresi cronie writing the piece, it may be the saddest endorsement ever printed. It's about as enthusiastic as kid doing chores. Even Inspector Gadget thinks the thing is a stretch.
Check it out:
Reform-minded Janet Barresi due the support of Republican primary voters

U.S. Secretary of Education Arne Duncan put Oklahoma in an embarrassing spotlight last week. During a briefing at the White House, Duncan noted that in Oklahoma, "40 percent of high school graduates have to take remedial classes when they go to college. Why? Because they weren't ready..."

Janet Barresi has made it her mission as state schools superintendent to put a dent in ugly statistics such as the ones cited above. Barresi has made her share of missteps — and expended plenty of political capital — during her first term, but true education reform is at the heart of her work. She deserves a second term to continue the effort...
Just to clarify, in the first two paragraphs of an editorial that's supposed to endorse Barresi, the Oklahoman points out that:
A) 40-percent of Oklahoma High School Graduates have to take remedial classes to go to college
B) Barresi has made her "fair share of missteps" and "expended plenty of political capital," but that we're supposed to ignore all that because she's determined to reform things?
Those are some mighty accomplishments! Please, give us more reasons to vote for this lady:
Barresi's office has made mistakes. The rollout of her A-F grading system for the state's schools, which puzzled superintendents across Oklahoma, should have been handled better. Releasing the names of students who were appealing the results of state-mandated graduation tests was a gaffe. Problems with the companies that administer end-of-year tests have been troublesome.
Seriously, is this a legitimate editorial in support of Barresi or is the Oklahoman Editorial Board now dabbling in satire? Are they going to suggest that Janet Barresi ask the Irish to eat their babies? Give us something Barresi has done to deserve our vote:
But Barresi also has strongly resisted attempts to roll back graduation standards. During her 3½ years in office, the percentage of students passing four of seven end-of-year tests in subjects such as geometry and English has steadily increased. She has been a staunch supporter of school choice, including charter schools, online learning and homeschooling.

Barresi fought this year to keep in place a state law, enacted in 2011, that required third-graders to be able to read above a first-grade level or be held back. Lawmakers scuttled the law in the 2014 legislative session, then overrode Gov. Mary Fallin's veto of the bill.
Yes, Janet Barresi should keep her job because she fought hard to flunk more third graders. Outside of euthanizing puppies, nothing says success like flunking an 8-year old kid.
I also like how she wants to make it harder for struggling high school students to get diplomas. I love that strategy. It's similar to the philosophy I take with video games. When I get to a level that's too hard, I move up the difficulty so that I'll get really discouraged and want to stop playing the game forever. It works every time.
Here's the last paragraph of the editorial. Maybe this will be the part where Janet Barresi's protege's husband addresses the obvious conflict of interest of him being part of an editorial team that's endorsing his wife's boss. Just kidding:
Barresi's management style has left her open to criticism, but this shouldn't be a personality contest. Playing nice and getting along well with others aren't the only measures on the report card for state school superintendents. Barresi's overarching goals are ones Oklahomans should support, regardless of party affiliation. She wants to improve education for all students. She wants to increase rigor so those students are well prepared to succeed in high school and college or in their careers.
So there you have it, The Oklahoman thinks you should vote for Janet Barresi because... she's an abrasive, alienating, bridge-burning tyrant lady who wants to improve education for all students? Uhm, can't we find some nice qualified person who wants to improve education, too? In case you care, the answer to that question is "Yes." Just don't expect the Oklahoman editorial writers to tell you about it.
Stay in touch
Sign up for our free newsletter