Everything Else
Marcus Smart probably wants to push Pistols Guy…
10:24 AM EST on February 18, 2014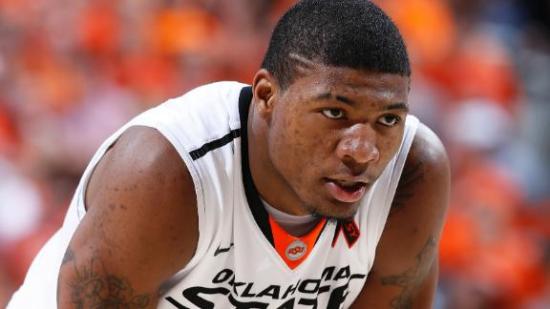 Things are not going too well for OSU point guard Marcus Smart.
First he attacked a chair. Then he a pushed a fan. Now he's trying to bully the team's homer bloggers on Twitter.
In case you missed it, Marcus Smart called out OSU fan blogger Kyle Porter on Twitter last night. Kyle runs the OSU news blog PistolsFiring.com. Kyle's a pretty big OSU homer. He's not quite in Robert Allen or Tom Durato territory, but on a scale of 1 - 10, I'd say he's a 8. He's still biased, roots for the program and blames all his problems in life on Thayer Evans, but it doesn't stop him from criticizing the athletic department. Plus, Kyle will send you a thank-you note if you meet up with him for happy hour.
Anyway, while the Cowboys were blowing a winnable game against an equally under achieving Baylor squad, Smart sent a few tweets Pistol Guys way. Of course, Smart had time to do this because he was serving the final part of a three-game suspension for punching that asshole Texas Tech super fan.
Here are the tweets: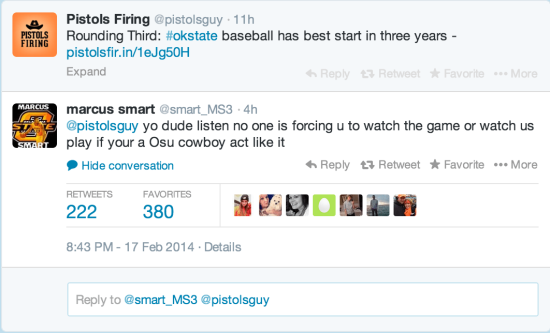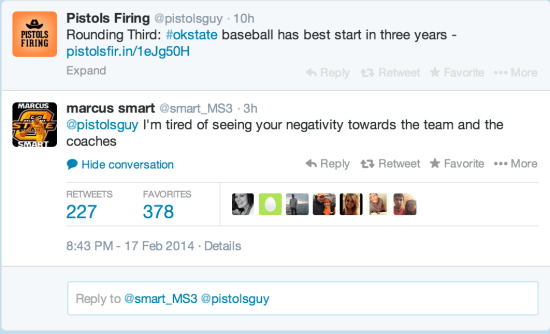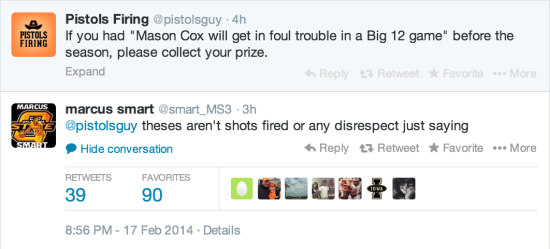 So, Kendrick Perkins posted salty tweets about Darnell Mayberry and now Marcus Smart is mad at Pistols Guy. Before you know it, Trevor Knight is going to come after James Hail or complain about JR's BBQ sauce. I can't wait for that.
If you noticed, two of Smart's tweets came after Pistols Guy praised the OSU baseball team for the best start in three years. I know what you're thinking. They're playing baseball in February? That's stupid.
But it was not baseball praise that set Smart off. According to this story at KOCO.com, it could be that Kyle Porter created a website called IsTravisFordFiredYet.com. When visitors went to the site yesterday they were greeted with a message stating "Not Yet." Kind of funny. Unfortunately, because Kyle Porter is a Level 8 OSU homer, the site now says:
Hi, sorry if you came to this page expecting the "NOT YET". I decided to take it down, as I have come to realize that it was very classless of me to create this website regarding Ford's career here at OSU. Although I don't like where the leadership of Travis Ford may have (or may have not) taken this team so far, I need to stand loyal and true. Even through the hard times. This was honestly meant more as a joke, but I have noticed a lot of people are taking this as a malicious attack on Ford. It was not intended to be, and if you took it that way I'm sorry.

Go Pokes!
Right when it looked like Kyle was breaking out of his OSU super fan homer shell, he crawls back in. I'm not complaining, though. I'm a big fan of Travis Ford and think he's perfect for the Cowboys. OSU should resign him to another 10-year contract.
(Update: Ogle Fail! Kyle didn't create the site. He just "linked" to it. This pisses me off because a) I was wrong and b) rewrote most of this post this morning to include that blurb. I guess that's what I get for visiting KOCO.com in the morning and writing stuff while hung over.) 
Anyway, I kind of feel sorry for Marcus Smart. He pulled a Ryan Minor and stayed an extra year in college and is now paying the price. Obviously, he's not taking it too well. Instead of coming after OSU fans on Twitter, maybe he should take their advice instead. From a Pistols Firing column last April:
Marcus Smart is coming back to OSU

(After a few paragraphs of giddy excitement)

From a purely economic standpoint this is an atrocious decision. He's going to be, at worst, the third pick in the draft with a decent chance at being No. 1 overall.

There's no short-term value in coming back. I mean none, zero, he can't improve his draft stock unless he becomes the consensus No. 1 pick which leads us to my other point.

This year's draft is horrible. One of the worst in the last decade. Again, from an economic standpoint, Smart should take advantage of that because next year's is going to be loaded.
Then again. Maybe he shouldn't listen. In the same column, Porter wrote:
OSU will be a top 10 team, the (heavy) Big 12 favorite, and a likely Sweet 16 squad.

So here you are, Stillwater, Marcus Smart is coming back. Awaken the echoes in GIA and enjoy the spoils of this lunacy.

Next year is going to be a blast.
In odd way, this season has been more than a blast. It's been blown to pieces.
Stay in touch
Sign up for our free newsletter