Everything Else
College Football Musings from the Train: Bowl Game Edition
9:30 AM EST on January 6, 2014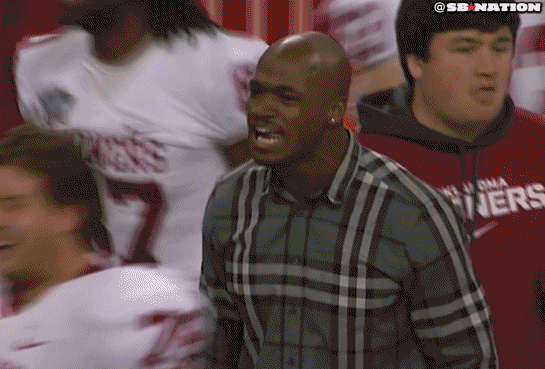 10) So about that whole "Oklahoma's last win will be Iowa State" ...
"What if I told you the greatest team in the history of modern sports was soundly beaten by a former football power from a weak conference ..." 30 for 30 "The End of an Era" circa 2025.
In what one can only describe as the most awesome college football result in over a decade, the Oklahoma Sooners dismantled Superman 45-31 Thursday night in New Orleans. The same Oklahoma team that was trounced by average Texas and Baylor, thoroughly dominated what most believe was the best college football team / dynasty in the land from the 10 minutes mark of the first quarter until the last play of the game ... save a few offensive missteps and missed tackles in between.
While the Sooners were outgained by 80 yards, and surrendered 500 yards of offense to the Crimson Tide, Alabama was clearly confused and disoriented by the offensive game plan of the new offensive coordinator (because there is no way in God's green earth that fat man who called the Texas debacle called the plays during the Sugar Bowl) and the play of the front four of the Oklahoma defense. The Sooners' offense was brilliant in the first half, combining max coverage and tight bunch formations with movement in the pocket and unseen accuracy by Trevor Knight. Mike Stoops realized after 30 minutes blitzing wasn't the answer, allowing his front four led by Geneo Grissom and Erik Striker to pin back the ears and harass "the greatest player in the history of mankind" into 7 sacks, constant pressure, and two huge interceptions.
Setting aside the numbers, this was a historic win for Bob Stoops. Gone are the memories of losses to teams with equal or superior talent. Forgotten are the losses to LSU in 2003, USC in 2004, Florida in 2008, and last year's Cotton Bowl loss to Texas A&M. The Saban demons. The SEC losses. The BCS embarrassments. Gone. This was (arguably) the second best win in the Bob Stoops era, and certainly the program's biggest win in 13 years. Don't believe me? Ask Joe Mixon, who committed to the Sooners on Saturday afternoon based largely on the win 48 hours earlier.
-
9) Trevor F'ing Knight
Just come the fuck on. So he's been trolling OU fans since September, right?
The same mf'er who went 11 for 28 for under 100 yards against 6-6 ULM went all Peyton Manning on Nick Saban's Alabama 5-star'ers. His line was 32 of 44, 348 yards, four touchdowns. Mind you, HE COMPLETED 47 PASSES AND THREW FOR 471 PASSING YARDS ALL SEASON. He only had one start with over 50% completion percentage before Thursday night. Trevor Knight brought back memories of Sam Bradford against North Texas ... all the while shredding ALABAMA. Not Tulsa. Not West Virginia. The by God Crimson Tide of Alabama. The two time defending national champion Crimson Tide.
And because of that 60 minutes of good decisions and precision passing, the redshirt freshman from San Antonio's life has changed forever. He is now the man projected to lead Oklahoma to it's eighth national championship, if by no one else but me. He is the man expected to unseat Jordan Lynch and JFF as next year's great dual threat quarterback, if Heupel allows it. And moreover, he is a celebrity. Which means his girlfriend is a celebrity. Which means those creepers at Busted Coverage are all over ... her.
A friend of mine said to skip to picture #6. I would, but I am a God-fearing, church attending, Fallin voting Oklahoman. Fortunately, our editor is not and he'll post it here: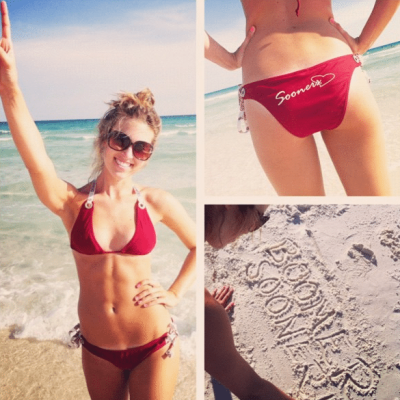 Related - God bless bikinis and ab rollers.
-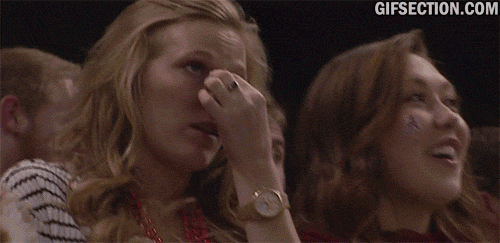 8) Josh Heupel makes average 'bama girl say wow. Twice.
Who in the monkey fuck was calling those plays in the first half? Better yet, who replaced Heupel in the fourth quarter after he reappeared from the buffet to reclaim play calling duties in the third quarter. Because there is no way this is the same OC who pissed down his leg against inferior Texas and Baylor. The same guy who managed 350 total yards at home against TCU. The same guy who for the first half of the ISU game appeared completely outclassed.
Since the second half of that ISU game, Coach Heupel and Coach Stoops have conjured masterful performances against what appeared to be superior opponents in Kansas State, Oklahoma State, and certainly Alabama. This is a program derided for it's inability to game plan for a bowl game, especially when matched up against a team with equal or superior personnel. The ability of Heupel to implement a full no huddle offense devoid of the fallacies so obvious during the regular season is both stunning and encouraging. I was critical of Heupel throughout the season. Oklahoma should not have an OC learning on the job. But Thursday's mixture of enough run game, short passes, sideline deep routes, pass blocking schemes, and up tempo play calling (hell, two different tight ends caught passes) was masterful and hopefully a harbinger of 2014.
-
7) And then there was Flying Alabama MILF
So what must come as a shock to no one in the history of ever, an Alabama fan in New Orleans got liquored up and went all Jeff Hardy on what appears to be quite the posse of douchey Oklahoma frat boys. Or, as I can them, me and my college buddies.
Here is the pre-match hype, complete with 130 pound son getting all badass as his dad wisely holds the "big dog" back:
Then there is the main event, which can be described as either an attempt to save the family's pride with an epic beatdown, or the beginning of every movie produced by Brazzers.
Finally there is her side of the story. Which can be summarized as follows:
Something something "Y'ALL I WAS JUS PROTEKKIN M' SUN FROM DOSE GAW DAMN SOONAH FANS WHO JUS YELLING AN TAWKIN MESS ON M' BOY AN I JUMP ON DEAW ASSES AWGAIN IF DE EVAW DO THAT SHIT AWGAIN!"
:swig from wild turkey 101 mixed with moscato:
"But I do want to say sorry to coach Saban for embarrassing him, and just FYI Coach, I want to bang you like a Crown Heights front door on Halloween. ROLL TIDE Y'ALL!!"
-
6) The Future for Oklahoma
Fodder -
Oklahoma, on its first play defensively, started 2 seniors.
On its first play offensively, Oklahoma started 5 seniors.
Those defensive starters were Aaron Colvin and oft derided Gabe Lynn. Not a single senior played meaningful minutes on the front seven. Two freshmen played cornerback at some point during the game.
The offensive starters included Brennan Clay, who was spelled by freshman Keith Ford, wide receivers LaColton Bester and Jalen Saunders, who will be difficult to replace, though if OU can replace any position, it is receiver, and two offensive lineman, one of which was playing tackle for the first time all season.
I have been asked about how I think OU will fare next season. They will take a veteran team with a proven starter at quarterback to Tulsa, West Virginia, and Fort Worth before going to Dallas on October 11th. After that, the Sooners have away games at ISU and Tech. Baylor and Oklahoma State play OU in Norman.
If "it" is going to happen for Oklahoma, next year is as good a year as any.
-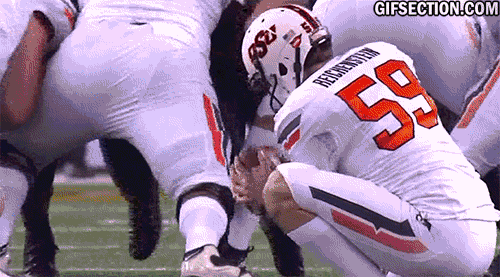 5) Oklahoma State ends season in West Virginia style
Oklahoma State racked up nearly 550 total yards, scored 31 points, averaged 4.4 yards per carry, held James Franklin to 15-40 passing, and forced three turnovers. And lost to Missouri in JerryWorld Friday night 41-31.
The Cowboys committed three turnovers of their own, leading to two Tiger touchdowns. The Cowboys missed a 34 yard field goal. The final turnover occurred with one minute remaining and the Cowboys within field goal range to force overtime when on yet another pass attempt while the Pokes were running over and around the Tigers in the 4th quarter (more on that later)
Aside from the ball control issues, Clint Chelf was fantastic, throwing for 377 yards and two touchdowns while amassing 52 yards of rushing and touchdown on the ground. Desmond Roland led the Cowboys in rushing with 66 yards on 16 carries. Hell, even Jeremy Smith showed he can gain more than a few feet per rush, getting loose for the longest run of the game for OSU.
Unfortunately for the Pokes, turnovers and an inability to stop the Tiger running game ended all hopes of a great Big XII run to end the 2013 season. Missouri exceeded Oklahoma State's running game, hammering out 271 rushing yards on 47 carries, including 73 on 3 runs by backup quarterback Matty Mauk and 92 yards on 12 carries by Henry Josey. The Tigers did their best to ... best ... OSU's abysmal playcalling by allowing James Franklin to pass the ball 40 times and run the ball 16 times. That 56 plays from the Tigers starting quarterback for a grand total of 210 yards. Mizzu gives Josey the ball 25 times or plays Mauk more than a handful of drives and the Tigers roll.
As it is, the Cowboys' season goes from extreme promise and a possible top 5 finish to a whole lot of this:
And two losses to end the 2013 season.
-
4) Yurcich can't help himself
It took Oklahoma State 3 quarters, but the Cowboys finally established a running attack in the fourth quarter Friday night. The Cowboys, led by Desmond Roland and Clint Chelf, rushed for 101 yards on 12 carries in scoring 17 points in the final quarter to give them a chance to win the Cotton Bowl. The Cowboys gashed the Tigers on the ground, using the zone read to great effectiveness and allowing Chelf to use his legs rather than his, at times, inaccurate arm.
So, in response to the Cowboys renewed success on the ground, OSU offensive coordinator Mike Yurcich throws the ball 15 times in the final quarter ... excluding the final drive when the game was out of hand. This with a quarterback who has already thrown 2 picks ... and at a time when the teams were within a touchdown of each other. Chelf completed 7 of those 15 pass attempts, and committed his final of three turnovers when he was stripped on a pass play from the Missouri 23.
I recognize that OSU's kicking game has been suspect at best during the season, but the refusal to run the ball constantly in the fourth cost OSU a chance at winning the Cotton Bowl.
-
3) The pass interference call
With nine minutes left in a 24-24 football game, Tyler Patmon intercepts a James Franklin pass intended for Dorial Green-Beckham, and returned said pick for the apparent go ahead touchdown. However, in what has become commonplace for Poke fan this year, the rug was pulled out from under the Cowboys and Patmon was flagged for pass interference sending Gundy into a Jenni Carlson induced rage and inciting Poke nation to scream SEC/Big XII/Oklahoma Sooner conspiracy once again. Replays appeared at first to support the ire.
However, after reviewing the play dozens of times, a flag should have been thrown on Patmon. But it probably should have been defensive holding and not pass interference. The result would have been the same - Missouri would have retained possession, and completed their scoring drive with the go ahead field goal.
From the snap, Patmon is riding DGB a good ten yards down the field. When the ball is released, it would appear Patmon then releases DGB long enough to step in front of the pass and take it to the house. There is absolutely no question Patmon holds DGB and prevents him from completing his route. The only issue I have is that it appears Patmon ceases contact with the receiver before the ball is released by the quarterback. A penalty should have been called, but the penalty should have been defensive holding on 26.
And for what it's worth Poke fan, your team took a 4 point lead with 5 minutes left after the controversial penalty and couldn't stop Missouri on a third and nine around midfield, allowing Missouri to take the lead for good. And of course, OSU still had a chance to tie or win on the ensuing drive only to go all Poke and fumble the game away on the Tiger 23 yard line. So let's not act like that pass interference call lost OSU the game.
-
2) Future of Oklahoma State
Fodder -
Oklahoma State started 7 seniors on offense.
The Cowboys started 7 seniors on defense.
Roland played significantly at running back and will return. As will two freshmen wide receivers Jhajuan Seals and Marcel Ateman, who were among the top 5 receivers, and Josh Stewart (presumably). However, OSU must find a new quarterback, or transform its offense to fit the legs of J.W. Walsh.
Castleman returns on the defensive line. But otherwise, the Cowboys lose a lot on that side of the ball, especially in the defensive backfield where four of the five best backs will not return.
In addition to losing 14 starters, Oklahoma State has a rather brutal schedule, starting in Dallas against the possible defending national champion and the Heisman Trophy winner - Florida State. The Cowboys also have away games at Kansas State, Baylor, and Oklahoma. They travel to TCU. The Pokes do have Texas Tech and Texas in Stillwater.
With that schedule and losing that much talent on both sides of the ball, I expect the Pokes to take a step back next year, perhaps in the five to six loss range.
-
1) Predictions for 2014
- The Oklahoma City Thunder coast into the playoffs as a four seed, get healthy, then proceed to run over the West in the playoffs en route to a seven game classic against the Heat in the NBA finals.
- Oklahoma State makes the sweet sixteen, then Travis Ford pisses away a golden chance at the Final Four against a double-digit seed.
- Oklahoma misses the NCAA tournament, but wins the NIT handily.
- Oklahoma football will be preseason top 5, while Oklahoma State won't be ranked.
- Patrick will find true love at an OU Womens Basketball game.
Editor's Note: This is likely Gravy's final post until next season. I axed his idea for a weekly column about womens college basketball. Thanks for your musings, especially your incorrect predictions about the football team.
Stay in touch
Sign up for our free newsletter