Everything Else
Jenni Carlson really needs to get over Landry Jones…
2:09 PM EDT on October 16, 2013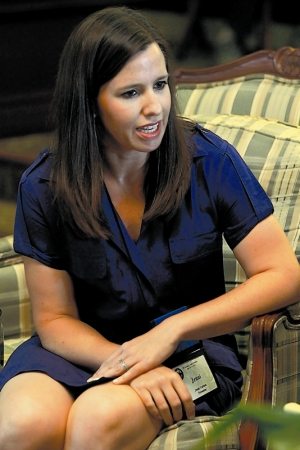 It looks like Jenni Carlson is still doing a good job at writing bad sports columns.
Earlier this week, Jenni penned a preachy column to OU fans about former Sooner QB Landry Jones. The gist is that Landry is a better passer than Blake Bell, Trevor Knight and probably Charles Thompson's son, and therefore, Sooner fans should be more appreciative of the guy and wish he was still on campus guiding the Sooners to impressive bowl wins over college football stalwarts like Iowa, Connecticut and Andrew Luck-less Stanford.
The column is typical Jenni Carlson fare. It takes the form of an open letter, is full of one sentence paragraphs, contains generalizations that are not supported by fact, deals with absurd hypothetical situations, is filled with asinine opinion, goes out of its way to defend Landry Jones, and as usual, totally misses the mark.
But don't just take my word for it. Check it out for yourself.
Via NewsOK.com:
OU football fans should be grateful Landry Jones returned for senior year

COMMENTARY -- After three Oklahoma receivers (and a defensive back) were suspended last week, Landry Jones' return as the Sooners' signal caller became all that much more important. Without him, OU would be breaking in a new quarterback with an almost completely new receiving corps.
Oops! I selected the wrong piece! That's a May 2012 column where Jenni reminded OU fans that we should all be grateful that Landry Jones stuck around for a fifth and final year, and in the process, hurt his NFL draft stock.
Here's the real article about Landry:
Landry Jones has to admit that the Belldozer gets the ball in the end zone

The Sooners' starting quarterback does a lot of dirty work getting the offense in the red zone, but backup Blake Bell is the guy scoring touchdowns.

The Belldozer bothers Landry Jones.

He'll never admit that, of course. He'll never say it during a press conference. He'll never profess it to the masses. He's probably never even said as much to teammates.

He isn't that kind of guy.
Dangit, I did it again! That's an October 2012 article about how the Belldozer package took away from Landry Jones' opportunities to throw interceptions in red zone and short yardage situations.
Here's the correct article:
Can Landry Jones become the next Joe Flacco?

The narrative for the Baltimore quarterback is a familiar one around these parts. Landry Jones spent his entire Oklahoma career facing the same type of criticism. Just maybe, though, Flacco's story provides some much-need perspective on Jones.
I'm sorry. That's a January piece where Jenni tries to compare Landry Jones to Pro Bowl NFL QB Joe Flacco. Flacco is a Super Bowl champion, first round NFL draft pick, and has set consecutive NFL records for most starts by a quarterback in each of his first five seasons, while also bringing his team to the playoffs and winning at least one postseason game in each of those years.
Now to yesterday's article:
Oklahoma football: Landry Jones is an obvious pick for NFL teams in need of a quarterback

The Oklahoman's Jenni Carlson took questions from readers in today's Power Lunch Chat.

Do you know what teams might be interested in Landry for the 2013 NFL draft?

 

Seems like there are plenty of NFL teams in need of a quarterback. Kansas City and Phoenix immediately pop to mind.

Since both are likely to have very high picks, they might look at trading down to get some other pieces from another team. But it seems like to me that any team that needs a quarterback would clearly look at Landry.

There might be one or two more pro-ready quarterbacks in this draft class. Matt Barkley from USC comes to mind. But past him, there aren't obvious quarterbacks who you'd pick above Landry.
Okay, I really apologize this time and I mean it. That's from a January 2012 NewsOK.com power chat thing. What's more embarrassing? Is it that Jenni Carlson forgot about guys like EJ Manuel and Geno Smith, or that someone wanted to get Jenni Carlson's opinion on the NFL draft? I'll go with the latter.
Now, to the real column. No joking around this time:
Jenni Carlson: Mission trip brought out leadership, provided perspective for OU quarterback Landry Jones

DALLAS — When Landry Jones left on a mission trip to Haiti earlier this summer, he was one of the best quarterbacks in the country.

When he came back, he was better...

The Oklahoma quarterback had a life-altering experience while in that island nation. He glimpsed inconceivable poverty. He witnessed unflappable faith. But when devastating news came from home, his already-tugged heartstrings were stretched even tighter.

It changed Jones...

On the day the Sooners made their rounds at Big 12 Media Days, you could sense a difference in the quarterback. He had an ease about him that was absent these past two seasons.

He is more confident in his role as a leader.

"It's an honor to lead this team," Jones said. "It's an honor to lead these guys."
In all fairness, there are a lot of Jenni Carlson articles that remind us of Landry Jones' greatness. You can't blame me for accidentally posting the one about the leadership he learned while on a mission trip.
At last, here's the piece where Jenni tells us how under appreciated Landry Jones was as a Sooner, and how we should all wish he was still on campus as a 24-year-old sixth-year senior:
OU's Landry Jones, Whitney Hand team up for life

Sooners' quarterback executed a complicated proposal to his fiancee, a shooting guard on the women's basketball team.
Crap, I forgot about the Whitney Hand marriage thing that Jenni chronicled in great detail. If we're going to post that, we might as well feature the one where Jenni turned into Single White Female and watched OU get upset at home with Landry's wife:
Oklahoma football: Whitney Hand on upset watch as Sooners played Kansas State

COMMENTARY — Landry Jones' performance against Kansas State was hard to watch, almost as hard as watching his bride watch him. Jenni Carlson spends game night with the Sooner quarterback's wife, OU basketball star Whitney Hand.
I swear I'm done now. Seriously. Here's the open letter to Jones from yesterday's paper that motivated me to write all this crap:
OU Football: A newfound appreciation for a quarterback named Landry

COMMENTARY — Through three Big 12 games, OU quarterbacks have combined for the kind of production a certain underappreciated passer regularly tallied on Saturday afternoons. Perhaps its time to say some things to Landry Jones that went unsaid...
Uhm, you've written like 500 articles promoting the guy. What exactly has gone unsaid?
I talked to lots of Sooner fans over the past few seasons about you. All of them had opinions, but over the years, there were several constant refrains.

You couldn't get comfortable in the pocket. You couldn't run. You couldn't keep from making bad decisions at inopportune times. You couldn't get fans fired up. You couldn't win big games. 


Never once did I hear someone say you couldn't pass.
Let's give Jenni credit. That's entirely true. Landry couldn't get comfortable in the pocket, couldn't run, couldn't keep from making bad decisions at inopportune times, couldn't get fans fired up and couldn't win big games, but he was a pretty damn good passer, so nobody complained that he couldn't pass.
Here's where Jenni turns into Jenni:
Now, folks are starting to realize how important that was.

For years, Sooner fans took that for granted. A quarterback? Of course he's supposed to be able to throw.

What Sooner fans wouldn't give to have that kind of certainty now. What they wouldn't give to have you back...
I've been a Sooner fan for my entire life. I'm friends with a bunch of Sooner fans, and talk to a bunch of Sooner fans. Trust me on this, there is not one Sooner fan sitting around right now wishing Landry Jones was still on this team. We do realize that he's a better passer than the current crop of QBs, but you can say that about any Stoops quarterback. Off the top of my head, I think every one that has played a meaningful snap on Owen Field has been invited to an NFL training camp (Heupel: Dolphins, Hybl: Browns, White: Titans; Thompson: Packers; Bomar: Giants / Vikings; Bradford: Rams; Jones: Steelers).
Also, I guess OU fans realize this is college football and that players eventually graduate and leave the program. Why deal in hypotheticals? Hell, even if we did live in a fantasy land where for some reason OU gets to bring back a 24-year-old, sixth year senior QB not named Jason White, how do we know things would be better? Blake Bell played a solid, turnoverless game against Notre Dame. Could you see Jones doing the same? Also, how would Jones have dealt with the pressure against TCU? Bell didn't commit a turnover against the Horned Frogs and his scrambling gained some opportunistic first downs. Would Jones have thrown it better? Probably. Would he also have likely committed a turnover while trying to avoid a pass rush? Probably.
Here's how Jenni ends the open letter:
Remember when Bell was the favorite son? When the Belldozer pushed you aside at the goal line and became beloved by all the Sooner Nation?

Those days seem long ago and far away.

The saying goes that the most popular guy on campus is always the second-team quarterback, but these days, the most popular guy among Sooner faithful just might be the quarterback who was rarely appreciated while he was wearing the Sooner jersey.

I'm not sure it's any consolation or if it even matters, but Sooner fans have never appreciated you more, Landry.

Take care, and tell your wife hello,

Jenni
And now we know why Jenni Carlson got Landry Jones a gun rack for his birthday.
Seriously, the problem here isn't that OU fans don't appreciate Landry Jones. I think we do in a unique way. The issue is that Jenni Carlson seems to appreciate him way too much. If Jenni Carlson were Steve Lackmeyer, Landry Jones would be a really old building. Instead of spending all her time defending the guy, maybe she should sit down with a therapist and discuss how to get over him and move on with her life. That seems like it would be more productive, and save everyone – me included –  a lot of time.
Stay in touch
Sign up for our free newsletter