Everything Else
Apparently Sparkle Titsworth is not a worthy community leader…
8:30 AM EDT on July 25, 2013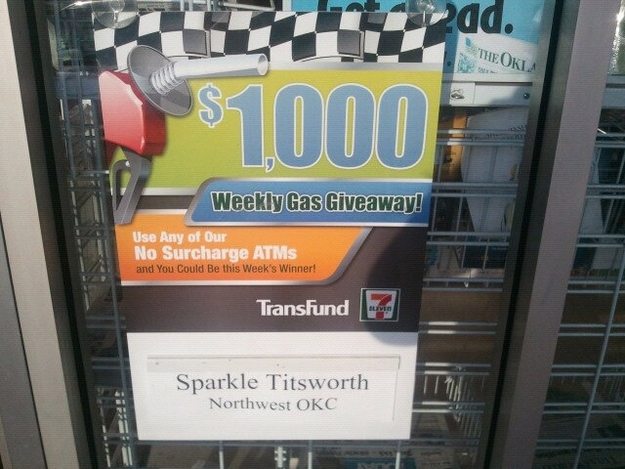 A few weeks back, we asked for the Ogle Mole Network's help in rigging the Oklahoma Gazette's "Best of OKC." It was pretty simple. We listed dumb/humorous/obnoxious responses to some "Best Of" categories, and in turn, you all were supposed to write down or type our choices on your nomination ballot. Simple, huh?
The cornerstone of our plan was to get Sparkle Titsworth nominated as community leader. Because let's be honest, who wouldn't want Sparkle Titsworth to be their community leader?
Here's what we wrote:
The Oklahoma Gazette is currently seeking nominations for their annual advertorial "The Best of OKC." In the past, we've encouraged our readers to nominate TLO for categories like "Best Local Blog" or "People I Really Want To Sleep With."

This year, we're not diving down to those lowly depths of pathetic pandering. Instead, we would like to encourage you to nominate Sparkle Titsworth as our town's "Best Community Leader." Why are we asking you to do this? Because why the hell not.

In case you forget, Sparkle Titsworth is the Oklahoma City woman with an awesome name who won $1,000 in gas from 7-11 a few years ago. A camera phone photo of a poster that included her name went viral, and we've loved her ever since. Here's a pic of Sparkle claiming her prize.
You suck, Ogle Moles. Sparkle didn't make the cut. And guess what? None of our other suggestions did either. Well, except for one. My little brother, Addison, was nominated for "Best Bartender." Considering he works at a chain restaurant, and recently admitted to me that he's not even the best bartender at his store, I guess that's cool.
What's not cool, though, is that you all went against our wishes and nominated us for a couple of awards. Once again, we're finalists for "Best Local Blog / Website" and "Best Person to Follow on Social Media." And yes, we don't have a chance to win either of them.
Here's who we're up against in the blog category:
• Keep It Local OK
Them again. I'm sounding like a broken record, but having something like this up for "Best Website" really damages the integrity of the "Best of OKC." The only people who would say Keep It Local OK is their favorite website are the dude's who created the Keep It Local Card and the restaurants that sell it, which just happens to be the demographic that makes up 75% of the "Best of OKC" voting.
• Daily Thunder
If you're thinking about voting for us in this category, please don't. Vote for Daily Thunder instead. It's the best Thunder news resource on the web, and with the NBA being so popular here, the site actually has a chance to win. At least I think it does. I bet the guys at "Keep It Local" own a sweat shop in Mexico where employees do nothing but cast "Best of OKC" votes.
• The Lost Ogle
See above.
• NewsOK
A few weeks ago my Dad called me. He said in a somewhat stressed, urgent tone "I think The Oklahoman is trying to be like The Lost Ogle!" I asked him why and he said "I read this article about five places in Oklahoma where Kevin Durant can get married. It wasn't very funny, but it reminded my of something I'd see on your site." Wow, talk about a back-handed compliment.
• Foodie Robots
Maybe it's time The Gazette gets rid of this category?
-
Here's our competition for "Best Person to Follow on Social Media"
• Kevin Durant, @KDTrey5
I doubt Kevin Durant received a ton of nominations for this category, but thanks to his mainstream popularity he'll win the "people who don't use social media vote."
• Steve Lackmeyer, @SteveLackmeyer
The best thing about following Steve Lackmeyer on Twitter is that he posts nude selfies. Or is that BeeBee Jonez? I get them confused all the time.
• Dan Gordon, @DanGordon
We'll have more on this topic later, but Dan Gordon is no longer employed by Samuel Gordon Jewelers. Don't go un-mute him on TweetBot just yet. He still tweets way too much.
• The Lost Ogle, @TheLostOgle
Every now and then, I'll scroll through our recent followers list to see if any new local hot chicks are following us. That doesn't make me a creeper, does it?
• Don't follow social media
Or maybe Kevin Durant won't win this category. I'm actually kind of shocked The Gazette included this as an option.  Can you imagine them doing something like this for "Best Thai Food?" If a category is so dumb that you can't even get five solid nominees, it may be time to do away with the category. That's why I'm encouraging you to vote for this option.
-
In hindsight, I guess it's kind of an honor to be nominated for all these fancy awards. Thanks, Moles. If you do go vote, remember to do three things:
• Vote "DailyThunder.com" for Best Blog
• Vote "Don't Follow Social Media" for Best Person to Follow on Social Media
• Vote this kid for best bartender: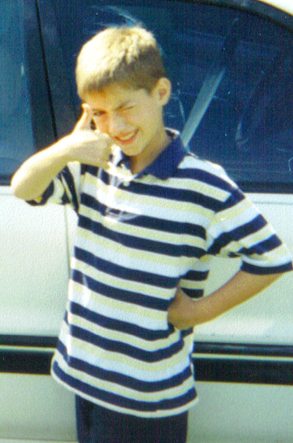 Stay in touch
Sign up for our free newsletter