Everything Else
Tonight is Presti's 7th NBA Draft. Clark Matthews looks back at the previous six.
8:00 AM EDT on June 27, 2013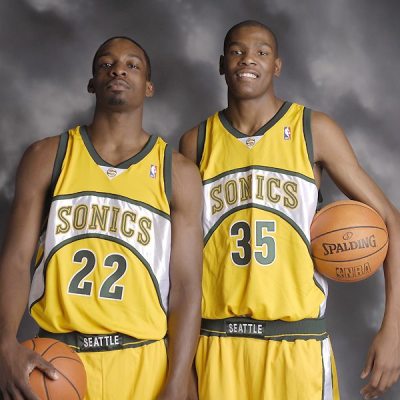 (Editor's Note: With the NBA draft tonight, we dusted off Clark Matthews to take a retrospective look at the last six Thunder drafts.)
On June 7, 2007, the Seattle Supersonics hired a 31-year-old named Sam Presti as the team general manager. It was one of the first hires by the new ownership group that was rumored to be considering a move for the franchise. Under Presti's leadership, the Supersonics have tranformed from a poorly managed perennial lottery team in the Puget Sound to a consistent championship contender in Oklahoma City. Much of that evolution can be tracked to the talent Presti has acquired through the draft.
Tonight, Presti presides as the leader of his seventh draft. Even prior to being hired to make the decisions for the team now known as the Thunder, he had built a reputation as a talent evaluating genius. Most of the basketball community credits him with discovering Tony Parker as a Spurs scout, and then convincing San Antonio general manager R.C. Buford to draft Parker. Conventional wisdom at the time was that smaller foreign players would never stack up against American born small players who had grown up playing against better competition. If a team was going to draft a player from overseas, that player had to have a physical advantage over every American player available. Presti went against the groupthink and helped create the foundation for a San Antonio juggernaut.
So how well has that pedigree stood up now that Presti is in charge? Here's a look.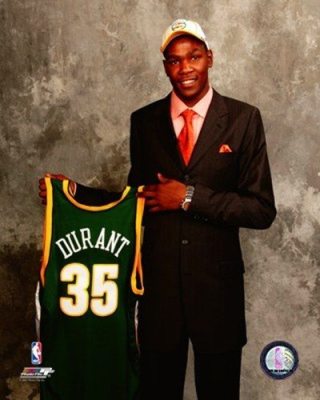 1. 2007
Players drafted: Kevin Durant (#2), Carl Landry (#31), Glen Davis (#35)
Draft Trades: Acquired Jeff Green (#5), traded Carl Landry to Houston, traded Glen Davis to Boston
Not bad for first timer. Anytime you can pick up a transcendental superstar to build your team around, you should probably take that guy. Unless you're Portland. Then you take an underperforming seven footer with balky knees.
Much of this was luck. Greg Oden was expected by many people (none of whom are writing this article) to be the next great American big man. ESPN the Magazine put him on the cover with quotes from league executives predicting that this guy would win more championship rings than he could fit on his hands. Meanwhile, the scrawny scoring machine that wowed college basketball fans during the 2006/2007 season was barely even mentioned as a possibility to be taken first.
Basically, Portland had to take Greg Oden and the Sonics truly won the lottery by getting the second pick. With Oden off the board, all Presti had to do was turn in the card with Durant's name on it. Of course, it was a move he made the day of the draft that truly made this a genius draft. Hampered by Ray Allen's ginormous salary and waning productivity/health, Presti traded him to the Boston Celtics who were trying to assemble talent to turn their team around. This was one of those trades that worked out splendidly for both teams. As the third wheel in Boston, Allen helped them to a championship and another Finals appearance. Meanwhile, the move cleared the way for Durant to truly take the reins for the team from the beginning.
In addition, the selection of Jeff Green--who was the pick they got for Allen--turned out pretty well. He's now also a Celtic, but since we aren't evaluating other trades right now, this still goes down as one of Presti's better moves.
The players Presti selected in the second round both turned out to be really good NBA players, something that usually can't be said about second rounders. However, since both were traded on draft night, it's very likely that Presti had traded those picks well before they were made and he only filled out the cards on behalf of Boston and Houston.
In retrospect, he could have done better... by selecting Joakim Noah (selected #9 by Chicago) instead of Jeff Green. Green was eventually traded for Kendrick Perkins in hopes of solidifying the center position. If Noah had been taken instead, he and Durant would have given the team an immediate inside/outside presence. However, the player most people at the time would have chosen instead of Green was Chinese center Yi Jianlian, and Noah was not expected to be a center.
-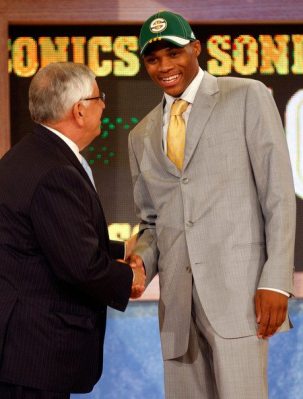 2. 2008
Players drafted: Russell Westbrook (#4), Serge Ibaka (#24), Walter Sharpe (#32), Trent Plaisted (#46), DeVon Hardin (#50), Sasha Kaun (#56)
Draft trades:
Acquired D.J. White (#29), Traded Sharpe, Plaisted, Kaun
Taking Westbrook with the fourth pick of the draft was possibly the boldest move that Presti has ever made. No analysts had Russ projected as a top-5 pick, so the expectation was that if the team wanted him, they would trade down. At the time, Westbrook was projected to be little more than a defensive stopper. Instead, Presti decided that was his man and took him much earlier than expected.
I would say it has worked out okay.
Late in the first round, Presti selected an African-born player who had only been scouted by two teams (Seattle and San Antonio) whose name made him sound like a comic book villain. The guy didn't even come over to the U.S. for another year.
I would say he worked out okay, too.
In retrospect, he could have done better... There was a lot of talent in this class. Kevin Love was taken at #5, Brook Lopez #10, Roy Hibbert #17...but none of those guys have been 2nd team all-NBA for three seasons running. If Sam could take it back, he might have gone a different direction with the 29 pick he acquired from Detroit. Instead of D.J. White, he might have selected one of the second rounders that has made his way into the league--Mario Chalmers, DeAndre Jordan, Omer Asik, or Nikola Pekovic.
-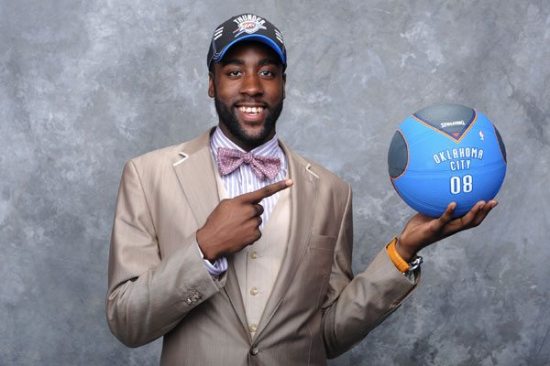 3. 2009
Players drafted: James Harden (#3), Rodrigue Beaubois (#25)
Draft trades: Acquired B.J. Mullens (#24), Robert Vaden (#54), Traded Beaubois
Ah, the Beard. I have never been more angry about a draft pick, or more wrong. Where I saw an athletically limited, boring offensive player, Sam Presti saw a scoring machine. Harden developed into a marketing goliath and an award-winning bench player who helped the team reach the NBA Finals in 2012. If I'd had my way, Ricky Rubio would be wearing Thunder blue, and Russell Westbrook probably would have been traded. I should apply to Minnesota's next GM.
At the back-end of the first round, Presti took a gamble on Byron Mullens whose eyebrows made a bigger impact for the Thunder than anything else. He's now a pretty decent scorer for the Charlotte Bobcats, but at 7'1" Scott Brooks wanted him to take shots closer than 22 feet from the basket, which he refused to do.
In retrospect, he could have done better... Theoretically, they could have selected Stephen Curry instead of Harden. There's no telling if his style of play would have made the same impact in Oklahoma City that it has for Golden State, but I do know that Curry accepted a contract far less lucrative than Harden demanded, so he'd probably still be playing here...unlike "The Beard." Meanwhile with the 25th pick that the team owned before the draft, Presti left some players on the board who are providing the things the Thunder lack now. For instance, Taj Gibson (#26), DeJuan Blair (#37), and Danny Green (#46).
-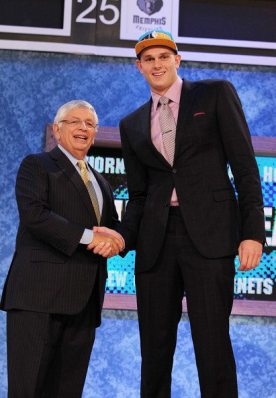 4. 2010
Players drafted: Eric Bledsoe (#18), Craig Brackins (#21), Quincy Pondexter (#26), Magnum Rolle (#51)
Draft trades: Acquired Daequan Cook, Morris Peterson, Cole Aldrich (#11), Tibor Pleiss (#31), Latavious Williams (#48), Ryan Reid (#57), traded Bledsoe, Brackins, Pondexter
This will go down as Sam Presti's Waterloo. Not only did he trade up to take Cole Aldrich, doing so required that he assist the Miami Heat in clearing cap space they had to have in order to enact their plan of acquiring LeBron James and Chris Bosh.
Where Presti probably went wrong was in going too traditional. In the two previous drafts, he had taken players earlier than conventional wisdom would allow, but here he moved up to get the "safe" player in Aldrich. Now, Aldrich has been unceremoniously passed around the league finding playing time nowhere.
In retrospect, he could have done better... Stand pat at #18. Recently, the Celtics were demanding Eric Bledsoe, who the Thunder traded for Aldrich, in return for Kevin Garnett. Avery Bradley (#19) has also been a really good player.
-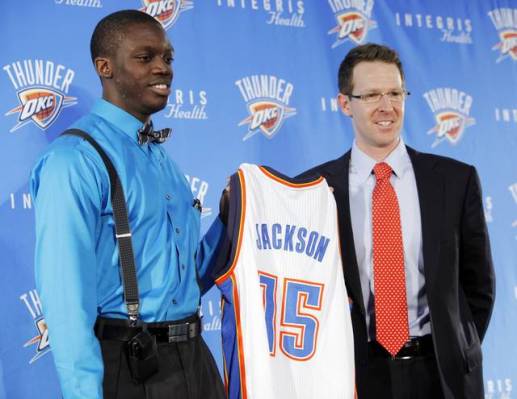 5. 2011
Players drafted: Reggie Jackson (#24)
Draft trades: None
After having just lost in the Western Conference Finals, the Thunder were not needing to make a splash. It seems that Presti zeroed in on his man early in the process and convinced Jackson to cancel tryouts with every other team. Despite a disappointing rookie season, Jackson came on strong in his second year. After Westbrook was injured in the playoffs, he was often the second best player on the team.
In retrospect, he could have done better... by acquiring a second round pick. Several second rounders, including Chandler Parsons (#38), DeAndre Liggins (#53), and Isaiah Thomas (#60) have been very promising. He did pick up Liggins as a free agent.
-
6. 2012
Players drafted: Perry Jones (#28)
Draft trades: None
Jones was projected as a top-5 pick going into his freshman year at Baylor. By the end of his sophomore year, he free fell to the end of the first round where Presti finally took a chance on him. Whether the roll of the dice will pay off is hard to say because Scott Brooks refuses to play rookies these days.
In retrospect, he could have done better... by drafting a high energy guy. Presti went with the most talented player available with the plan of being patient. Obviously, there is little to go on less than a year down the road, but I suspect someone like Jae Crowder (#34) or Draymond Green (#35) would have forced their way into the rotation with their hustle in a way that Jones' highly athletic disinterest didn't.
_________
Preview for tonight:
The Thunder currently possess the 12th (received in the James Harden trade), 29th pick, and 32nd picks of the draft. Rumors exist that Presti is shopping around with the intention of moving up. While it is very likely true that the Thunder General Manager has had discussions about getting up as high as the first overall pick, the assets he's offering are extremely unlikely to make that happen.
Royce at Daily Thunder reports that the Thunder are offering up all of their picks and Kendrick Perkins in hopes of enticing a team in the top-5 to give up their slot. If Presti were able to pull of that kind of move, this would probably be his best draft ever. But let's be honest. Taking on a contract as bad as Perkins' is usually the price for moving up, not the incentive for moving down. By that I mean, in order to get a better draft pick, a team usually has to take on an overpaid player.
Hypothetically, the Thunder's best hope of pulling off such a deal with the listed assets is with Orlando at #2. The Magic's new GM, Rob Hennigan, was one of Presti's underlings at the time OKC made the deal that acquired Perkins. He may have more affection for Big Perk than any other team would have since Perk's production isn't building him much of a fanbase. Even then, Hennigan can't give up the #2 pick without something else to sweeten the pot. That could mean taking back one of Orlando's bad contracts such as Jameer Nelson (who actually makes slightly more than Perk) or Al Harrington. Another option would be to give Orlando more prospects, of which the Thunder have an abundance. If I'm Hennigan, I probably expect either Reggie Jackson or a combination of Perry Jones and Jeremy Lamb.
Say that they were able to strike a deal, who would the Thunder take? That's complicated by Cleveland who owns the first pick overall. No one knows who they plan to select, or even if they intend to keep the pick. Odds are, they will take Nerlens Noel--a shot blocker who really has no other skills, or Alex Len, a seven-foot center who underachieved for Maryland. Assuming Perk is traded, I would guess that the Thunder would take whichever of those two the Cavs pass on. However, ignoring need, the Thunder could take Victor Oladipo (a skilled perimeter defender who was the catalyst behind Indiana's resurgence) or Kansas sharpshooter Ben McLemore.
When all is said and done, though, the Thunder are more likely to either stay put or move up just a few spots. With Perk still on the roster, they won't necessarily need to draft a big man, so they can concentrate on just taking the best player available. However, it looks like that means they will have plenty of skinny seven footers to select from. Pittsburgh's Steven Adams is the most likely target, but he is probably years from contributing. Indiana's Tyler Zeller is probably the most well-rounded option, but Kelly Olynk from Gonzaga is supposedly the favorite of math nerds who have a lot of influence in the Thunder front office.
Regardless of what happens, expect the new Thunder players to spend a lot more time in Tulsa playing in the D-League than in Oklahoma City.
Stay in touch
Sign up for our free newsletter