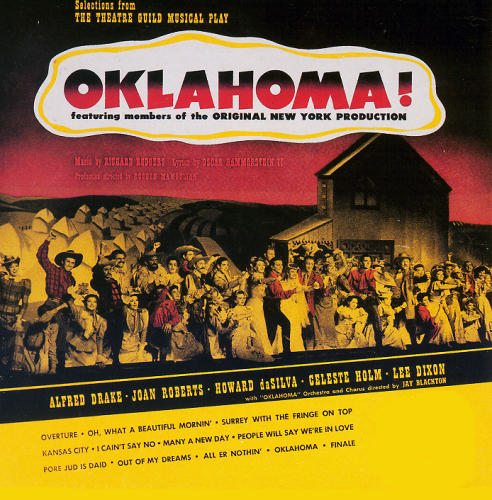 Before we get to the list of songs, I wanted to go over a couple of things:
1. The Ogle Mole Network was able to raise over $5,000 for disaster relief this week at our FREE Team Trivia Nights at The Speakeasy and Local. I know it's not $1-million dollars or anything, but it's awesome to see everyone united and doing what they can to help our friends, family and neighbors in Moore, Newcastle, Shawnee, etc.
2. We are still looking for raffle items for Saturday's Help Moore Benefit Concert. If you work for or own a local business and would like to contribute something, send us an email. So far, we have about $2,000 worth of items to raffle.
With everyone feeling a heightened sense of state pride right now, I thought it would be neat to take a look at some songs that are either about or related to Oklahoma. The tracks range from the mainstream to the obscure and are totally random.
Here you go:
1. Hosty Duo – Oklahoma Breakdown
Great song. It's a shame that some Red Dirt dude gets most of the credit for writing it.
---
2. Billy Gilman – Oklahoma
Outside of the lyrics, vocals and annoying 12-year-old Scottish boy singing about a topic that belongs on Maury Povich, this isn't that bad of music video. Also, am I the only one who just learned this song even existed? I guess it was a hit in the 2000s. Suddenly, I don't feel so ashamed for liking Linkin Park.
3. Three Dog Night – Never Been To Spain
On its most basic level, this song is about never going to Spain or England, and being born in Oklahoma, not Arizona. What does it matter, though?
"Never Been To Spain" was written by Oklahoma native Hoyt Axton. He was a successful actor and songwriter in the 1970s and 1980s. This is the only film of his that I remember:
No, Hoyt Axton didn't write the theme song for the OETA Movie Club. He actually played the roll of Billy's dad in Gremlins, a.k.a., the guy who discovered in the back of little junk store in Chinatown a strange creature that could theoretically destroy the world if someone spilled water on it or fed it after midnight (EST):
Speaking of Hoyt...
---
4. Hoyt Axton – Oklahoma Song
I think he wrote this song after inventing the smokeless ashtray. I'm not 100% sure.
---
5. David Allan Coe – I Heard Oklahoma Callin' Me
According to Wikipedia, David Allen Coe is an "outlaw country music singer." I guess that explains why he wore a black hat, robbed banks and bedded prostitutes when he toured across the country in his stagecoach.
---
6. Bishop Allen – Oklahoma 
This is a catchy little indie rock song about learning to swim in Lake Texoma. "You've got eyes like Oklahoma / Learn to Swim in Lake Texoma. The band must either have a decent map or they have Oklahoma ties.  They recorded an album in Norman in 2006.
---
7. Arlo Guthrie – Oklahoma Nights
I've heard of Arlo Guthrie before, but honestly can't tell you a lot about his work. I didn't think it would be so summer breezy. Give the guy credit, though. He does one mean Bob Dylan impersonation. Since Bob Dylan spent most of his career impersonating Arlo's dad, I'm fine with that.
---
8. Lesley Ann Warren & Willie Nelson – Baja Oklahoma
This was the title track to a TV movie called "Baja Oklahoma." If you want to see Julia Roberts before she was famous, Peter Coyote turn in an Oscar worthy performance, and Willie Nelson awkwardly hold a microphone, it's pretty great. Other than that, it sucks.
---
9. Christmas – Goin' To Oklahoma
9 out of 10 men with ponytails and a mushroom farm agree. This psychedelic tune from the late 1960s is coolest song ever made about Oklahoma.
---
10. Jack Guthrie – For Oklahoma I'm Yearning
After a 30-second Google search, I learned this guy was one of Woody Guthrie's cousins. That means he probably wrote this song after stumbling across some old Woody's Guthrie lyrics.
Speaking of that...
---
11. Billy Bragg & Wilco – Way Over Yonder In The Minor Key – 
This song doesn't mention Oklahoma in the title, but it harkens back to Woody Guthrie's days in Okemah. It's from Billy Bragg and Wilco's 1998 album "Mermaid Avenue." They took a bunch of partially written Woody Guthrie lyrics and put them to music. For some reason, I really like this track. It's either about the innocence of growing up in depression era Oklahoma or being a player.
-
12. David Frizzell & Shelly West – You're The Reason God Made Oklahoma
This is a great song. Unfortunately, I think there's a state law requiring old depressing men in cowboy hats to sing this song at least once per night at every karaoke bar in the city. For what it's worth, I think that law was enacted by Ralph Shortey.
---
13. Heuy Lewis and the News – The Heart of Rock and Roll
Okay. It was either this or Oklahoma Rising. Also, here's a trivia question. Without listening to the song, what Texas city is mentioned between Tulsa and Oklahoma City? It's the largest TV market in the country without a major sports franchise.
---
14. Bob Wills and the Texas Playboys  – Good Old Oklahoma
When you have a chance to post a song about Oklahoma by a band called the "Texas Playboys," you don't turn it down... especially when then song is kind, nice and sincere. Could you imagine Jude N' Jody and the Oklahoma Playboys singing something like "Super Great Tcxas" or "Texas is Best-xas?" Nope.
---
15. Van Zant – Oklahoma
Sure, it sounds like something that would accompany a YouTube montage of OU football highlights, but the song is actually about the resiliency of Oklahomans and our ability to unite and overcome tragedies. For that reason alone, it wins.
Stay in touch
Sign up for our free newsletter