Everything Else
10 Thunder Playoff Observations Paired With Depressing Grunge Songs From The 1990s…
10:45 AM EDT on May 16, 2013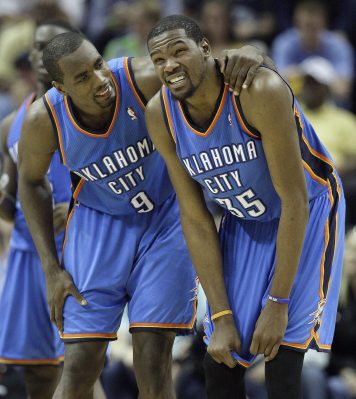 Well, that sucked. You can't say we didn't see it coming. I know we all hoped the Thunder could advance in the playoffs without Westbrook, but that's all it was; a hope. Deep down, we could see this team was in over its head. They didn't have the depth, system, flexibility or composure to beat a upper-echelon team in a 7-game series.
Since everyone's probably mopey, sad and gloomy this morning, I thought it would be fitting to match some Thunder playoff observations with depressing grunge-era songs from the 1990s. Not only is it great therapy, but maybe it will piss of Macklemore and all his fellow trolls from Seattle. I love being passive aggressive.
Here we go:
1. Hearing About Russell Westbrook's Knee Injury
Song: "Fell on Black Days"
Band: Soundgarden
Pertinent Lyrics: "What'soever I've feared has come to life..."
I guess you can sign me up for the "I know it's shitty that it took a freak injury to make realize this, but I now fully appreciate Russell Westbrook's basketball ability and importance to the Oklahoma City Thunder" support group. I promise not to criticize him ever again...at least until he takes a 20-foot pull up jumper with 18-seconds left on the shot clock.
-
2. Serge Ibaka's Cold Shooting
Song: Down In A Hole
Band: Alice in Chains
Pertinent Lyrics: "Down in a hole, feelin' so small. Down in a hole, losin' control."
After he missed that game tying lay-up in Houston, Serge's confidence and jump shot fell into a deep dark cauldron of dispair and sadness. You could see it on his face. Hopefully he'll be able to pull himself out of it by the start of next season.
-
3. Kevin Martin's Disappearing Act
Song: Any Creed Song
Band: Creed
Pertinent Lyrics: Any lyrics by Creed
I couldn't think of a song depressing enough to describe K-Mart's playoff performance. Instead, just pick any shitty song by the shittiest "grunge" band of all time.
-
4. Kendrick Perkins Doing Anything
Song: The Big Empty
Band: Stone Temple Pilots
Pertinent Lyrics: "Too much walking shoes worn thin. Too much trippin' and my soul's worn thin. 
I know the media will say Kendrick plays good defense and sets quality screens, which I'm sure he does, but those two assets are off-set by the bone headed plays, turnovers, and a post up game that's uglier than Jim Traber.
-
5. Kevin Durant Being Quadruple Teamed
Song: "Wonderwall"
Band: Oasis
Pertinent Lyrics: "Today is gonna be the day that they're gonna throw it back to you. By now you shoulda somehow, realized what you gotta do. 
Technically not a grunge song, but who cares. Kevin Durant can't do anything wrong. After all, he's our Wonderwall.
-
6. Scott Brooks' Coaching Decisions
Song: Nutshell
Band: Alice In Chains
Pertinent Lyrics: "We chase misprinted lies. We face the path of time. And yet I fight...and yet I fight...This battle all alone.  No one to cry to.  No place to call home."
Okay, so maybe those lyrics are more about heroin addiction than bad coaching. I went with this song because my original choice – Man in the Box – wasn't depressing enough. You need a really sad song to summarize some of the decisions Brooks made in the Memphis series, and the most depressing song by the most depressing band of the grunge era is a good one to go with.
-
7. Kevin Durant Not Being Able To Close Down The Stretch
Song: Over Now
Band: Alice In Chains
Pertinent Lyrics: "Yeah, it's over now, but I can breathe somehow."
For the Thunder to beat the Grizzlies, they needed "Kid Clutch" to live up to his nickname. He didn't.
-
I selected three songs for the most upsetting part of the playoffs...
8. Watching James Harden Play for the Rockets:
A. For the Heartbroken Thunder Fan
Song: Black
Artist: Pearl Jam
Pertinent Lyrics: "I know someday you'll have a beautiful life. I know you'll be a sun... in somebody else's sky, but why, why, why can't it be...can't it be mine?"
-
B. For the Bitter Thunder Fan...
Song: You Oughta Know
Artist: Alanis Morissette
Pertinent Lyrics: "And I'm here to remind you of the mess you left when you went away..."
-
C. For the Blame Thunder Management and Ownership
Song: The Man Who Sold The World
Artist: Nirvana
Pertinent Lyrics: "For years and years I roamed. I gazed a gazeless stare at all the millions here."
I guess you can say I have a bit of all three in me.
Stay in touch
Sign up for our free newsletter