Everything Else
A News 9 reporter is going to be on the ABC reality show "Whodunnit?"
8:30 AM EDT on May 9, 2013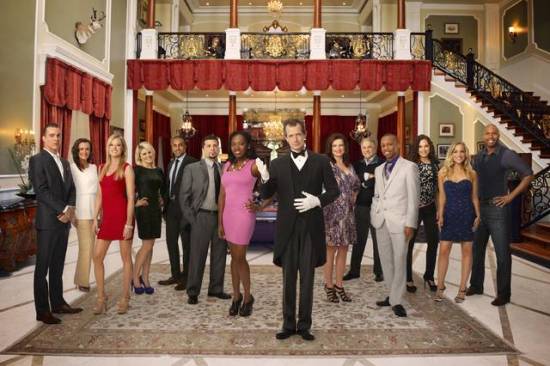 Yesterday, ABC announced the 13-contestants for its new summer reality show "Whodunnit?" The format of the show is basically murder mystery theatre meets The Mole. From an ABC press release:
What do a former NFL cheerleader, a bounty hunter, a nurse and a flight attendant all have in common? They're all putting their investigative skills to the test along with nine other guests in the new murder mystery competition, "Whodunnit?," premiering SUNDAY, JUNE 23 on the ABC Television Network.

"Whodunnit?" is an interactive series that puts 13 amateur slueths' investigative skills to the test in a riveting mystery reality competition. Players will use a variety of crime scene investigation techniques to meticulously uncover evidence in a series of puzzling murders and to ultimately reveal who among them is the killer. Some players will form alliances in the competition, while others will choose to go it alone in their quest for the grand prize of $250,000. The contestants will be guests on a glamorous estate called Rue Manor with a steward, Butler Giles (Gildart Jackson), and each week must solve a new crime in order to advance in The Game. Failure to solve the crime will lead to a player's demise, until only three are left. In the final episode, one player will unmask the killer and take home the $250,000 prize.
Sounds awful, doesn't it? At least one of the contestants is a News 9 employee. In case you care, it's this one:
Adrianna Iwasinski
You're probably asking right now in your Butthead voice "Who the hell is Adrianna Iwasinski? Isn't she that one chick on that one channel that was in front of that apartment fire?" Let me be your Beavis and answer that question: Yeah, yeah, she is.
Adrianna has been an anchor / reporter in the OKC market since the late 1990s. She's been on Channel 9, Channel 5 and who knows what else. You haven't read a lot about her on this site, though, and that's for a reason. Over the last couple of years, we've kind of had a secret handshake deal with Adrianna. It worked like this. We wouldn't publish any content on this site regarding her work, spellcheck-busting last name or very large, uh, smile, and in turn, she'd continue to steal Dean Blevins' Smart Ones for us. It was a pretty simple arrangement, but unfortunately, not simple enough. It's been almost a year since Dean left a threatening note in the News 9 freezer and during that time I've totally forgot what a three-cheese ziti marinara tastes like. Because of that, I consider the agreement null and void.
Of course, it really didn't matter if Adrianna held up her end of the agreement or not. We have to write about this. The fact that she's gone national changes everything. You can't be in the local media and compete in a network reality show that rips-off the Mole and expect us to ignore it. That's like putting a donut in front of me when I'm on a diet and telling me not to eat it. It's not going to work.
With all that being said, I really don't have anything mean or funny to say about Adrianna. In fact, I hope she does well. Not only would that be good for her, but you know it will have to make things awkward for Channel 5 and Channel 9. Think about it. What if she's the "killer"? Will Channel 5 hype the event like they would if any other Oklahoman was in the final? Of what if she makes it to the end and wins $250,000 ? Will Channel 9 totally ignore her accomplishment? Will they be proud of her? For all those answers and more, tune in to TLO at 10pm.
Stay in touch
Sign up for our free newsletter