Everything Else
Is this the chick that called the OKC Thunder Girl "chunky?" (photos)
1:26 PM EDT on April 25, 2013
Yesterday, helicopter Thunder fans went ballistic when some random sports blogger from Houston asked if a popular Thunder Girl was "Chunky." The post was allegedly written by someone named "Clair Crawford," but that name appears to be a pseudonym. Instead, we believe Anna-Megan Raley was the person behind the post. She's the Digital Content Manager for CBS Sports Radio 610 in Houston. Here's a picture of her. She's the one dressed like an NBA groupie who thinks she's still 19: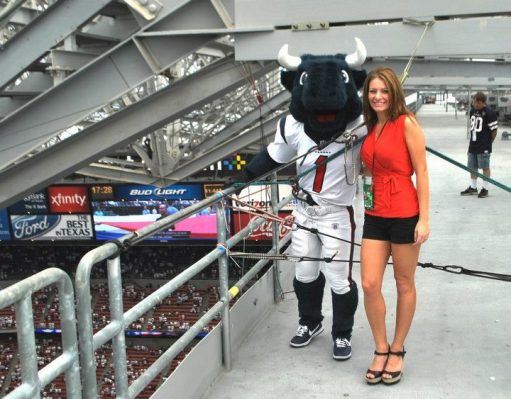 She's not that bad-looking for an old woman. She's obviously in shape and seems to have implants. I guess that's fine. I'd probably rank her a 7. She probably wouldn't stand out in a club on a Friday night, but if she created a Match.com profile I bet she'd get a bunch of winks. In fact, that's exactly what she looks like; the random cute (yet flawed) girl on an Internet dating site. Or a stripper. One of the two. And please remember, we're not trying to be ugly. We are just discussing what men like in women, specifically ones who randomly criticize the appearance of our favorite NBA team's cheerleaders.
As I mentioned, our hunch is that Anna-Megan (what a stupid name) either wrote or heavily edited the post that made fun of Thunder Girl Kelsey's appearance. Here are three things that point to that hypothesis:
1. Anna-Megan had DM conversation about the post with local radio personality Phil Inzinga. He posted it to the Spinozi and Inzinga Facebook Wall. Here it is:
Phil Inzinga: By any chance are you the one responsible for [The Thunder Girl] article? We know you put up the poll.

Anna-Megan Raley: I am not the author. And I thought the poll was fair as the voters -- me being one of them -- are in favor of this young lady.

Phil Inzinga: My question is, why the poll in the first place? Also, what is your opinion of the article? Is it fair of the article to single her out? People seem to really be taking issue with it. Specifically the line "I wish she had a little more on top, if you know what I mean."...

Anna-Megan Raley: My opinion is that beauty comes in all forms. And being a woman - not a young one, either - I'm glad our culture finds curves beautiful as so reiterated by the comments and feedback. But somehow we still put beanpoles on the runway or in cheerleader uniforms.

I don't know Claire personally, but I've seen some of her previous posts. She's definitely out there and incredibly provocative. While I think her comment about "more on top" may reveal more about her own interests and preferences and will be removed, I do see how she was very complimentary of this young lady. I will be adding an editor's note here in a bit.

Thanks for your inquiry.

I'm not much of an NBA fan, but I do adore Kevin Durant (even though he's a Longhorn :P)...so happy playoffs to you and the Thunder!

If you do have any more inquiries, shoot me an email. amr@cbsradio.com

Phil Inzinga: Thanks for the response. Interesting that you claim to not know Claire personally, yet you are able to edit her online column, add polls, etc. Am I to understand that you oversee the content of the website, yet have NO contact with it's authors???

I also find it interesting that you and Claire have a shared interest in Kevin Durant.

You say, "I'm not much of an NBA fan, but I do adore Kevin Durant"

Claire's Twitter post from 2 hours ago: "And for the record, I'm not a Rockets fan. And I'm in love with Kevin Durant."

Interesting....

Anna-Megan Raley:

Yes, that is interesting. I am the digital content manager in Houston, and I have authority to go into posts and edit or remove as needed.

And to respond to your Tweet: No.
First of all, I'd like to thank Phil for doing this. It's nice to see that morning radio hosts can do more than just laugh at their own bad jokes. He did a great job exposing the holes in Anna-Megan's story. Although it is possible for a blog editor to not personally know his or her writers (I still don't know who the Irritated Tulsan is) it's highly unlikely, especially when the blog is part of the legitimate media. Also, it is probably more than a coincidence that both Anna-Megan and "Clair Crawford" go out of their way to state their appreciation for Kevin Durant.
-
2. Someone left the following comment on our original article about the ordeal:
Used to work there. Your real "Claire Crawford" is no other than their Director of Digital Content, Anna-Megan Raley.
I know anonymous internet comments are about as reliable as a Kendrick Perkins jump shot, but for what it's worth, I checked the commenter's IP address and it came from the Houston area. That does give it a little more credence.
-
3. Anna-Megan had this photo on her MySpace Page: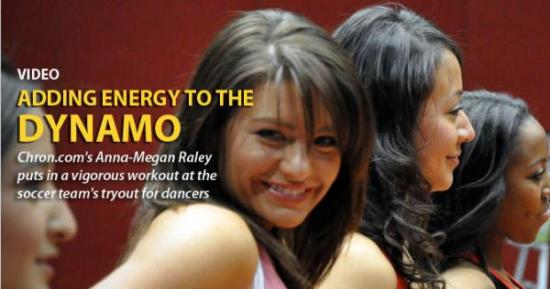 Hmmmn...
I wonder what type of woman would notice, much less criticize on a sports radio blog, the appearance of an NBA dancer in Oklahoma City? My first guess would be a bitter woman. My second would be a 30-year-old woman who tried out as a dancer for a soccer team. There's a chance that both of my guesses would be correct.
-
Despite her denials to Inzinga, the circumstantial evidence along with my my gut instinct tells me that Anna-Megan is the author. I could be wrong, but who really cares. Even if some random person named Clair really did publish the post, Anna-Megan is the one who should accept responsibility for it. She's the editor and person who published the poll.
On that note, I was going to post a poll on here asking if our readers thought Anna-Megan was "too chunky" to be a sports blogger, but I don't want to stoop to her level. Hell, I'm kind of scared that I'm coming close to breaking one of the blogging rules I wrote about yesterday. Instead, here are some pictures that I found on A-M's personal Facebook, MySpace Page and around the Internet. I guess look at them and judge for yourself.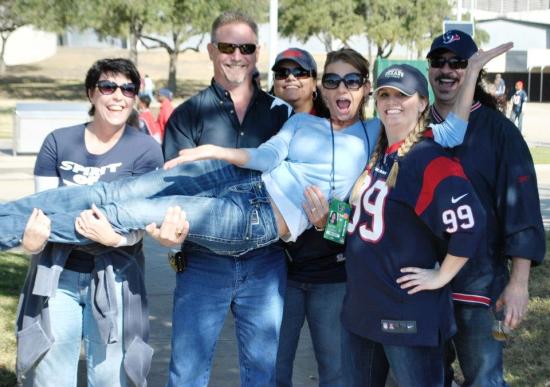 -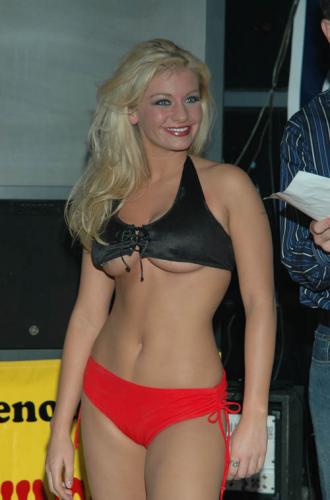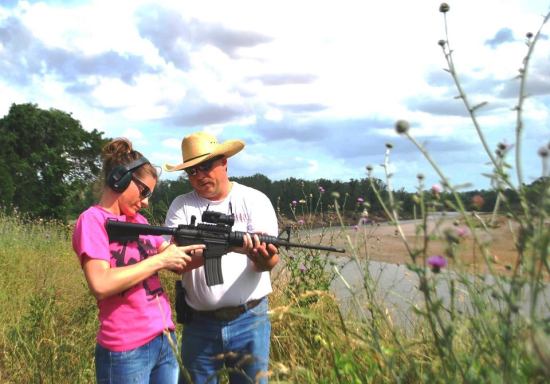 -
-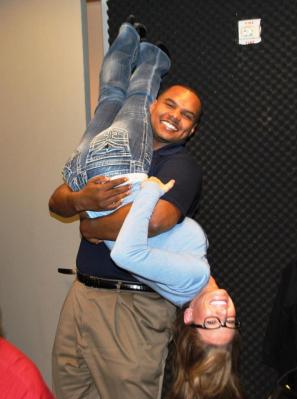 -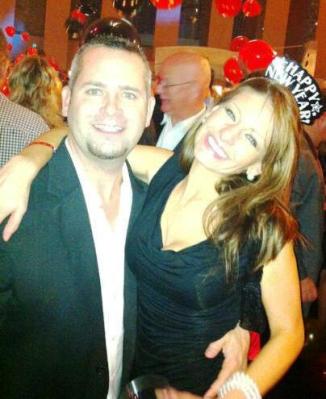 -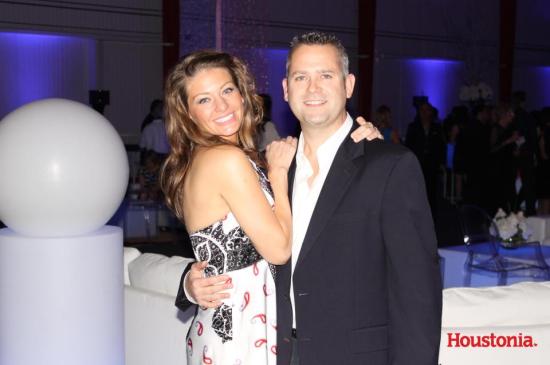 -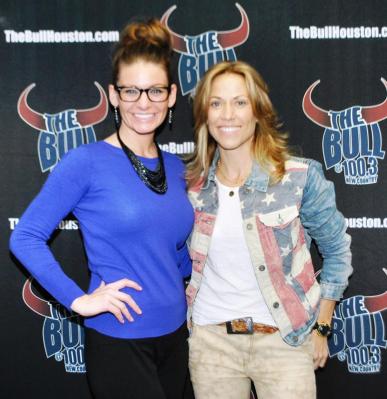 Stay in touch
Sign up for our free newsletter