Everything Else
People who think Marcus Smart should stay in school are dumb…
10:39 AM EDT on March 27, 2013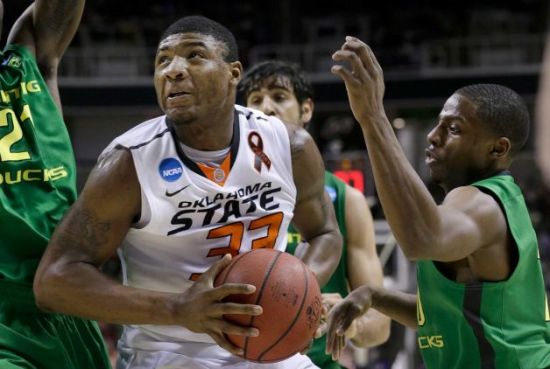 After doing nothing but watch basketball over the last weekend, I pretty much hate the sport right now. I want to think about basically anything else. But my mind doesn't work that way.
The low point of my weekend was on the first day. After spending three years waiting for my alma mater to return to the NCAA tournament, I'm going to have to wait a minimum of another twelve months to see them play in the tournament. From the tipoff, the Oklahoma State Cowboys were putrid. It started with the team's leading scorer turning the ball over, leading to an easy basket, then the same player failing to successfully inbound the ball despite zero defensive pressure. Things did not improve much from there.
Getting bounced in the opening round in the first ever match up of ranked teams in the tournament's first day was not necessarily unexpected. However, it did hurt that this was the final image I would have of Marcus Smart's time with OSU.
This is the part where deluded Oklahoma State fans remind me that the college Freshman of the Year and Naismith Award finalist has not declared for the NBA draft yet. He could still come back for another season in Stillwater and make a run at a championship with his dwarf best friend and midget coach at his side. I have been getting this a lot in the past week.
"If he leaves, I'm going to call him Marcus Dumb," my mother-in-law and fellow alumnus informed me because people of that generation think saying such things are witty. Meanwhile, a NewsOK poll of whether Smart--projected as a lock for being one of the first five players selected in the draft and a very possibly the first guy taken--will leave school early barely registered in favor of starting his lucrative career (52%-48%). The comments were predictably questioned his moral character for considering his own best interest instead of that of the Oklahoma State University men's basketball program.
No one has appreciated the resurrection job Marcus Smart did for OSU basketball more than me. I attended the school when Eddie Sutton reigned supreme and mourned the ever worsening product that current head coach Travis Ford kept putting on the floor. It got so bad in their sub-.500 season from last year, that I stopped even watching the games on television. Smart instantly changed the culture. Only 18 year old, the kid brought an old man game to Gallagher-Iba Arena. He was steady where the rest of the players tended toward erratic and made the big plays when they were needed. His back flip to celebrate the upset victory in Lawrence belongs in the pantheon of big sports moments for the school.
Yet, if Marcus Smart wears the orange and black of Oklahoma State next year, I will be disappointed.
These are the reasons people think he should come back, and why they are dumb:
He needs to get a college degree
The purpose of college is to get a degree, right? No. The purpose of college is to prepare oneself for their chosen profession. If I had been offered one of the 200 best jobs in the profession of accounting after completing just my freshman year, I don't think I would have been like, "I'll take my chances." In fact, if a CPA firm had offered me six digits, let alone the seven digits Smart is in line to make, I would have been gone.
Improving his draft status
Not to deny that Smart is a rare talent, but this year's draft talent pool is very weak. Even if he comes back next year and improves exponentially, it is unlikely that he will have a better chance of being the first pick. Next year's draft class projects to have a two-time national high school player of the year in Chicago Simeon's Jabari Parker who will be at Duke next season. Despite that pedigree, Parker isn't even the number one ranked recruit in this high school class.
Winning an NCAA championship
Travis Ford is still the coach of OSU, right? Smart would have to be the greatest player in basketball history to overcome that handicap.
The money will still be there next year
Let's look at it this way: I'm not sure what Marcus Smart's major is (probably something lucrative like "Physical Education") but for argument's sake, let's pretend it's an awesome degree that can earn $100K the first year out of college. If Smart is picked fifth in the NBA draft, probably worst case scenario at the moment, he'd be losing $3MM in wages to continue being an unpaid intern. It would take him approximately 30 years at his learned profession to get that money back.
Plus, it's a huge assumption that the money will be there next year. Sam Bradford lucked out that his injury plagued return to OU for his junior year didn't cost him his draft status, but even then, it certainly effected his contract negotiations (not to mention the year of his career lost). Even without injury, Landry Jones' senior year cost him millions.
College Co-eds
This can't be underrated, but I hear NBA players have groupies.
Clark Matthews is a co-founder and sports editor emeritus of The Lost Ogle. You can follow him on Twitter at @ClarkMatthews.
Clark Matthews is a world-class checkers champion, co-founder, and basketball editor-emeritus of The Lost Ogle
Read More:
Stay in touch
Sign up for our free newsletter