OKC Music
5 reasons why this dude from Oklahoma deserves the Grammy that Mumford & Sons will inevitably win
12:43 PM EST on February 9, 2013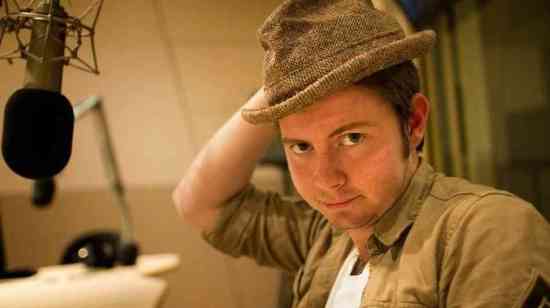 Hi, I'm Matt! Before I get started here I just want to say that this is my first thing for The Lost Ogle and that Patrick's a righteous dude. He's been kind enough to lend me space on his site to goof off about local music at the expense of a well-received, extremely popular band, despite the fact that I make very little mention of hot girls. Kudos to you, Patrick.
That all said **sound of knuckles popping** this year's Grammy Awards get dished out tomorrow and Mumford & Sons are the New York Yankees in a league that —like the MLB— favors big spenders. They're up for a league-leading six awards (that ties them with Fun. and Frank Ocean for the year's most nominations), including Best Americana Album for Babel, their second album and a massively popular one by the standards of acoustic, roots-styled tunes in 2012. Babel is a musically powerful if predictable record with lyrics that hold up to scrutiny about the same way soggy wheat-based breakfast cereals hold up against a garbage disposal. (Back in October I spent a LOOKatOKC column on this topic, but for a 100x smarter deconstruction of the band, check out Tom Breihan's recent post at Stereogum.) There are admirable qualities in Mumford for sure: the pummel and volume of their live performances and their lack of fear to approach big, meaningful themes in their songwriting stand out in particular. But at the end of the day they're still handsome, polite boys with instruments made of wood and gimmicky poems. (Who happen to have just announced a show in Guthrie, as your rustically dressed friends may have recently pointed out on your Facebook Timelines.)
This all would all be of little consequence to this obscure, local, social blog if it weren't for the fact that one of the evil empire's band's opponents on its way to total Grammy domination was an exceptionally gifted 24-year-old songwriter from Bearden, Oklahoma. That young man is John Fullbright, whose debut album From the Ground Up was humbly distributed last year to great critical praise from a handful of sharp listeners, NPR's Ann Powers in particular, who described the record as "smart and beautifully crafted and surly." If the Mumfords are the Murderer's Row Yankees, then Fullbright is probably the Tulsa Drillers (I say the Drillers instead of the Redhawks because they're a class level smaller and, let's face it, ONEOK Field is ten times cooler than that ballpark in Bricktown). Fullbright did his thing with way fewer resources, a fraction of the name recognition, and he even did it as a rookie, as From the Ground Up is his first proper studio album.
So here are a five reasons why —even though Mumford & Sons are a vintage boot-in to win everything they're nominated for tomorrow— John Fullbright deserves this particular scrap of recognition:
Reason #1: Fullbright's lyrics slaughters Mumford's.
Part of the advantage of having a smaller audience is a lack of pressure to write songs that will appeal to people who don't care that much about music. As a student ofJimmy Webb and Woody Guthrie, Fullbright's already in full command of a vivid lyrical detail —close your eyes and listen along to "Fat Man"— that Marcus Mumford badly fakes. Just check out the beginning of "Dust Bowl Dance" and you'll get it. Judging by how well fed his face appears, I seriously doubt Mumford's claim to have "been kicked off my land at the age of sixteen."
-
Reason #2: Mumford's best songs are all the same, pretty much.
I'll let my close personal friend and noted redhead comedian Conan O'Brien handle this one:

If there's one thing the Mumfords really do great, it's bellow a mean, self-affirming chorus. But to make full use of a proper self-affirming chorus, you need a steady, carefully-paced buildup (just ask Chris Martin), and that really limits the structure of your song, especially when you're having to keep the attention of a lot of people, many of which don't spend that much time listening to music. Almost all of these songs go down with a great, big rousing fist-pumper of a finish, which kinda makes this band the AC/DC of traditionally styled music.
-
Reason #3: Marcus Mumford isn't even as good at writing songs as his ex-girlfriend.
Before he was touring with Mumford & Sons and married to Carrie Mulligan, Marcus Mumford played drums for folk-singing angel-babe Laura Marling. Please watch this music video and tell me who's got a better grasp on telling stories with words and instruments:
-
Reason #4: John Fullbright fits the canon of previous Best Americana Album winners way better.
The Best Americana Album's only been awarded three times, and only two really exceptional people have won it. Those are the late, former drummer for The Band Levon Helm (for the really excellent solo studio album Electric Dirt and the even more excellent live one Ramble at the Ryman), and 73-year-old national treasure Mavis Staples, who sang in girl groups back when that meant something and wasn't just a signifier for "the way the white girl in the indie band sings."
While Mumford do deal in a lot of the same genres that these previous winners represent, they use that Euro club-thumping kickdrum on every damn song, sullying the traditional mix with a propulsive ooomph that's better suited for the modern pop coming out of European producers like David Guetta, Max Martin, and Shellback. Put short, Fullbright's signature folk, blues, and country style are a purer representation of what the American Music Association defines as "Americana," and a stronger throwback to an earlier time.
-
Reason #5: Lastly, and least refutably...
Mumford & Sons aren't even from America. Sorry to get all jingoist on you here at the end of the post, but wouldn't you think that a Best Americana award might be reserved for people who are actually from the ol' US of A? I mean, sure, white people from Britain have enjoyed widespread commercial success by appropriatingtraditional American forms since forever, but still! We gotta take care of our own!
---
So if you're really into David vs. Goliath matchups, join me as I tune in to the Grammys tomorrow (I'm on Twitter at @okmattcarney) to cheer for John. I mean let's face it, the Grammys are way more about pomp, circumstance and showmanship anyway, so David's probably going to get his face clubbed by Goliath here. But hey, David says central Oklahoma is his land, his country and makes fun of Kansas so I'm down with that:
Stay in touch
Sign up for our free newsletter