Everything Else
The Clark Matthews Files: Don't cry, Thunder fans
10:00 AM EDT on October 29, 2012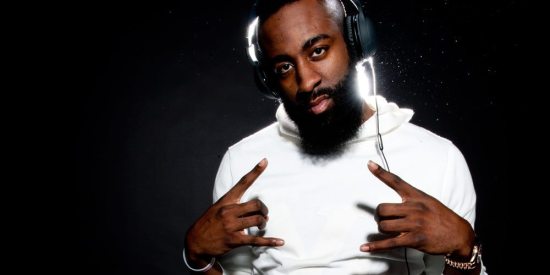 William Blake wrote a book of poetry called The Songs of Innocence and of Experience in which he explored the loss of childhood. Through poems written from the point of view of identical characters at different stages of life, Blake showed the often dark and sad ways that humans change through the addition of fear and corruption often coming with maturity. With James Harden departing for the Houston Rockets, Blake could now write an entry for Thunder fans in both sections of the book.
Through the first four years of the team's existence in Oklahoma City, the Thunder have been a feel good story. Their presence has drawn the city together with a experience described as "college-like" in a market accustomed to collegiate atmosphere. With extremely young, highly exuberant, classy players, the fans of the Thunder often forget that the people they cheer for are multi-millionaires working in a billion dollar a year business.
Chief among this facade was a character known to most as "The Beard." James Harden is a guy with a childlike outlook on life and the facial hair of crazy old homeless man. Over his first three years he has developed from a streaky bench player who fizzled in the first round of the playoffs to a streaky bench player who had the talent to start and fizzled in the Finals. Of course, during that time he also racked up accolades such as "NBA Sixth Man of the Year" and a roster spot on Team USA. Those were enough to warrant him consideration for a maximum level contract from the Thunder.
The problem was that the Collective Bargaining Agreement (CBA) agreed to between the NBA Players Association and the NBA owners make it very punitive to spend too much on player salary. After providing big paydays to proven all-stars Kevin Durant and Russell Westbrook, as well as hefty contracts for starting big men Serge Ibaka and Kendrick Perkins, the team is very close to the league's salary tax threshold. That said, the team was willing to pay quite a bit of that in order to keep their best substitute.
Speaking of substitute, Harden's willingness to take on a lesser role for "the good of the team" left many with hopes that he would make sacrifices on the financial front in order to stay and help the team create a dynasty. You know what else gave people that impression? His words.
"This is something special here. A dynasty is being built here ... The other stuff, you can't buy it."
And yet, here we are. The things you can't buy have a price tag and it is somewhere south of $4.5 million over four years. That was the difference between what the Thunder could have offered and what they did offer that Harden and his agent turned down.
It was almost as if Thunder GM Sam Presti was testing Harden's resolve to be a winner. His final offer said, "Look, we're willing to spend here. We'll go way over the luxury tax threshold and during the entire tenure of this deal, we are going to be paying not only your salary, but supplementing the bottom lines of the teams who aren't spending. That's fine. We want to win, but we want to know you want to win. As a young player you have been willing to concede to not starting--which is really only an ego thing because you played starter minutes. You have been satisfied being the third option on offense. Those are good signs. Now, here is an offer that is slightly less than you want. Are you going to sign it and be a part of building a dynasty or are you going to reject it in hopes of making a few extra dollars elsewhere?"
Could the Thunder have come through with the rest of the money Harden desired? Probably. If $4.5MM over four years--the difference between the $53.5MM the Thunder offered versus the $58MM they were limited to offering--is a pittance of a sacrifice to ask of a player it's even less to ask of a team (though, truly, it would cost the team closer to $13MM when luxury taxes were factored in). The line had been drawn and Presti had to decide if Harden was worth that much, particularly if the environment of winning wasn't worth even that much to Harden financially.
Besides, as Presti proved, there were better options available. Houston GM Daryl Morey, after striking out in his pursuit of Dwight Howard and succeeding in overpaying role players to come star for his Rockets, needed a name to build around. He was loaded with tradeable assets he had acquired in the Howard pursuit and was willing to overpay to lock up a marketable player like Harden.
Had the Thunder and Harden agreed to that deal in the ballpark of $54MM, the status quo--a great status quo--would have been assured. However, in the event of an injury or the availability of a free agent who could help their efforts, the funds would not have been there. With the deal made with the Rockets, that flexibility remains.
Clearly, the idea that the team is forfeiting immediate success is a fallacy. In fact, they may arguably be a stronger contender than they were on Friday. Kevin Martin is a more proven commodity and a stronger shooter. Unlike Harden, he has been a primary scoring option and found success. There is no reason to suspect that the team is going to go backwards by swapping the two.
The difference is that long-term. Martin is on the downward slope of his career trajectory while Harden is on the upswing. That's where the rest of the haul acquired by Presti comes into play. Jeremy Lamb is an athletically gifted wing player with a good shooting stroke who had a lot of success in college playing a complementary role to Kemba Walker. He's already used to being a secondary option, and his athleticism suggests he should develop into an excellent defensive player. As a good outside shooter, he could either eventually replace Thabo and could be an upgrade immediately to Daequan Cook. Most importantly he's a rookie who will be cheap for several more years.
In addition, the Rockets gave up two first round draft picks that are tied to teams that aren't likely to be good. The pick that originally belonged to Toronto will be used by OKC if the Raptors don't win the lottery (picks 1-3). Meanwhile, the Mavericks pick probably won't come until later as it is lottery (1-14) protected in 2013, and the Mavs are unlikely to compete this season. Assuming they don't somehow steal some great compliments to Dirk Nowitzki (and their plans to bring in Dwight Howard, Deron Williams, Serge Ibaka, or James Harden have all fallen through), they could be bad until the protections wear off. That suggests the Thunder can expect two pretty nice prospects from this deal.
Now for the part that really does suck. There is no way to sugarcoat how much of an emotional toll this will have. Just look at what it did to Patrick! Even if the team, which portrays itself as a fraternal order, is able to shake off this shake up, the fans will certainly have trouble coping with the loss of a fan favorite. I know my first reaction to the news was, "How am I going to explain this to the ClarkPupp?"
For all the lip service fans pay to saying they understand it's a business, this is the first experience with actually seeing the Thunder run like a business. The relationship with players that resembled those with college athletes--who rarely leave unless they are no longer welcome--has crumbled.
It will be interesting to see how the sudden maturing of the Thunder fans manifests.
_____________________________
Clark Matthews is an editor emeritus and founder of TheLostOgle. His posts here are rare, but he Tweets a lot. And because Twitter limits him to 140 characters, his tweets amount to about 1.9% of the length of this article.
Clark Matthews is a world-class checkers champion, co-founder, and basketball editor-emeritus of The Lost Ogle
Read More:
Stay in touch
Sign up for our free newsletter