OKC Media
Warning: Dean Blevins will find you if you eat his Smart Ones®
10:10 AM EDT on July 2, 2012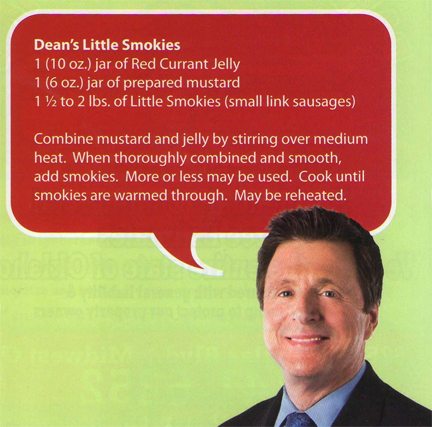 It looks like we now have something new to add to our "Make Fun of Dean Blevins" list. It has nothing to do we percentages, slips or falls. It has everything to do with Dean Blevins being a vigilante who will hunt you down with a great vengeance and furious anger if you steal his Smart Ones frozen dinners.
From the News 9 break room freezer: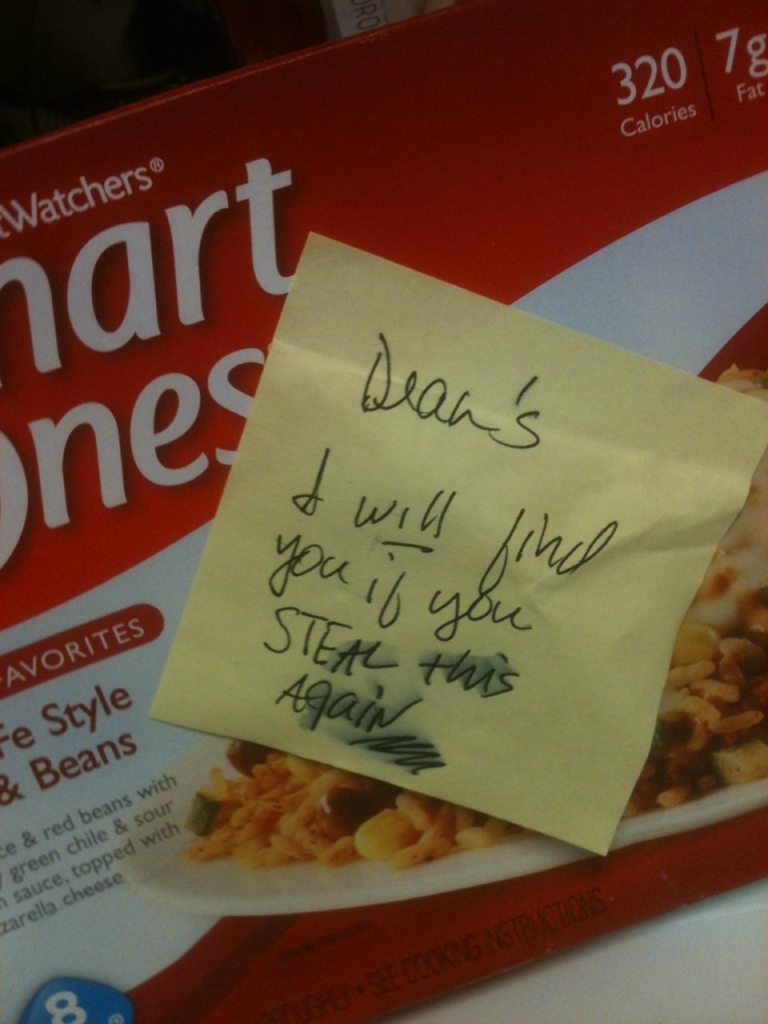 Yep, that's real. Here's an email from the Ogle Mole who sent the picture:
For weeks, Dean has been complaining to everyone at News 9 that his dinners are being stolen from the break room fridge. He's threatened to send out a mass email but realized he doesn't know how. We've been encouraging him to say something because last time this happened, he left a note on the freezer door calling the alleged thief a lowlife. We figured his email (once he figured out how to find the Griffin OKC- All employees list) would be a Lost Ogle classic. Still no email but we found this in the freezer last night.

There are a few theories about the missing meals. a) Dean is putting them in the wellness pantry freezer and other people are buying them. b) He doesn't know what he brought so he thinks it's missing even though it's still there. c) He isn't even bringing dinners but thinks he is so he takes someone else's meal. Dean is actually the thief.

I wonder what he would do if he found the thief. Knowing Dean, he would go through all of the trouble of tracking that person down and promptly forget why he was talking to them in the first place. He really hasn't been the same since he fell and hit his head.
I guess we should first thank this Ogle Mole for jeopardizing their life and career at News 9 to send us this information. I wonder if Mission Impossible music played while they tip-toed to the freezer with their smart phone in hand. Also, was this a single or multiple Ogle Mole job? Like did Shelby Hays or Lacey Swoop have to watch the door? Did Lisa Monahan live tweet the daring act like it was a graphic child abuse court case? Who knows.
Even though this is amusing and funny, I don't really blame Dean for being so protective about his Smart Ones. I'd also be pretty pissed if my dinner disappeared from the company freezer each night. Then again, are we really supposed to believe that someone would actually "steal" a Smart Ones Santa Fe Style Rice and Beans? That thing tastes more like Santa Fe Shame and Despair. They smell horrible, too. In fact, that's probably why they "disappeared." People were getting tired of Dean stinking up the break room each night at 8:30 pm.
Anyway, I wonder what Dean would do if he caught the Smart Ones bandit. Would he just pee on them, or maybe do something more elaborate like make them read his Tiger Woods erotica fan fiction? Hopefully we never find out.
Stay in touch
Sign up for our free newsletter