Everything Else
OSU's Greatest Guards of the Clark Matthews Era
8:30 AM EST on March 1, 2012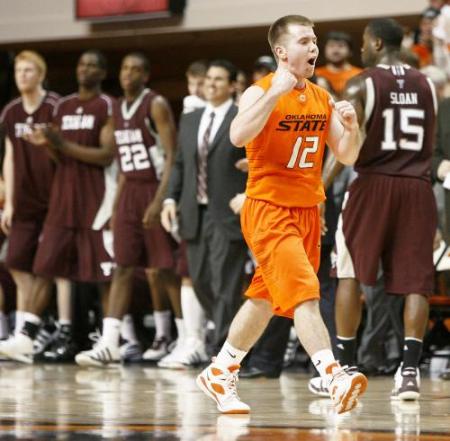 The sun is rapidly setting on spritely Keiton Page's career as an OSU Cowboy. It has been a, surprisingly, good career. It has been a career for which he should take great pride. It has been a career for which OSU fans should be extremely grateful.
It has not been an incredible career.
As Page set the record for career three-point shot makes against Kansas, the Cowboys dropped another game with an apathetic performance. The loss made them 7-10 in league play and virtually assured the school's first losing record since the 1980's. Meanwhile, some OSU fans were campaigning for OSU to hang Keiton's jersey from the Gallagher-Iba rafters and retire his number.
Standing only 5'9" and being generously listed at 165 pounds, Page's success in a sport dominated by more athletic, stronger, and far taller players has been remarkable. That said, he has been a star player for a crummy team. He played in only four NCAA Tournament games, all as a back-up, and when he became the focal point of the offense, the team simply stunk.
Making the campaign even dumber is that the Cowboys currently have honored no players in the program's history in that manner. A freshman enrolling next season could still have Bryant "Big Country" Reeves' #50 or Byron Houston's #35, and those are two players who were All-Americans during seasons OSU was a powerhouse nationally. Yet, Robert Allen thinks that Page should be invited back to relive the glory days of a sub-.500 season and receive the ultimate honor.
On Twitter, former OSU star and current ESPN analyst Doug Gottlieb addressed the hyperbole surrounding the sweet shooing gnome. He didn't think that Page should even be considered a top-25 guard from OSU over the past 25 years.
I disagree. Page is probably a top-20 OSU guard during the Clark Matthews era. After the jump, I've ranked my top-15 backcourt players of the Eddie Sutton-present time frame after the jump. (editor's note: If Patrick were in town right now, this would never have been published.)
15. Corey Williams
Willams, who did not start for OSU his senior season was never-the-less one of the best guards in college basketball that year. Called "The Blur" because of his Westbrookian speed with the ball, Williams was the bench scorer for, quite possibly, the best team in OSU history.
Despite his diminished role, Williams was selected in the second round of the NBA draft by the Chicago Bulls (who also drafted his teammate Byron Houston in the first). That same year, even though he never played a down of college football, he was taken with a sixth round pick by the Kansas City Chiefs. He intended to go that route, but when he made the Bulls roster, he gave up on trying football.
14. Victor Williams
Williams was another spritely fellow who, like Page, succeeded despite anything resembling ideal size. He carried OSU to the NCAA tournment in 2003 even after Mo Baker was lost to the most nagging groin injury an athlete has ever suffered.
13. Joe Adkins
It took all the willpower I possess not to rank him #1. Go Bears!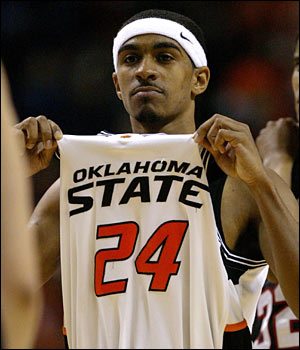 12. JamesOn Curry
Mostly remembered as the reclamation project of a relapsing alcoholic, Curry had a fantastic, though short, career. After OSU, JamesOn was drafted by the Bulls in the 2nd round of the NBA draft where he was signed to a contract. After getting arrested for public urination, the Bulls cut him and he has bounced around the D-League.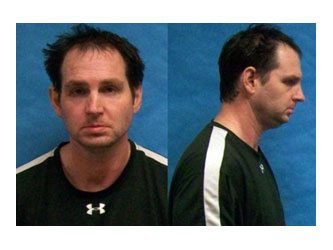 11. Sean Sutton
Due to his failed tenure as the head basketball coach, people forget that Sean was a pretty good player back in his day. The guy who forced Corey Williams to the bench, Sutton was an incredible three point shooter and the guy who ran the offense of that incredible team in 1991 that started the season 20-0.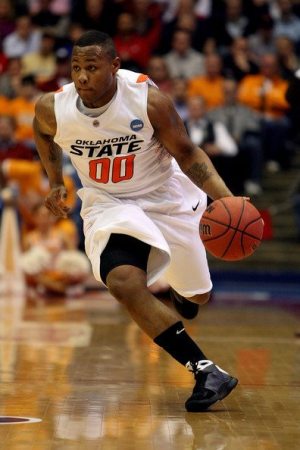 10. Byron Eaton
As the first McDonald's All-American to choose Oklahoma State directly from high school since Darwyn Alexander in the late 80's, Eaton came into the program with huge expectations and an even bigger waistline. That overshadowed his actual play which was actually quite impressive. He was the catalyst of the 2009 team that triumphantly returned the Cowboys to the NCAA tournament.
9. Darwyn Alexander
Speaking of McDonald's All-Americans, here is the guy I was just mentioning. Alexander was the crown jewel of the recruiting class that also included Byron Houston and Corey Williams. As a freshman he was probably the best player while setting freshman records for three point shooting percentage (51%) and free throw percentage (90%). When Eddie Sutton took over as coach for the departed Leonard Hamilton, he brought his son Sean with him from Kentucky. This meant a diminished role for both Alexander, but he remained a fantastic combo guard who was always relied on in the clutch.
8. Doug Gottlieb
Now that he is a hot-shot talking head for ESPN, people forget how good Gottlieb was as a basketball player. Because of his personality and role in the media, his faults are remembered, well. He was a poor shooter in general and a frighteningly bad free throw shooter, yes. However, I don't think there has ever been a point guard at OSU who you would rather have running the offense. His ball handling and court vision were unrivaled.
7. Mo Baker
The injury that robbed Baker of the last half of his senior season tarnished Baker's legacy. Prior to that, he was just a joy to watch play. He could score against anyone and had incredible passing ability.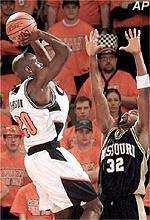 6. Adrian Peterson
After the 1995 Final Four run led by Big Country and Randy Rutherford, the team was decimated by graduation. In stepped Peterson, who seized the reins of leading the team as a freshman. His career bridged the gap between the Reeves/Rutherford era and Gottlieb/Mason era and kept the team relevant. Unfortunatley, he blew out his knee while auditioning for the 1999 NBA draft or he probably would have had a pretty good career in the league.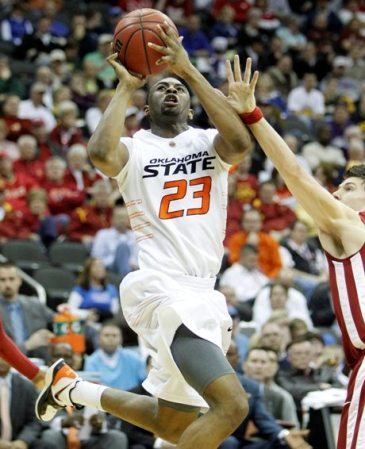 5. James Anderson
Another McDonalds All-American, Anderson was quite possibly the most talented guard to ever play at OSU. His junior year was certainly one of the best in school history.
4. John Lucas III
A refugee from the murder scandal that ripped apart the Baylor basketball program (and somehow set them up to eventually usurp OSU in the Big 12 hierarchy), Lucas' arrival filled the single hole in what would become the most surprising team I have ever watched. Lucas brought all the parts of a team full of talented players and made them a great team. Plus, his shot that beat St. Joe's in the Elite 8 will be always be one of my most cherished moments.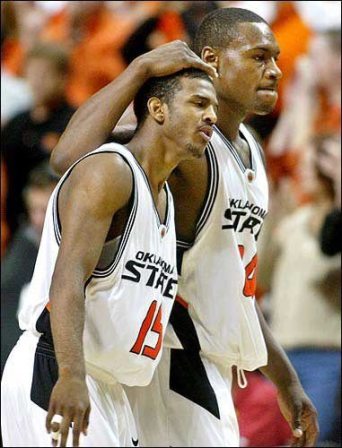 3. Tony Allen
Now known as "Trick or Treat Tony" for the Memphis Grizzlies, Tony's career at OSU included being the defensive stopper for the 2004 Final Four run. Even then, his shots tended to be of the "Please don't take that...GREAT SHOT!" variety.
2. Brooks Thompson
A transfer from Texas A&M, Thompson was integral in the overnight development of Bryant Reeves from out-of-shape bumpkin to Big 8 star. Part of that was by taking the pressure off of Reeves. Thompson was an incredible shooter and defensive player. He was selected by the Orlando Magic in the first round of the NBA draft.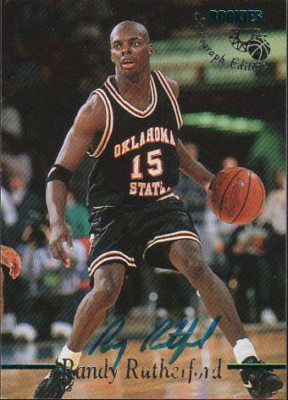 1. Randy Rutherford
Anyone who watched him drop 45 against Kansas in a game where Big Country went scoreless knows that Rutherford was lightning in a bottle. He was just as important in that 1995 Final Four run as the big guy. The only thing that could stop him was his own stupidity. While waiting for the NBA draft where he was projected as a potential lottery pick, OG&E cut off his power. While complaining to their customer service, he allegedly warned them that what he was going to do to them would make the bombing in OKC look mild. This was in 1995, only weeks after Timothy McVeigh blew up the Murrah Building. So, now I only have his incredible college career to remember.
strong>HONORABLE MENTION: Terrell Harris, Keiton Page, Andre Owens, Glendon Alexander, Obi Muonelo, Daniel Bobik, Cheyne Gadson
--------------------
Alright that's my list. Who did I leave off, and who on this list would OSU send to the bench for Keiton Page? How many of these guys deserve their jersey in the rafters?
Note: I left off players who played guard in the pros (Desmond Mason, Stephen Graham, Chianti Roberts) that probably could have made this list, because they were primarily forwards at OSU.
Clark Matthews is a world-class checkers champion, co-founder, and basketball editor-emeritus of The Lost Ogle
Read More:
Stay in touch
Sign up for our free newsletter