Everything Else
The one where Tulsa hipsters get mad about being welcomed to a hipster bar…
9:04 AM EST on December 8, 2011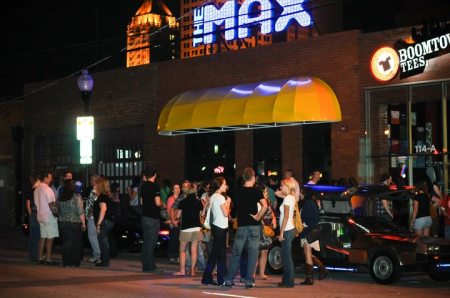 Last July, I ventured up to Oklahoma's second city for a few days to take care of some business. The primary items on my agenda were to see if our resident Tulsan contributor Chelsea was normal (she is) and to have lunch with the people behind This Land Press, which is a Tulsa-based "new media" publication that is 1/3 Oklahoma Gazette, 1/3 The New Yorker and 1/3 Grantland. Basically, it's pretentious and hipstery as hell, but in a totally fine and readable way.
On the first night of my visit, Chelsea took me out to some of her favorite Tulsa hangouts in the Brady / Blue Dome District. Geographically and historically speaking, the area is kind of like Bricktown. The major difference is that it lacks a weird canal and is named after a racist, whereas Bricktown has a canal and was named after the object of Steve Lackmeyer's carnal desires.
I guess you can say the areas are frequented by different crowds, too. Bricktown is filled with out-of-towners, families, douche bags, occasional partiers and those couples in their 40's who met in their church singles group. The Blue Dome District, on the other hand, has more of a Classen Circle vibe to it. You'll see a bunch of college kids, hipsters, snobby trust fund babies, PBR cans and the skinniest of skinny jeans. The even have places that serve ramen pork belly soup.
The first place Chelsea took me the night of my visit was the Max Retropub. On a first impression, the pub was pretty cool. It's filled with old video games, a bunch of ski ball machines, and has three or four projectors screens showing iconic teen movies and TV shows from the 80's and 90's (think Bill and Ted or Saved by Bell). It even has a drink list featuring a couple dozen cocktails named after retro pop culture references.
If, and it's a big if, we had a bartender who actually cared about serving us that night, we would have stayed and ordered one of those cocktails. But we didn't. The bartender was some indifferent tattooed girl who seemed more concerned about trying to ignore us rather than actually serve us, so we had a beer and left and went to some other places.
Anyway, the reason I spent about 400 words telling you all that is because the Max Retropub and its owner Blake Ewing are now embroiled in minor controversy. What did he do? He placed an ad in This Land Press begging for hipsters to return to the Max Retropub. He even dubbed Monday though Thursday as "Hipster Days." Seriously.
From This Land:
Blake Ewing pissed off a couple of local hipsters—or "people like them"—with his "Open Letter to Tulsa Area Hipsters From Blake Ewing," published as an advertisement for The Max Retropub in the current issue of This Land.
Ewing, who owns the 1-year-old '80s-inspired bar, as well as the nearby Joe Momma's pizza joint, Back Alley Blues & BBQ and Boomtown Tees, and who was just elected city councilor for Tulsa's District 4, where downtown lies, used the text-laden ad to reach out to the folks whom he says helped establish The Max when it first opened.
He writes:
"We opened The Max Retropub a little over a year ago. Hipsters (and people like them) rejoiced at the retro-themed bar with its arcade games and skee-ball machines. Our unclean, greasy-haired, heavily tattooed bartenders made you feel welcome and our old games and music took you back to your childhood. Our cheap PBR, Olympia, Stroh's, and Colt 45 delighted your ironic sensibilities. We had done something special. We made a cool little bar that offered something different. The downtown scene and the hipsters who keep it alive embraced The Max."
Ewing went on to apologize for the weekend clientele—"Chads and Ashleys" and "Tulsans wearing extra medium affliction shirts"—who seem, according to Ewing, to be running off the hipster regulars. So Ewing offered to make Monday through Thursday "Hipster Days," offering beer and food specials and discounts on arcade games in an effort to boost weeknight business.
At least one person took offense to his offer. Writing anonymously, a blogger at Project Free Thought (a site registered to Derek Dyson) called Ewing out for being demeaning and for representing the very thing hipsters rail against.
So let me get this straight. Hipsters are upset that a hipster bar placed a hipster ad in a hipster newspaper welcoming back all the hipsters that were run off by non-hipsters. I'm not really sure what that sentence means, but I bet Milk on Milk are writing a ballad about it right now.
This whole thing is stupid. For one, why would any bar owner openly invite hipsters to their establishment? That's basically saying, "Hey normal people, please stay away." Does he have a weird little hat and skinny jeans fetish? I remember the time I asked Ian at the Drunken Fry if he considered his place to be hipster hang out and he nearly fed me to the pack of Roller Girls in the back. That's how much the thought scared him. It was frightening.
Also, can the hipster who wrote the angry blog post get over himself? He should go cry on his Mumford and Son's vinyl. Why can't the hipsters actually be happy that there's a place other than a quasi gay bar that actually welcomes them? Quit whining about everything and be content that you're welcomed somewhere other than your friend's record store! The Max seemed like a cool place…and it wants you. That's rare. Plus they have ski ball, Galaga and, get this, HUGE cans of PBR. Hell, they even have bitchy bartenders who give shitty service. Since enjoying shitty service would be such a contrarian thing, I'm sure all hipsters would love it.
Anyway, I wonder what's going to happen next. Since his "Come All Hipsters" marketing campaign kind of backfired, I'd suggest that Blake Ewing create a "Punch a Hipster Night" or simply have a "Normal People Day." I'd probably drive up there for one of those. And since the people who would want to go to one of those themed nights probably have jobs and money, I bet it would lead to higher sales. If he does that, though, I hope he hires a bartender who wants to work and serve people. That would be nice.
Stay in touch
Sign up for our free newsletter