Everything Else
From the Mountain Top – Sports Musings From Someone Better Than You (Week 4 Review)
3:00 AM EDT on September 29, 2011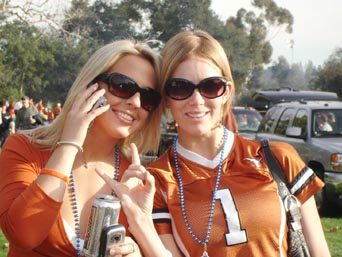 Oklahoma
Oklahoma defeated Missouri Saturday night by a score of 38-28 in what was undoubtedly the most boring game ever to feature over 1000 combined total yards of offense. The lack of excitement was likely the result of how the points were scored - MU scores 14 points in the first eight minutes, then 14 points the last nine minutes. OU scores most of their points in between. Oklahoma couldn't run the ball effectively, though being down double digits early didn't help. They also couldn't stop the run. Sound familiar? Like maybe 2010?
The Star
Ryan Broyles. He was the best player on the field. Without Kenny Stills and Trey Franks and a sharp Landry Jones, OU was forced to use Jaz Reynolds and the running backs to move the ball through the air. Broyles was dominant in the first half, scoring two touchdowns and proving to be about the only guy on the field who could catch the ball consistently.
The Goat
Brent Venables called a lousy ass game. The second touchdown came on a safety blitz where Gabe Lynn (he of, what, 10 meaningful snaps in his career?) was left on an island and was summarily burned by the slot man using coverage skills I acquired watching games at Texadelphia. It looked like the defense had no idea MU and Franklin ran a five wide spread offense with the zone read. Of course, they have been running the offense for six F*CKING YEARS. OU gave up 532 yards of offense, 241 on the ground.
Most Telling Statistic
MU averaged 5.7 yards a carry, and 8.8 yards per pass completion.
Why Oklahoma Won
Because someone went back to the hotel and woke their asses up after 8 minutes had gone off the clock.
What Oklahoma Takes From This Game
They cannot sleep walk through parts of their schedule. I get that FSU was a huge win. I get that the team was expected to celebrate the win. I get that said win came way early in the season. But that is no excuse to practice (according to Bob) and play like shit. I blamed Coach V for the poor play of our defense. But in all honesty, these guys are experienced enough to get their own asses up to play a Missouri team that buttfucked them in Columbia last year! Rant aside, they won, and that's really all that matters now.
Oklahoma State
The Pokes looked dead in the water at 4:15 pm CST last Saturday afternoon. They were down 20-3, and it should have been much worse. They couldn't stop the Aggies. They couldn't move the ball effectively. Hell, the barely had the ball 10 minutes. Then something happened. OSU played like a championship team, completely dismantling Texas A&M both offensively and defensively, and damn near running away with the game, before hanging on for a 30-29 win at College Station.
The Stars
Brandon Weeden and the coaching staff that showed up for the second half. Heisman Trophy candidates step up in big games. Weeden is a legitimate Heisman Trophy candidate now. He threw for a school record 438 yards with 2 (should have been 3) second half touchdowns in leading OSU to it's biggest win in decades. Kudos to the coaching staff that figured out when you have Blackmon and Weeden running open against an average and gassed Aggie secondary, give them the damn ball.
The Goat
Damn near Justin Blackmon. I don't think he was going to celebrate necessarily when he fumbled the ball through the end zone late in the 3rd quarter last week. But fuck me, he was a field goal away from being a larger, blacker Bill Buckner. Alas, it worked out and the Pokes won.
Most Telling Statistics
1st half total yards for TAMU? 301. 3rd quarter total yards for OSU? 274.
Why Oklahoma State Won
They were the better team. I get that they played like junk the first half. But good teams step up and play well then they are backed into a corner. This OSU program all of sudden can't lose on the road. And it is that killer instinct that makes them a legitimate contender for the (my God I can't believe I am saying this) National Championship.
What Oklahoma State Takes From This Game
There are four really good teams in college football. Oklahoma, Alabama, LSU, and now OSU (Wisconsin might join that list after this weekend). Last week, I said we would find out much more about OSU this week. When they play well, they are as good as any team in the country. Yeah, I just said that. They completely dismantled a good Texas A&M team during the second half on the road, holding a 27-2 scoring advantage against the soon-to-be bottom tier SEC Aggies. An amazing performance for the Pokes considering the hole they dug themselves in. They still have a few tough road games remaining, but it sure looks like it could be undefeated Bedlam in Stillwater this year.
Stay in touch
Sign up for our free newsletter