Everything Else
From the Mountain Top – Sports Musings From Someone Better Than You (Week 2 Review)
7:00 AM EDT on September 15, 2011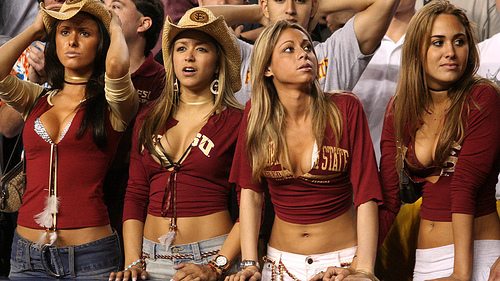 Oklahoma (Las Vegas Edition)
As you know, OU had an early bye week, giving the Sooners a few weeks to prepare for Florida State. We all know how well OU plays against top notch competition away from Norman when they have more than a week to prepare ... uh ... yeah, maybe not. On a personal note, the bye week allowed myself and 6 other mid-30's success stories to venture to Las Vegas for a weekend filled full of more holes than an English muffin. So in place of an Oklahoma review, I bring you Las Vegas Review 2011.
The Stars
Blush at the Wynn is my new favorite bar in Vegas. I abhor nn-che nn-che nn-che dance clubs. I want to hear the girl guy talking to me. I would like a place to sit. And if its nice outdoors, even better. Blush had it all - great music, nice scenery on several levels, enough seating for our group, and a fantastic bottle service. Another winner was Rehab at Hard Rock. Though we skipped the official Rehab pool party traditionally held on Sunday, the talent and service at the pool on Saturday was top notch. I suggest springing for a cabana - large LCD tv, fridge, bottle service, poolside view, and a covered area with couches and chairs.
The Goats
My liver. And the doosh bag Jersey Shore clones that have infested Vegas.
Most Telling Statistics
1) Lost iphone. 2) Remembering going to bed 33% of the time. The two are related.
Why Vegas Won
Because I have no idea when to say when, especially with that deadly combination of Maker's and Asian stripper.
What I take from Vegas
That place is fan-effing-tastic when you have a real job and leave the wife at home. I was unhappy at first that we chose a casino off the strip, but in all honesty, it didn't matter. HRH has a nice casino, relatively cheap suites, decent restaurants, a good sports book, and quality scattered ass. A $10 cab ride gets you anywhere on the strip. I will return.
Oklahoma State
The Cowboys hammered Arizona last Thursday in a game the lopsided score didn't do justice. The Pokes led 21-0 at half, then 34-7 with 10 minutes left before settling for a 37-14 win. OSU racked up nearly 600 yards in offense and completely shut down the Wildcats running game, forcing Arizona to throw 51 passes, a statistic that won't allow them to win many games this year.
The Stars
This one isn't even close. Brandon Weeden was spectacular. He completed 80% of his passes, 13 in a row to start the game. He controlled the tempo of the entire game with his precision and decisions. He looked like a legit NFL prospect. Much like his running back Joe Randle. Fuck me. That dude is really good. He touched the ball 24 times for 220 yards. He is going to play in the NFL, and likely early and often. He is the best young offensive player I have seen play for the Cowboys in many years.
The Goat
The pass defense? Maybe the pass rush? Arizona threw for 398 yards, but that's more a result of OSU's run defense, which gave up 41 yards on 21 carries. It is a bit disconcerting that Nick Foles completed 73% of his passes. And a bit more disconcerting that he was rarely harassed.
Most Telling Statistic
Weeden's 42 completions
Why Oklahoma State Won
The Cowboys forced Arizona into a one dimensional team. Whereas OSU was balanced on offense. You won't beat a team that has nearly 200 yards on the ground and 400 yards through the air, especially when you can't run the ball. Simple as that.
What Oklahoma State takes from this game
Brandon Weeden and Justin Blackmon are legit All-American and Heisman Trophy candidates this year, and Joe Randle's name will be on both lists next year. OSU has national championship offensive talent. And this coming from an OU alum. They also have the ability to make a decent offensive team one-dimensional, which must be encouraging for Poke fan. I think there are still some questions on the defensive side of the ball, namely the pass rush, or rather lack thereof. But OSU is right where they want to be after two games.
Stay in touch
Sign up for our free newsletter