Everything Else
From the Mountain Top – Sports Musings From Someone Better Than You (Week 1 Review)
3:00 AM EDT on September 8, 2011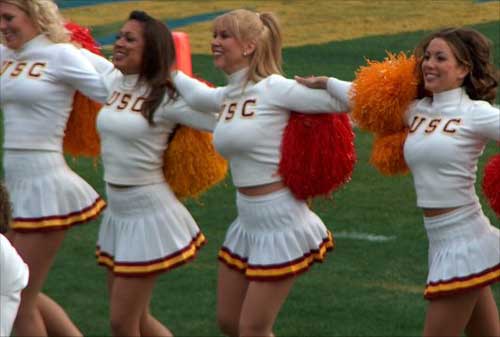 Oklahoma
Oklahoma defeated Tulsa by the score of 47-14 in last's Saturday evening's contest between two of the three in-state programs. I don't think most prognosticators believes Tulsa would win this game, but I think many fans believed Tulsa could keep it close. They did not. Tulsa was outclassed on the field and the sideline for most of the game, and certainly the entire 1st half. Unless your name is Javon Harris, in which case you might want to learn something about "rolling coverage" before September 17th.
The Stars
Gary Joe Kinne was good, but not the great Tulsa needed to pull off the upset. He threw for 271 yards with 2 touchdowns and one pick. Senior linebacker Curnelius Arnick was spectacular, recording 18 tackles while attempting to slow down Oklahoma's revamped running game. The Sooners were led by their usual suspects. Ryan Broyles, who I swear to God is always wide ass open on every pass play, caught 14 balls for 158 and a score. Landry Jones passed for 375 yards and a score. But it was the emergence of the obscure and complete unknown, former Langston University back-up running back Dominique Whaley that turned the most heads. In a development no one saw coming, a vastly improved offensive line allowed Whaley to rush for 131 yards and 4 touchdowns in his debut as OU's feature back.
The Goat
Javon Harris. Dude pulled a Brandon Crow and looked like he'd never seen Brent Venables defensive playbook prior to Saturday night. It's one thing for guys to run wide open because you are over-aggressive. It's quite another for guys to be running wide open because you can't figure out the hand signals coming from the sidelines.
Most Telling Statistic
Oklahoma ran 100 plays to Tulsa's 61
Why Oklahoma won
The Sooners were the more efficient team. 58% on third down conversions. 5.3 yards a carry.  39 of 54 through the air. No team in America will beat OU if they can run the ball like that, convert on more than 50% of their 3rd downs, and complete 60% of their passes. I don't care how good the opposing team's offense is.
What Oklahoma takes from this game
The real test comes in 9 days. But I think OU fan should be happy that the Sooners were able to run the ball effectively, and to some extent stop the run. Neither of those goals were accomplished last year with any consistency, no matter the opponent.
Oklahoma State
The Cowboys dismantled the Louisiana Rajin' Cajuns Saturday night in a game that apparently WAS televised on DirecTV, despite the dipshit customer care specialist I talked to that evening telling me otherwise. Oklahoma State played just as we expected they would against a bad Sun Belt team - great offense, good run/pass balance, good enough defense.
The Stars
As with OU, the usual suspects played well. Brandon Weeden threw for nearly 400 yards on 24 of 39 passes, eight of which were caught by Justin Blackmon. New feature back Joseph Randle rushed for 129 yards behind arguably the best offensive line in the conference. Somewhat surprisingly, junior linebacker wide receiver Tracey Moore caught seven balls for 114 yards and a score, having amassed a measly 400 yards receiving his first two years in Stillwater.
The goat
Well, Weeden did his damnedest. Three picks. Two pick sixes. And although he racked up big yards and three scores, throwing three picks against Louisiana is going to get you a goat nod whether you play for OSU or Robert Morris.
Most Telling Statistic
Total yards - 666 for OSU, 320 for the Cajuns.
Why OSU won
Superior talent, and pretty damn good defense. The offense wasn't as sharp as Gundy would hope, particularly from the team's unquestioned leader. But OSU's offensive talent is top notch. Weeden can sling the ball. Blackmon is an elite NFL talent. Randle is an elite Big XII talent. The question, as it is every year, is the defense. I recognize the Pokes played a bad team from a bad conference, but they held said bad team to 320 total yards, 4.3 yards per play, and under 25% third down conversions. Has this defense improved enough to make OSU a legitimate contender?
What Oklahoma State takes from this game
We probably won't find out until the end of September. Yes, it was a strong defensive performance against Louisiana despite what the final score indicated. But OSU has Arizona at home today, at Tulsa next Saturday, and at Texas A&M, who was very impressive last week, in two weeks. I have little doubt Weeden will bounce back and play well this year. I have no doubt Randle will continue to improve as a feature back. I have no doubt Blackmon will at best dominate the competition. I have serious doubts about whether OSU's defense has enough to propel the Pokes above Oklahoma, Texas, and Texas A&M.
Stay in touch
Sign up for our free newsletter