Everything Else
Let's make Cardboard Jim Traber OKC's BEST Community Leader!
3:12 PM EDT on July 14, 2011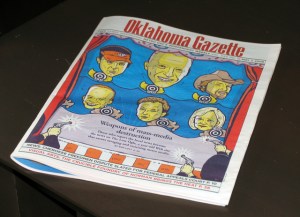 The Oklahoma Gazette has finally released this year's finalists for the annual "Best of OKC" competition. It looks like we are up for two – and kind of three – honors in this year's field.
They include:
Best Website: Last year, we finished second in the category to NewsOK.com. This year, NewsOK.com isn't even nominated. That probably means we'll finish in second place to one of these other websites that for some reason made the list:
KeepItLocalOK.com: This one reeks of ballot stuffing. Who other than the owner of this little discount card thingy is seriously going to say that KeepitLocalOK.com is their favorite website.  It's not even designed very well.
News9.com: Yeah, this one may win. The News 9 website is probably the best local news website in town, but we are much funnier. Plus, Gary England has never given a shout out to the News 9 bloggers.
OKsugar.com: See "KeepItLocalOK.com" but replace "discount card thingy" with "cupcakes."
Wimgo.com: Here's a sentence that's never been said: "Hey, let's check out Wimgo.com to see if anything's going on this weekend!" I bet OPUBCO forces its staff to nominate Wimgo.com. It's the only logical explanation why that POS would make this thing.
-
Best Person or Business to Follow on Social Media: Last year this category was called "Best Social Media Fanatic." This year they made it more general in hopes of getting more nominees. If you feel up for it, please vote for us in this category instead of one of these losers or professional basketball players.
Dan Gordon: If this category was "Who spends too much time on Twitter" he would win in a heartbeat.
Floyd Martin: Who?
Kevin Durant: Eh…his Tweets are overrated.
OK Sugar: Whatever.
-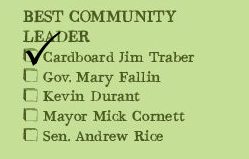 Best Community Leader: Cardboard Jim
Yes, our obscure local social blog's unofficial mascot has been nominated for "Best Community Leader."  Remember, Cardboard Jim Traber is much better and totally different than Regular Jim Traber.
Cardboard Jim Traber doesn't smoke illegal Cuban cigars, gamble on sports and is actually a fan of the WBNA. He also likes to spend his time working with AIDS charities, music festivals and advocating for gay rights. Once he even let a homeless man use him as bed.
That being said, he uses a cheesecloth as a sheet, uses Jenny Carlson columns as toilet paper and in 1997 tried to steal a baseball mitt from Play It Again Sports. So I guess you can say he does have some Regular Jim in him.
Regardless, he's better than these people:
Gov. Mary Fallin: She would be a shoe-in if the category was "Least Intelligent Community Leader."
Kevin Durant: How can you be a community leader if you tell the national media that there's "nothing" to do in Oklahoma City.
Mayor Mick Cornett: This would have been a good choice…in 2005. In the past year, Mayor Cornett has recently left his wife, turned away the Lingerie Football League and gone out of his way to put the interests of the Chamber of Commerce (and Downtown landowners) over those of the people. Swell job.
Sen. Andrew Rice: Damn Hippie.
Seriously, Cardboard Jim has to win this category. If you only vote for one thing in this survey, vote for him.
-
Other Stuff
There are 83 total categories in the Best of OKC. That means some of our friends and supporters were nominated, too. Show some gratitude to these folks by voting for them in the following categories. Without their support, their may not even be a Lost Ogle.
Best Appetizers: Deep Fork
Fun Fact: Those Chicken Bacon Brochette things are amazing.
-
Best Pizza: The Wedge
Fun Fact: Get the American Pie with extra cheese. You'll thank me later.
-
Best Vegetarian or Healthy Menu Options: Picasso's
Fun Fact: These guys are one of our newest supporters. Check them out in Paseo and get the Ahi Tuna Indian Taco. It's awesome.
-
Best Locally-Made Beer: Coop
Fun Fact: I prefer their wheat beer. If you like hops, you'll love their Amber.
-
Best Mexican or Latin Restaurant: Iguana Mexican Grill
Fun Fact: Iguana has the best salsa in OKC.
-
Best place to hear live music: The Blue Note
Fun Fact: Go on Monday's when they have Deep Dish Pizza.
-
Best Casino: Lucky Star
Fun Fact: Lucky Star presents our Friday Night in the Big Town Series. When you go to a casino, choose them.
-
Best place to buy your next vehicle: Fowler Volkswagen
Fun Fact: Jonathan Fowler may be the coolest car dealership manager in the world.
-
Best place to have cosmetic procedures performed: BodyTrends the Electro Spa
Fun Fact: I'm so handsome that I don't require cosmetic procedures, but if you're not good-looking like me, go see Dr. Jenkins.
-
Best TV personality or team: Gary England
Fun Fact: Just to be safe…just to be safe.
Stay in touch
Sign up for our free newsletter