Everything Else
One Man's Genius is Another Man's Scumbag
12:04 PM EDT on June 8, 2011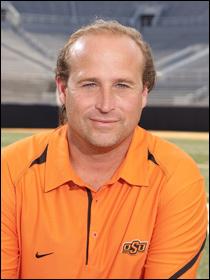 Dana Holgorsen has been called a lot of things. "Wunderkind." "Genius." "Short-timer." "Phil Collins Lookalike." But if his current boss has any say, the only thing he will be known as at his new job is "Scumbag."
For those who have no idea who Dana Holgorsen is, Patrick (along with most Sooner fans), he was the offensive coordinator that is widely credited with making the Cowboy football team relevant last season. As a protege of former Texas Tech coach Mike Leach, his high octane philosophy had Holgorsen helming the best offense in college football for two years running (he coached the Houston Cougars offense in 2009).
With that fantastic resume, Oklahoma State had no hope of holding onto him long-term...at least not as long as Mike Gundy remains just barely a man (now 42). Holgorsen was bound to become a head coach. And as one would expect, he was poached after just one season by West Virginia who named him "Head Coach-in-waiting."
This has been a trend in college athletics of late. Usually, though, when a successor is named while the current coach continues in their position, the successor is a relative (Sean Sutton at OSU, Pat Knight at Texas Tech) or at least a loyal assistant (Jimbo Fisher at Florida State). In this case, West Virginia's head coach Bill Stewart had no relationship with Dana Holgorsen. It was simply an outside hire and Stewart was slapped with a mandatory retirement deadline for the end of 2011.
The assumption was that Stewart was on board with this plan, but he might not be quite as ready to call it a career as he let on.
Recently, Holgorsen has been the subject of some unflattering stories in West Virginia papers that have been picked up by national media. One was about him being booted from a casino for "inappropriate behavior." Then, there were reports that this was only one of six similar instances.
For a guy who had no issues at Oklahoma State, it is hard to believe he suddenly became a degenerate gambler with a serious alcohol problem in the six months since leaving Stillwater. So, the WVU administration started wondering who the source of these stories were. They did not have to look far. 
According to SportsbyBrooks.com, it was probably Holgorsen's boss, Bill Stewart. These quotes were obtained from Pittsburgh-Post Gazette reporter Colin Dunlap:
"He (Stewart) tried to flame-throw the guy (Holgorsen) in December by calling me and at least one other reporter--because the reporter and I discussed it. He said, 'can you get the word 'scumbag' tattooed on the front of the sports page?'

"'(Stewart said) you need to dig up this dirt. You need to get it out on this guy.' And I said, 'hey man, I'm not a part of some witch hunt.'"
Regardless of whether Stewart was in the right to attempt to run the guy he's grooming to replace him out of town, or not, the WVU administration is obviously now second guessing their choice. According to Oliver Luck, their athletic director (emphasis mine):
"Well, I thought it made sense at the time because Dana was given an opportunity to come in and focus on teaching the offense to a team that had some offensive challenges the last couple of years," Luck told the radio station. "It was an opportunity for Stew to act as a mentor, to give (Holgorsen) a bit of understanding about the state and the culture of Mountaineer football. So in my mind, I thought it made some sense."
Well, Dana is getting a taste of the culture, alright. And if he isn't liking it, I would he happy to welcome him back to Stillwater.
Clark Matthews is a world-class checkers champion, co-founder, and basketball editor-emeritus of The Lost Ogle
Read More:
Stay in touch
Sign up for our free newsletter