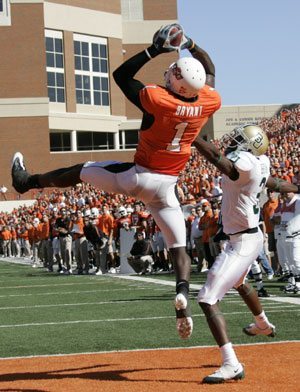 Despite my status as a complete OSU homer, I will be the first to admit that the school has a serious problem with their athletes behaving as good citizens. In just the past year, the star receiver was busted for driving while impaired at 4am on a Tuesday morning, the freshly crowned Big 12 "Newcomer of the Week" was suspended from the basketball team for aggravated sexual assault, and two football players reenacted a scene from Roadhouse.
While those guys receive minor penalties (like being excused from having to participate with the travesty of basketball being performed) for actual crimes, one former player is constantly getting real heat for nothing. One of the headlines on ESPN.com on Wednesday related to former OSU Cowboy and current Dallas Cowboy Dez Bryant being detained for "criminal trespass."
That sounds serious until one reads the article to find out what happened. Dez and a group of his friends were in an upscale mall in Dallas, and some of them were "sagging." Since the mall caters to rich white folks, they could not have obvious criminals--looking to spend the money of their uber-wealthy buddy--scaring away the normal patrons by showing their expensive underwear. So, they asked Dez and his crew to leave.
Dez, who claims his pants were above the waistline, took exception to being ejected and made a scene. If white people dislike urban style, they hate black guys getting loud, so the event made news. And of course, Bryant came off as the bad guy.
Why? Well he has a history. A history at that mall, even. Here are some of the priors the ESPN article listed for Dez at that large collection of retail stores:
Illegal parking
Cutting in line
Arguing with a woman at a restaurant
With a rap sheet like that, it is incredible that he is not locked up without bail. Tack on to that his problems at OSU that the NCAA ended his college career over (lying about meeting Deion Sanders) and the reason he fell ten spots in the NFL draft (chronic tardiness). Obviously, the man must be stopped.
Is the man perfect? No. He certainly has some problems with decision making. For instance, he should have just asked the salesperson who ejected him from the mall if they work on commission, then said "Big mistake," and calmly left. Instead, he caused a scene that further tarnished his unfairly bad reputation, then he tweeted that he was going back to that mall to buy the shoes (LeBron James' basketball shoe) that he had intended to get. Come on! They sell those at every shoe store, don't give those idiots your money.
Meanwhile, in a league that is going to alienate their fans while they fight with their union, gave a franchise tag to a player who spent two years in prison for animal cruelty, recently saw a former face of league get caught for being a child rapist, and has teams lining up to sign a player whose prison term (for shooting a firearm in a crowded bar) will be ending soon, Dez Bryant is the one having to answer questions about his character. I would admit that I was naive about him being worse than what he has actually been caught doing, but for someone who cannot get away with cutting in line despite being a football star, I doubt he could get away with real crimes.
Clark Matthews is a world-class checkers champion, co-founder, and basketball editor-emeritus of The Lost Ogle
Read More:
Stay in touch
Sign up for our free newsletter