Everything Else
Top 25 Oklahoma Sports Figures Since 2000 (25-21)
1:00 AM EST on February 10, 2011
The next few weeks, I will present the Top 25 Oklahoma Sports Figures over the past 10 years. So there be no mention of Jim Thorpe or Barry Switzer or naked Byron Houston. And, apparently, there will be no mention of me and my athletic exploits both during and after high school. I'll have you know that I was the Offensive MVP of my high school baseball team that finished only one game under .500. Where are my accolades? Who could possibly be a greater sports figure? How can there be 25 greater sports figures from Oklahoma?  Find these answers after the jump.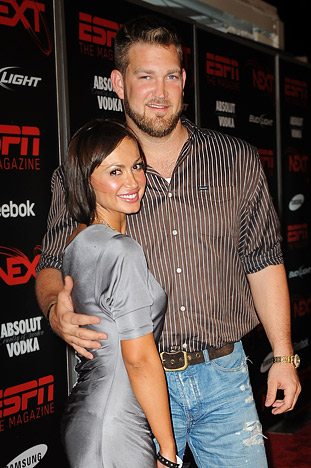 25. Brad Penny
Born in Blackwell and graduate of Broken Arrow, the two-time All Star had the reputation of throwing the fastest average fastball during his time in the Show. His best year was 2007, when he won 16 games with a sparkling 3.03 ERA. Of course, Sally Kern could could sport a sub-4.00 ERA pitching in Dodger Stadium. Brad was a pretty good pitcher about 5 years ago. Now injuries and Ryan's Steakhouse have pushed him to the brink of the independent leagues.
As an aside, Brad is engaged to one of those hot Ukrainian dancers (see above) from that show where "Stars" Dance with Professional Dancers. I've never, ever watched this show. In fact, I hadn't heard of it before writing this article. I swear.
And yet another aside, my brother and I played Legion ball together during the summer of 1995. My brother was a junk ball lefty who was a pretty good ballplayer back in the day. His claim to fame? Giving up a 450 foot home run to Brad McFatterson the last game of that season. I think that ball had a manifest it was hit so far.
*rimshot*
-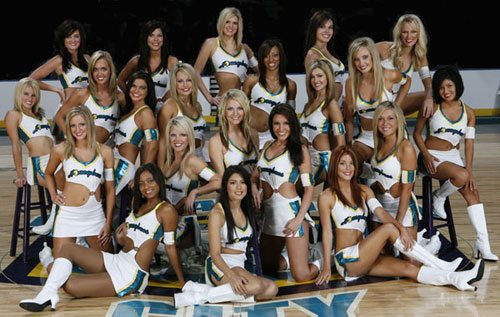 24. The Honeybees
Let's be completely honest here - the Honeybees were a ragtag combination of NWOSU cheerleaders and Night Trips day shifters.
Not that there's anything wrong with that.
The entertainment alternative were the Red Dog Saloon rejects known as the Yarddawgz Dancing Trash Heap. Or whatever they were called. I am sure 92% of men over 18 from Moore could name each dancer's tattoos.
I kid, of course. The Honeybees were way more than just some reject strippers. They brought a sense of class to the Ford Center. The likes of which haven't been seen since the last time the WWE graced our fair city. At least they knew how to dress. Bunch of 6's dressed as 10's...like Rok Bar.
-
23. Kelvin Sampson's Phone
Does it seriously take hours and hours and hours of phone calls to convince a 6'10" stiff no one else in the free world is recruiting to come to OU and learn the art of hacking and not making open jumpers?
After signing what appeared to be the best recruiting class in the history of Oklahoma basketball, some angry Texas fan working in accounts receivables for AT&T (ed - not confirmed) discovered the great denim one was spending a bit too much time on the telephone talking to potential recruits. That's fine if you want to date an 18 year-old high school basketball star. That is not OK if you are the head coach of a Division I basketball team and one time member of the NABC Ethics Committee. OU was placed on probation as a result of the allegations. A few weeks later, Kelvin split for Indiana where he continued his tradition of not giving a shit about rules.
So, instead of signing future all-conference first teamers Scottie Reynolds and Damien James, the University released the entire class from their commitments, leaving the program with Jeff Capel, a missed post-season, and games ending with more than 40 points scored.
-
22. Eddie Sutton's Addiction
Coach Sutton was a recovering alcoholic and the savior of an OSU basketball program that had fallen on hard times during the 70's and 80's. He instilled discipline, defense, and a winning tradition. He sent OSU to the Final Four twice. He amassed a .600 winning percentage. The basketball court at GIA was named after him. He was the Barry Switzer of Oklahoma State.
But one night in Stillwater forever altered Coach Sutton's legacy.
On February 10, 2006, after years of sobriety (allegedly), Coach Sutton fell completely off the wagon, got in a car, and caused a multiple vehicle accident in Stillwater. Coach Sutton pled guilty to aggravated DUI after blowing nearly 3 times the legal limit. The white trash fattie he hit presumably settled her lawsuit against Sutton far short of the millions I am sure she thought she would receive when she saw Coach Sutton stumble out of the vehicle that hit her.
Even with Coach Sutton's past, the details of the accident were a complete shock. How could this man drink enough to lose all motor function? Better yet, how did all of his "handlers" allow this to happen? Will he coach at OSU again? Will he coach anywhere? Does the apple fall far from the tree?
-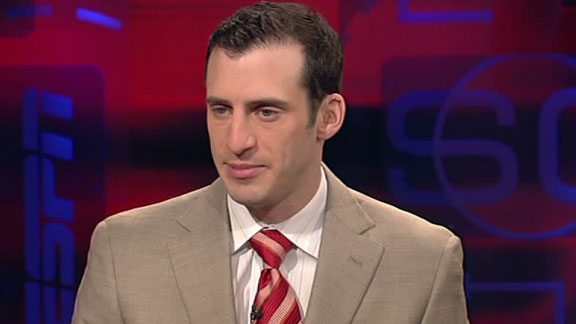 21. Doug Gottlieb
Yes, the guy is an arrogant prick. And yes, he couldn't hit snow if he fell out of his skis. And yes, he is vilified by OU fan for not being very nice to Nate Hybl after the 2002 Big XII Championship.
But the former Notre Dame point guard turned Eddie Sutton disicple (no pun intended) is probably the best radio host/analyst on ESPN these days, with apologies to Scott Van Pelt. He doesn't mince words. He does not kiss ass. He doesn't have stupid catch phrases. His takes are generally on point. All completely the opposite of popular ESPN talking heads such as Dick Vitale and Chris Berman.
Love him or hate him, Dougie knows his shit. And in the world of broadcast journalism, that's saying something.
-
Next week: 20-16
Stay in touch
Sign up for our free newsletter