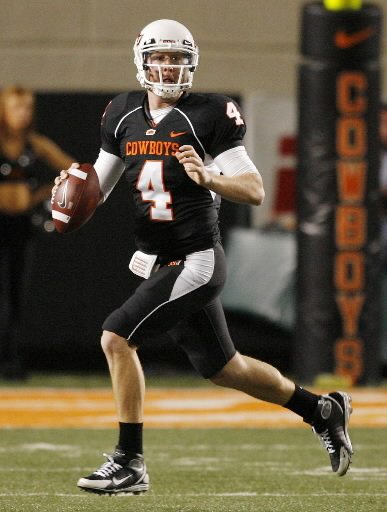 Being an Oklahoma State football fan is a lot like rooting for the Chicago Cubs.  Every year, most fans convince themselves that this just might be the year.  I hear it every year:  "If the (offense/defense) picks up (insert new coordinators name)'s scheme, and (insert name of stud recruit) can give us half of what (insert name of departing NFL player/guy who got kicked off the team) did last season, it will come down to the Bedlam game for the Big XII south title!  I totally see it happening."  Then, it doesn't happen and everyone who bleeds orange feels like they've been kicked in the nuts.
This year is no different.  My friends over at CowboysRideforFree, a website that was once called WastedOptimism because of the way OSU fan optimism is--for lack of a better word--wasted, is pumping sunshine.   When I get finished reading one of their columns, I am convinced the Cowboys will annihilate Washington State in the opener and finish with eight wins.
Then, twenty minutes later, I realize it isn't going to happen.  This is a team that has a brand new offensive line, a new offensive scheme, nine new defensive starters, and only one impact player (a guy who plays a position where the role is minimized by the new scheme) returning.  I see national previews projecting the Cowboys to finish fifth in the South and think, "Thank God for Baylor."
So, as you can tell, there's some divergence between myself and most of the Orange Nation.  Because of this, I will preview position-by-position taking into account both perspectives.
Quarterback
Optimistic
This is a position of strength.  Anyone who saw the 180 the team pulled when Brandon Weeden came into the Colorado game knows he is a star.  After that performance, he should have finished out the season as the starter.  He has great size for a QB, a strong arm, and because of his time in the Yankee system, poise beyond that of the normal college athlete.  He should pick up the Texas Tech-style offense that Dana Holgerson is instituting very quickly and perhaps get his name in the Heisman discussion.
Pessimistic
Was Weeden good for half a game against a team that finished 3-9?  Sure, he was awesome.  I think it was the juxtaposition to Alex Cate that made him look so good.  That guy was 0-9 passing in the first half, and the fact that he was only intercepted once speaks volumes about how poor the Colorado secondary played.
There was a reason Weeden was third string behind that guy despite his talent.  Coach Gundy questioned his commitment to practice and from what I hear from people who went to high school with him, he's kind of a dick.  So, we are pinning our hopes for a new system on a guy who has an Iversonesque aversion to practice and who probably isn't very popular among his teammates.  My guess is that back-up Johnny Deaton will be the most popular guy on the team (among fans) by the mid point of conference play and that next Summer will be J.W. Walsh starting as a frosh will be discussed almost constantly.
Runningback
Optimistic
Kendall Hunter is an absolute star.  He led the Big XII in rushing as a sophomore, in his first year as a starter.  Had he been healthy last year, the offense would not have been so stagnant and it could have improved the outcomes of a couple other games--including Bedlam.  With his abilities, Dana Holgerson is going to get him touches even if it is outside the system.
Pessimistic
Kendall Hunter is an absolute star.  Unfortunately, when the team is passing the ball 75% of the time (conservative estimate) what good is a great runner?  Even if they do try to get him the ball on some shovel passes and screens, the green offensive line will probably get him killed.  He did miss most of last season with injuries, remember?
Wide Receiver
Optimistic
In the past two seasons, the receiving corps was hamstrung by a reliance on Dez Bryant.  So much so that Zac Robinson didn't even try to throw to anyone else until Dez was suspended.  Why would they try hard knowing it was all for naught.  Afterwards, the inexperienced players who had been accustomed to being the Pips, to Dez's Gladys Knight came around quickly.  For instance, Hubert Anyiam looked like a budding star.  That half a season of experience should be huge for them as Holgorson increases their touches.
With Bo Bowling back after a year suspension, Tracy Moore and Justin Blackmon with some valuable repetitions, and Anyiam back to be the go-to guy, they'll be alright.
Pessimistic
Nothing out of the receiving corps impresses me.  Anyiam had some good games, especially the first game post-Dez, but he also disappeared for entire games.  With the new system predicated on having guys who can catch the ball and then make something happen, it seems deluded to expect these guys to make this happen.
Tight End
Pessimistic/Optimistic
We don't have any tight ends worth a damn./We don't need any tight ends.
Offensive Line
Pessimistic
Last year, the entire starting offensive line was made up of experienced seniors including 6th pick overall in the draft, Russell Okung.  At times, they looked overmatched.  This season, the starting line is composed of their understudies and backed up mostly by freshmen.
Optimistic
Sure, the line is lacking experience.  That's where the beauty of the new system comes into play.  With four receivers that will be running quick routes on almost every play, the line doesn't have to hold their blocks a long time.  Plus, the elimination of that pressure minimizes the likelihood that the lineman will commit holding infractions.
OVERALL OFFENSE
Optimistic
By conference play, they will be clicking on all cylinders and making Big 12 fans forget that Texas Tech is now boring to watch.
Pessimistic
The personnel for the new system is all wrong, and this will be a long year.
Defensive Line
Optimistic
What the offensive line lacks in experience, the defensive side is loaded with.  Ugo Chinasa is one of the two returning starters on this side of the ball, is an excellent pass rusher, and will likely hear his name called during the next draft.  On the other side, Richetti Jones moved ahead of Jamie Blatnick in the depth chart due to Blatnick's legal trouble, but he is no slouch.  He was one of the best defensive recruits the Pokes have secured in years when he committed, then he broke his hip or something and took time to return to form.  Even if he still isn't ready, Blatnick should be back by conference play.
Shane Jarka, who has started some, will anchor the middle.
Pessimistic
The ends are strong, but up the middle is a serious concern.  Nobody in the two deep seems to be a strong run stopper and the one guy who might fit the bill, Shane Jarka, is injury prone.
Linebackers
Pessimistic
When it is said that there are only two starters returning from last season, that is a bit misleading.  Orie Lemon was probably the team's best backer two years ago and his season ending injury in the lead up to the Georgia game was pretty devastating.  Having him back in the picture should give a boost to a young line backing crew.
Justin Gent was the only bright spot in the ugly Bedlam game.  He should build on that and have a great senior campaign.
Optimistic
Orie only plays one of the positions, and Gent has had one good game.  Linebacker always seems to be a weakness for the Cowboys and this year looks to be no different.
Secondary
Pessimistic
Parrish Cox, bad attitude and all, will be impossible to replace.  He was a lockdown corner with great size who could tackle well and also take an errant pass back for six.  Factor in that he also started for four years, and that means that there isn't really anyone coming in to replace him who has played any significant time.  Terrence Anderson, who started at the other corner position, was also no slouch.
Optimistic
The safeties will be stout.  Markelle Martin is one of the two official returning starters and has big hit capability.  His partner in crime (this is not referring to the legal trouble OSU has had in the offseason--remember, this is the optimistic section), Johnny Thomas played a lot last year and should be ready to step in.
While the corners are young, Broderick Brown is a speed burner that can make some big plays with his legs.  Andrae May, on the other side, was supposed to redshirt last year, but played too well for the coaching staff to actually follow through on that plan.  The limited experience he got last year will come in handy.
OVERALL DEFENSE
Optimistic
Bill Young showed last year that he can get these guys motivated to show pride in stopping the opposing team.  These new guys actually have the benefit of having a couple years of his tutelage and that will show.
Pessimistic
The much improved defense from last season had to do with their being a veteran group lining up.  That certainly isn't the case this season.
Special Teams
Optimistic
Both of the kicking specialists are vets.  Punter Quinn Sharp is one of the best in college football.  His booming kicks can quickly turn a bad situation into poor field position for the opponents.  Meanwhile, Dan Bailey is money from inside 40, and has the leg to make 50 yarders.
Pessimistic
Always a point of pride for the Cowboys, the return game is actually one of the team's biggest question marks.  Victor Johnson was supposed to be the primary kick returner, but his narc neighbors put that into question.  Instead, Kendall Hunter is slated to take his place, and while he certainly is capable of breaking a long return, he risks injury in the kamikaze world of special teams.  Also, punts will be taken by a true freshman, so there's that.
OVERALL
Pessimistic
The non-conference schedule is cake, so assuming no hiccups--which is always risky--they should win all of those.  (Tulsa could potentially screw up that prediction.)  Once conference starts, though, it gets ugly.  Their north slate includes Nebraska and they have to go to Kansas State.  They also play aTm as their conference opener which matters because the Aggies have an experienced quarterback while OSU will probably be working kinks out of their system.  If the Cowboys are over .500, it will be a good season.
Optimistic
Holgorson is going to make this offense state of the art, and Bill Young will have the defense in tip-top shape.  The Cowboys are going to surprise some people, especially Clark Matthews, and win eight games minimum.  They will probably upend OU's mythical national championship hopes, and overcome Texas in a rebuilding year.  Last year was supposed to be our year, but it will wind up being this one.*
_____________________________
* - This can be copied and pasted to next year's preview.
Clark Matthews is a world-class checkers champion, co-founder, and basketball editor-emeritus of The Lost Ogle
Read More:
Stay in touch
Sign up for our free newsletter