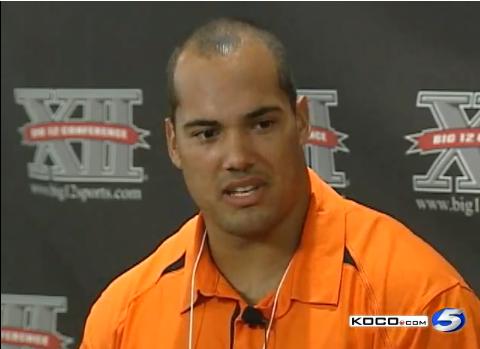 Last week, the Big XII (what remains of it) had their yearly football media soiree.  Mack Brown made jokes, Bo Pellini looked pissed, and Bob Stoops said nothing that could not be classified as coachspeak.  That, as all who follow the Big XII know, is what is expected.  Also par for the course is that OSU has now been put in a tough position by one of their top players.
At that same media function, one of the players representing the Cowboys was defensive end Jamie Blatnick.  Assumed, because Coach Gundy selected him as one of two players to put in front of the cameras, is that Blatnick is was expected to be an important cog in what Oklahoma State would accomplish this season.  That is probably not the case anymore.
From the Tulsa World:
After allegedly striking former teammate Steve Denning in the face with a beer bottle, Oklahoma State junior defensive end Jamie Blatnick was charged with a felony in Payne County District Court on Monday.

---------------------------

In a news release, police said that as officers were interviewing Denning outside the establishment, Denning forced his way through police in an attempt to continue the fight with Blatnick. Denning had to be stunned with a Taser to be subdued, police said.
Aside from the awesome visual of Blatnick breaking a bottle and attacking another football player Patrick Swayze-style, this is not cool.  (Another great visual?  Denning's mug shot.)  The Cowboys are already in re-building mode.  Unlike the Sooners who can ship a gajillion guys off to the NFL and replace them with a gajillion other guys who are going to the NFL, OSU needs to get the most out of the players at the top of the depth chart.  After one of their best seasons in school history, the loss of their starting quarterback, best playmaker, the whole offensive line, and most of their defense to "graduation" means that the team is already going to struggle to make this a season that doesn't make Poke fans want to kill themselves.
That means that whatever leadership qualities Gundy saw in Blatnick that spurred the invite to media day was essential to the team.  A few days later, he (probably) throws it all away.  Of course, this isn't exactly a new problem for OSU to deal with.  It seems like on the eve of every season, some situation arises to cast a pall on the upcoming campaign.
Last season it was the projected starting tight end, Jamal Mosely, leaving the team for "personal reasons" just days before the season opener.  The restraining order a fellow State student acquired against him may have been a factor.  When I was in school, ten players--including Andre Richardson, the guy the offense had been designed around--were kicked out of school for academics two weeks before the first game.  In 2005, defensive captain Vernon Grant died in a car accident, and Prentiss Elliott (who starred as a freshman) got suspended for doing one of a numerous number of gang related activities in the lead up to that same season.  Plus, who knows how many things got swept under the rug when Les Miles was the coach.
To his credit, Mike Gundy has been very good about actually disciplining players who run afoul of the law...unlike the guy he replaced.  He even suspended Dez Bryant last season at the first indication that Bryant may have done something to run afoul of the NCAA's assinine policies.  In this case, though, he may be waffling.  According to an article on KOCO.com, Gundy said about Blatnick:  "I think he has incredible remorse.  I'm not going to speak for him, but you asked me to evaluate him, and I think he's incredibly remorseful about the situation."
My translation of that is "Yeah, he effed up, broke a dude's skull, but he feels sorry about it."  And when the starting defensive end gets a slap on the wrist, my translation of that action will be, "At least he didn't put the dude in a coma."
Clark Matthews is a world-class checkers champion, co-founder, and basketball editor-emeritus of The Lost Ogle
Read More:
Stay in touch
Sign up for our free newsletter