Everything Else
Meet the 2010 "Single in the City" Participants
7:56 AM EST on February 25, 2010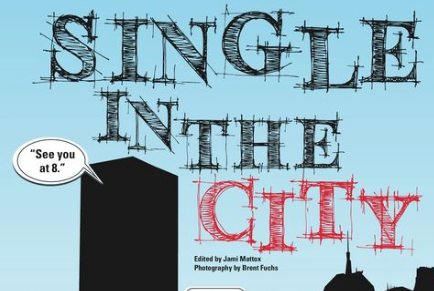 This weekend, Oklahoma Magazine is hosting their 2010 Single in the City Party and Charity Auctions in OKC and Tulsa.  Here are all the amazing details.
Oklahoma Magazine presents the 2010 Single in the City Party and Charity Auction to benefit Make-A-Wish Foundation. The event will be held Saturday, Feb. 27, beginning at 6 p.m. at Skky Bar Ultra Lounge, 7 S. Mickey Mantle Dr.
The evening will be filled with music, a fashion show by several of OKC's hottest boutiques, drinks and hors d'oeuvres and a live singles auction featuring 12 of the area's most eligible bachelors and bachelorettes.
Proceeds from the event will be presented to Make-A-Wish Foundation, which grants the wishes of children with life-threatening medical conditions.  Presenting sponsors include Oklahoma Magazine, Skky Bar Ultra and 98.9 KISS FM.
Tickets are $20 in advance or $25 at the door and are available for purchase at Make-A-Wish Foundation of Oklahoma offices in OKC, 5201 N. Shartel, 405.286.4000, and at Skky Bar Ultra, 7 S. Mickey Mantle Dr.
Oklahoma Magazine will also present a companion event featuring 12 singles from the Tulsa area. The event will be held Friday, March 26 at 6 p.m. at Jewel, 3340 S. Peoria Ave. in Tulsa.
First of all, for $20 there better be some hot drunk single chicks in attendance.  If not, you should at least get a partial refund or gift bag.  Also, I'm kind of worried that KISS FM is a sponsor.  That means if there are hot drunk chicks around, Jack and Ron will probably creep them out and chase them away.
Also, I guess I should probably mention that I do write an award winning, "light-hearted" monthly column for Oklahoma Magazine.   The column is usually near the back page and is called "last word" or something like that.  And yes, they actually pay me to write the thing.  Hell, they even edit some of my typos for me.  It's a pretty sweet gig.
That sweet gig, though, will not stop me from writing about this event.  There's just too much material!  Check out my thoughts on some of this year's participants "" and what I think their auction value should be "" after the jump.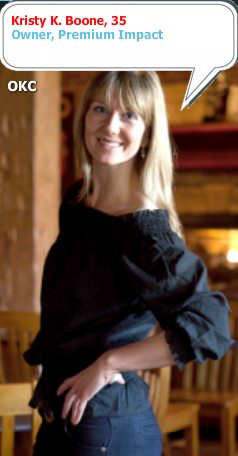 Kristy K. Boone
Auction Value: $2,000
Since this is the first person we are going to analyze, let me tell you that I have no clue how these date auction things work.  Therefore, I have no clue where to set the bidding.  I'm basically going off my first reaction.
Anyway, I don't really know too much about Kristy.  All I know is that she's tall, milfy, and has a business that sounds like it's named after a Steven Segal film.  For what it's worth, she's also friends with my ex-girlfriend.  I'm not sure what all that means, but $2,000 seems fair.
-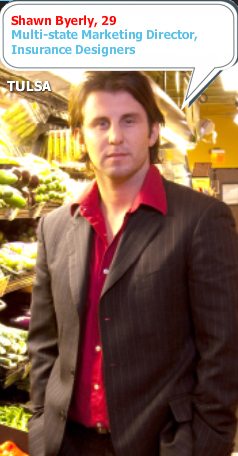 Shawn Byerly
Auction Value: €29 (euro)
Is it possible for this guy to look more European?  Probably, but he's doing a pretty good job at it.  How much do you want to bet that he's a fan of soccer, goes on holidays and ends all of his emails with "Cheers."
-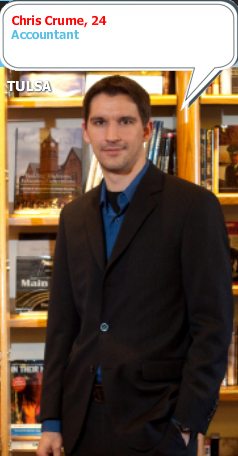 Chris Crume
Auction Value: $12
If I showed you a picture of Chris, and asked you "Is a Chris a carpenter, physician or botanist?"  There's a good chance that your answer would be "Accountant."  I'm not saying that's a good or bad thing, but I am saying that if you're a lady and you bid on Chris, you better be prepared for him to get out a tip calculator on your date.
-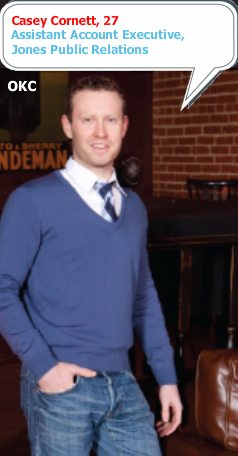 Casey Cornett
Auction Value: $0.01
Mayor Cornett has like 10 sons and Oklahoma Magazine picked the 27-year-old Twitter addict?  If anything, they should have picked the one who plays guitar.  He's kind of cool.  Oh well, at least they didn't pick the son who plays video poker all day at Buffalo Wild Wings.
Anyway, I think it would be kind of funny if Casey really did go for a penny.  We'd call it the MAPS bid.
-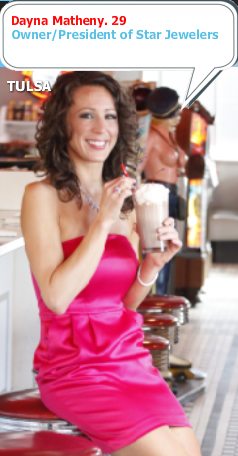 Dayna Matheny
Auction Value: $2,500
Pink Dress?  Check.  Milk Shake?  Check.   Odd topless nude mannequin looking thing in the background of the photo???  Triple check!!!
Seriously, where did they take these pictures?  Joe Dorman's kitchen?  Speaking of Joe, I wonder why wasn't he invited to participate in this event.  The only person I can think of who's more single and more in the city than Joe Dorman is Mark Rodgers.
-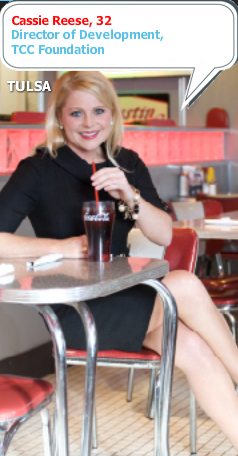 Cassie Reese
Auction Value: $3,400
According to the news release, the sponsors of "Single in the City" are Oklahoma Magazine, Skky Bar Ultra and 98.9 KISS FM.  I didn't read anything about Coca-Cola being a sponsor, but after seeing that picture, they probably should be.  Seriously, if hot girls like Cassie Reese drink Coke, I'll drink Coke.  Also, let it be known that if I find out Cassie slipped Diet Dr. Pepper into that glass, I'm moving to Tulsa. MeyersMustache.com has a nice ring to it.
-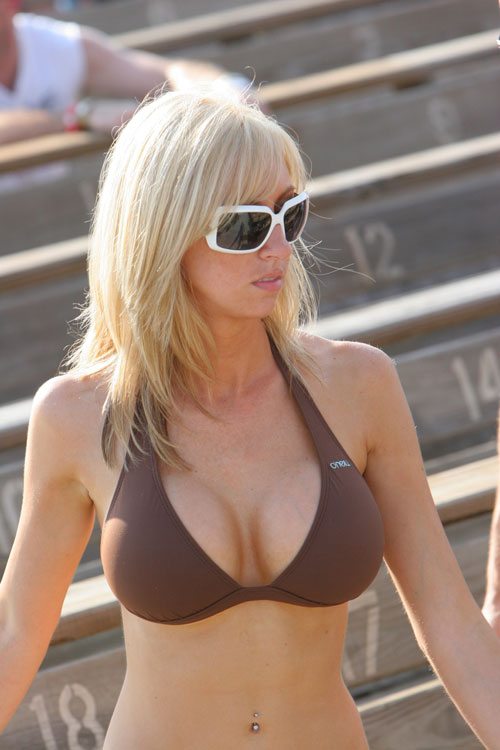 Ms. Rocklahoma
Auction Value: Just Kidding.
-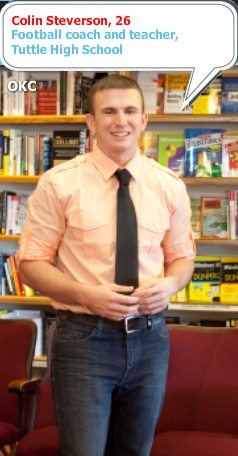 Colin Steverson
Auction Value: $12
Uhm, I'm not a stylist, but Colin's jeans looks like they were bought at Anthony's.  Also, that tie seems a bit too short...just like his hair cut.
That being said, we're not going to hold Colin's wardrobe or look against him.  He's a football coach at the high school where Jason White once played.  I think it's a local mandate that all Tuttle citizens must purchase new clothing from Jason White's Store Divided.  That's why we should all stay away from Tuttle.
-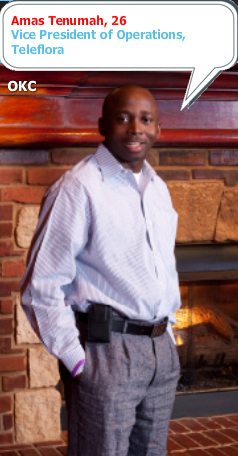 Amas Tenumah
Auction Value: $43
Hey, we have the token...wait....nevermind.  I do want to try to keep my column-writing gig after this post, so I don't want to write anything that can bee deemed too controversial or politically incorrect.  Instead, I'll write something bland and lame:
Amas Tenumah may have an interesting name, but is an even more interesting person!   As Vice-President of Operations for Telaflora, Amas knows that hard work is the key to becoming successful!
-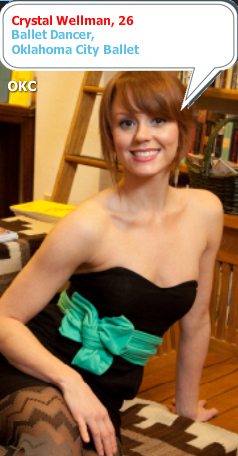 Crystal Wellman
Auction Value: $232,000
Let me share a little secret about me.  I love the ballet.  But even that's an understatement.  I really really love the ballet.  In fact, I once dreamed of being a ballet dancer, but that was before I became incredibly wealthy and decided to spend my days volunteering for noble art causes and saving puppies.
In other news, I also like hot red heads who wear greenish-blue bow thingies.
-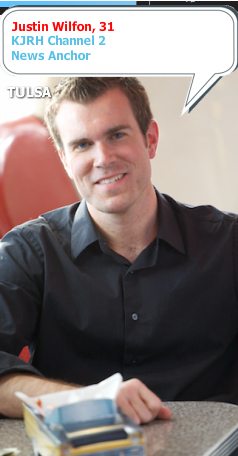 Justin Wilfon
Auction Value: $19
Apparently, this guy is a news anchor in Tulsa.  Knowing that, how much do you want to bet that Alex Hines, Rusty Surette, Curtis Fitzpatrick, Paul Folger, Brent Skarky, Jim Roth and Brittany Novotny are organizing a car pool to Tulsa as you read this.
-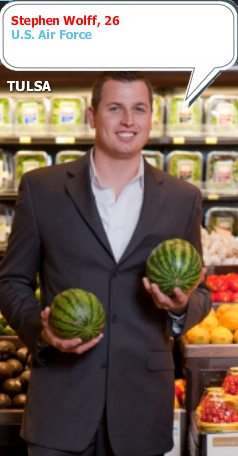 Stephen Wolff
Auction Value: $14
The photographer looked at Stephen and said "Hey, want to hold some melons."  Stephen said, "Sure."
p.s.- My other idea was "Stephen is showing the differences between a 21-year-old melon and a 51-year-old melon."  Ha ha.  Get it?
-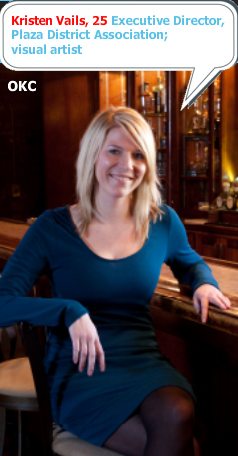 Kristen Vails

Auction Value: $30,000
Well, here's another conflict of interest.  Kristen is with The Plaza District.  They have advertised on our site a couple of times, therefore her value is pretty high.  Also, she really really really really likes horses.
-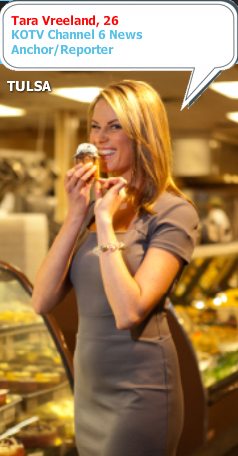 Tara Vreeland
Auction Value: $198,000
Tara, meet Lauren.  Lauren, meet Tara.
Seriously, if we ever do a "Top 20 Hottest Women in the Tulsa Media" there is a good chance Tara will make the Top 3.  The whole ice cream cone thing may even push her by Chera Kimiko. And we won't use the ghost picture from the NewsOn6.com website.  That picture is kind of scary.
-
So that's our little run down of some of this year's "Single in the City" participants.  Remember, this auction is for a good cause so you should go.  For more information and to see all of this year's singles, go to the Oklahoma Magazine website.  While you're there, tell them how much you love my column and to give me a raise.
Stay in touch
Sign up for our free newsletter