Everything Else
MAPS 4 A Bowl Game (Okay, Not Really)
1:15 PM EST on December 7, 2009
I want to divert your attention from MAPS3 for about ten minutes to talk about something really important: Football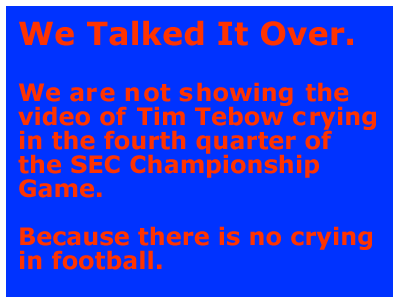 In case you didn't notice, this past weekend, a little bit of football was played.  The Sooners missed the Big XII championship game for only the third time in a decade. Oklahoma State fans were looking on in amazement at the hotel prices in Dallas. And a Snuggie was your blanket.  But here's some thoughts coming out of the last football weekend of the season:
There's No Crying In Football, Part I: The Stitch in Time. Texas Can No Longer Complain About the 2008 Big XII South tiebreaker. For the second time in two years, a Big XII team goes off to play the SEC championship after losing on the field. Texas got its affirmative action trip to the BCS championship game when, despite crappy clock management (see also Les Miles against Ole Miss) and an offense that looked like it needed to go to Cozumel and score some street Viagra, Hunter Lawrence shaved the upright with a 46-yard field goal with minus one second left to send Texas off to play Alabama in Pasadena. C'MON, Colt McCoy! You've got seven seconds and a time out, and you throw the ball out of bounds at :02 after a scramble? Thanks to Walt Anderson (Big XII head of Officiating) and Dan Beebe (Big XII commissioner), Texas got another crack when their clock review found a magic tick for Texas. Quote of the game goes to Mack Brown, who knows he just got an early gift from Santa: "They whipped us," referring to Nebraska's performance against Texas.
Boom-Boom! Out Go the Lights! After 130 straight games ranked in the Top 25, the USC Trojans are out. For anyone who was wondering, the number of losses it takes to knock a Pete Carroll-coached USC team out of the AP top 25? Four. USC lost four games in conference play by an average of 19.5 points. The number of losses it takes to knock the Sooners out? Three, by a total of five points.
There's No Crying in Football, Part II: Gator Fans Need To Quit With The Crocodile Tears And STFU. I love watching Tim Tebow play football. When he's on his game, he plays with energy and zeal. He hits and is willing to get hit. Yeah, the Jesus Boy stuff is over the top. We've all seen enough stories about Saint Timothy the Virgin Heisman Trophy Winner. But he's fun to watch play football -- you know, like a kid in a Pop Warner league who can acutally spiral a pass. I'm not going to go hating on him for crying at the end of the SEC Championship game, even though there is no crying in football. But I'm gonna take a poke at Florida Fans, who are historically the rudest, most obnoxious, unpleasant fans in college sports. Quit crying about losing to "˜Bama, quit crying about people picking on Tebow, quit crying about people taking joy in your losses. That's championship football! When you're a winner in college football, and you stumble, people jump on you, hard. Welcome to the bigs, Swamp Lizards.
Directions to the Sun Bowl, for Sooner fans: Leave O'Connell's. Go west on Lindsey to I-35 South. Drive 215 miles to Fort Worth. Take I-30 West six miles to I-20 West, but first get a case of beer, because it is a two-six-pack drive (425 miles) to I-10 West of Pecos. I-10 West into El Paso, exit 18A at Schuster Avenue, follow the signs to the Sun Bowl Stadium, home of the UTEP Miners. Bring sun block and bail money. And if you go to Juarez, well, it was good knowing you . . .
Bobby Bowden Finally Found the Exit, three years after the Florida State Athletic Association showed it to him when they hired head-coach-in-waiting Jimbo Fisher away from LSU. It was good watching you, Bobby, but you stayed too long. FSU now begins the long climb from mediocrity behind a guy who was already being blamed for this season. I'm surprised the Sooners aren't playing them in the Sun Bowl, but Bowden gets to "coach" against his previous employer, West Virginia, in the Gator Bowl. Maybe they'll let him "coach" both teams so he can leave with a win.
Bob Stoops Still Isn't Going to Notre Dame. No.

Really

. Does a guy building a new mansion in Norman (36th and Franklin Road) sound like someone who is leaving town? Enough with the speculation. And, for the national media, why not actually come to Norman instead of relying on blog tips?
Ivan Maisel Makes The Worst Damned Defense For The BCS System To Date: "The problem is not new. The BCS Championship Game has only two sidelines. And the teams that will fill them bring not only well-coached talent but history and tradition." Ivan, you know I usually love your work, going back to Dallas, but get real. Texas backed into this thing because they started the season ranked higher and kept just winning until they got handed the Big XII championship (see #1 above).
Speaking of Which: The Cincinnati Chick-Fil-A Bearcats or the TCU Horney Toadswould make a better matchup for Alabama. But no one thinks the Big East is "really" a major conference when one of the basketball schools wins the title, and TCU got screwed out of the Big XII when Texas Gov. Ann Richards wanted Baylor brought in back in the 1990s. Remember Ivan, TCU is the last team to beat OU at Owen Field.
Best Non-BCS Bowl: Clemson versus Kentucky, at the Gaylord Family Memorial Hotels Music City Bowl (Not at Owen Field). Laying aside the obvious question "why does the Gaylord Family have its bowl game in Tennessee?" the Music City Bowl features a Clemson team that almost won the ACC (losing to Tech twice, by three and five points) and who beat #10 Miami in overtime. Kentucky beat both Georgia and Auburn on the road for the first time in modern history (venues as tough as Owen Field). Take away consecutive losses to #1 Florida and #3 Alabama, and the Wildcats lost three games by a total of 13 points. Randall Cobb and the Wildcat's use of the wildcat offense make UK fun to watch. How about some MAPS money to move this bowl game to Norman?
Worst Non-BCS Bowl: LSU versus Penn State in the Capital One Bowl. Former national title contender LSU lost three games in the fourth quarter (Alabama, Florida, Ole Miss), and their biggest wins are over anemic Arkansas and Georgia teams (one of which was in overtime, the other of which was a mercy win due to bad officiating). Penn State? Well, they can take the batteries out of Joe Paterno now, because Bobby Bowden isn't going to catch him. This looks like a snoozer from the start, a good reason to go out for brunch New Year's Day. But first, someone give The Hat a watch.
There's No Crying In Football, Part III: Okay, I am going to pick on Tim Tebow a little bit. Herschel Walker never cried, even though he had multiple personalities. Or when he played in the Sugar Bowl and rushed for 150 yards with a dislocated shoulder. Neither did Joe Namath (a 'Bama, Bear Bryant QB), and he wore panty hose.
We changed our minds. Here's the Crying Tebow video, via the Huffington Post. I mean, really-- this is football. There is no crying when you lose. The glory belongs to God (Roman's 16: 27).
Stay in touch
Sign up for our free newsletter