Everything Else
Peace, Love and Thunderstanding: Getting Better
9:31 AM EST on February 6, 2009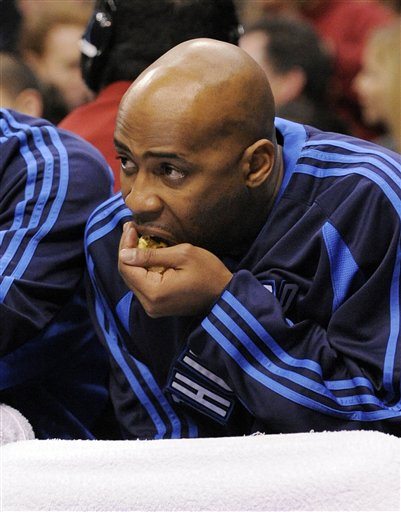 A month ago, it would have been lunacy to suggest this team would finish anywhere but dead last. As I write this, though, there are three teams in the National Basketball Association (Washington, Sacramento, and L.A. Clippers) with worse records than our Oklahoma City Thunder. Obviously, the team is playing better, but one has to ask: How did a team that won only three of their first 32 games end the month of January 11-36?
Young Players Maturing
Before the season, I suggested that this inaugural season would be ugly because the young players on the team needed seasoning. Barring an incredible last half of the season, I doubt I'll have to eat my words about this season being ugly. On the other hand, those young players are definitely showing improvement.
For instance, everyone already knew that Kevin Durant could score. That's how he won the Rookie of the Year Award last season despite playing for the second worst team in the league. This year, he has continued to exhibit this skill with 25 points per game. In the past month, however, he has proven to be more of an all around star. Durant has been a double-double machine by grabbing double digit rebounds in eight of the past sixteen games. His average over that span is 8.5 rebounds compared to his season average of 6.6. Not bad considering he still has a lot of room to bulk up.
In addition to those rebounds, Durant has shown more talent for burning defenders for double teaming him. The 3.5 assists he dished out per January game were nearly one better than the 2.7 he averages on the season. Plus, while defense is difficult to prove using statistics, Durant's steal numbers were higher and the naked eye can see he is giving more effort to frustrate opponents with his long arms.
The Thunder's other young stars are starting to come into their own as well. Jeff Green averaged 17.5 point, 7.7 rebounds, and made 42% of his three point attempts"¦not to mention exhibiting a propensity for hitting improbable shots when it counts. Then, there is Russell Westbrook who is making his case to be this year's Rookie of the Year. While he still turns the ball over too much, he is getting better at becoming tunnel-visioned when he drives to the basket and has become one of the better rebounding guards in the league.
Shorter Rotation
Early in the season, former coach P.J. Carlesimo acted like a YMCA league coach trying to get everyone on the floor. The results were awful""as witnessed by the 1-12 record the team owned when he was canned. Then, guys like Robert Swift, Damien Wilkens, and Johan Petro were getting undeserved playing time.
These days, the only time more than eight players (nine tops) spend time at the scorers table is if there is a blowout. The benefit is twofold. 1) Most of the players getting extra floor time are the inexperienced players the future of the franchise is hinged upon. Their improvement in play can be directly attributed to playing more. 2) By limiting the number of players who get on the floor, the line up combinations are more stable. There is less shifting around of who is playing what position or who is guarding whom, in general, the players are more comfortable with what they are on the floor and better in tuned with what those sharing the floor with them are going to be doing.
Nenad Kristic
Sure, he is not a starter, yet. Krstic, though, has had a profound impact on the team. He is a true center with a well honed skill set (which cannot be said of any of the centers that have been drafted to the team), and he has improved the outside shooting ability the team possesses because he can hit 20 foot jump shots.
That last point actually makes the Thunder a very difficult team to game plan against. Currently, the two players who can make you pay for leaving them open for outside shots also happen to be the players that are generally guarded by shot blockers. With Kristic and Green forcing the opposing big men to drift away from the basket, Russell Westbrook and Kevin Durant have more freedom to drive in close""giving them more "easy" shots like dunks and lay-ins""with less fear of having their shots tossed into the stands.
-------------------
Trade Rumors
With the all-star break in the near future and the trade deadline soon thereafter, the rumor mill should be hitting high gear.  That is because the Thunder, despite their recent success, are nowhere near being a playoff contender and the team is loaded with players who could be coveted by other teams.  Among those players are (reasons for trading/reasons teams might desire in parenthesis):
Earl Watson (wants out of OKC/contenders needing point guard depth)
Joe Smith (front court depth for a contender/expiring contract)
Chris Wilcox (does not appear to be in team's long term plans/expiring contract/front court depth for contender)
Nick Collison (wants out of OKC/solid big man)

Desmond Mason

Chucky Atkins (contender needing point guard depth/virtual expiring contract)
Damien Wilkens (not sure why anyone would want him)
Oddly, there has been a lack of chatter thus far.  The only name I've heard specifically being mentioned as possibly coming to Oklahoma City is Sacramento shooting guard John Salmons (for an expiring contract and probably a draft pick).  Salmons is signed through 2011 (earning about $5.5MM/year) and has a reputation as a chemistry killer.  On the other hand, he does average nearly 19 points per game and make 41% of three point attempts.  Plus, with the loss of Desmond Mason the Thunder are down to Kyle Weaver as the starting shooting guard with only Damien Wilkens and point guards to sub in for him.
Taking advantage of the Kings' efforts to blow up the team may be the best deal for which the Thunder can hope.  I still believe that the Magic will eventually come around and offer up J.J. Redick for one of the big men on the trading block.  In the meantime, I'll keep on the watch for what else might be in the works.
Clark Matthews is a world-class checkers champion, co-founder, and basketball editor-emeritus of The Lost Ogle
Stay in touch
Sign up for our free newsletter