Politics
An Investigative Report: In Which Film Did Mary Fallin Appear As An Extra?
3:00 PM EDT on October 16, 2007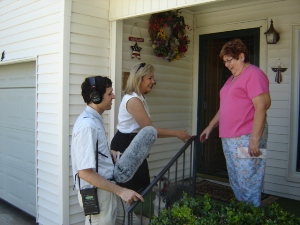 As we all know, Mary Fallin was recently named one of the "50 Most Beautiful People on Capitol Hill" by the The Hill, a Washington D.C. based newspaper. Here is an odd snippet from the newspaper's odd profile on Ms. Faith, Family, and Freedom:
When Rep. Mary Fallin (R-Okla.) was in her 20s, she was an extra in a movie starring Molly Ringwald.

Fallin, 52, doesn't remember the film's title, but was also an extra in several other independent, "walk-by-type" movies and did some modeling, too.
Okay. Now, we're not some important member of the United States Congress, but does anyone else think it's strange that Ms. Fallin can't remember the name of the Molly Ringwald movie? How in the world could you forget something that cool? We think it might have something to do with the fact that Mary Fallin is a politician. One thing we don't know if you all have noticed, but it seems like sometimes politicians do not tell the whole truth. We understand that may be a controversial statement, but that's just how an Ogle rolls.
With that in mind, in this first ever Lost Ogle "Investigative Report," we examine the possible Molly Ringwald flicks that Mary Fallin may have been appeared in as an extra, and investigate why she couldn't "recall" which movie it was.
Check it out after the jump...
We think the reason Mary is not able to recall the movie is because she:
a: lied about the whole thing and never really appeared in a Molly Ringwald film,
b: appeared in a really bad Molly Ringwald Film,
c: appeared nude, drunk or stoned in a Molly Ringwald Film,
We searched high and low (read: went to imdb.com) to find the movies Molly Ringwald made during Mary Fallin's 20s, and here is what we came up with:
The Tempest
Plot(via IMDB): Philip Dimitrius's marriage is on the rocks; he searches for a more meaningful experience returning to his roots in Greece. While his wife is off gallivanting with a Greek tycoon, Philip falls for the footloose Aretha.
Rating: PG
Reason Mary Fallin "cannot recall" that she was in this movie: Not having seen this, we at first assumed the reason that Congresswoman Fallin "couldn't recall" being in this film is that it was really bad. But then we noticed it got a decent rating from imdb.com viewers. Deeper we dug! It was the plot synopsis that tipped us off: It deals with a person screwing around on their significant other! No wonder she didn't want this revealed; it just associates her name with infidelity yet again.
Packin' It In
Plot: In quest of a wholesome place to live: at first the Webbers laugh at their neighbors when they leave L.A. for the mountains of Oregon. But when they recognize the same symptoms in their family that made the neighbors leave, they follow them. However their new domicile is a bit more apart from the civilization than expected. Even then it's not a paradise: their neighbors are weird, the next shop is miles away and their house lacks even the most basic comfort. How long will it take until they're packin' it in again?
Rating: NR
Reason Mary Fallin "cannot recall" that she was in this movie: As you see, this movie has no rating. This could conceivably be because the movie was horrible and went straight to video or something, or because the movie was so filled with sex, drugs and various other forms of debauchery that it could not be screened in the United States. As you may have guessed, we at The Lost Ogle are going to assume that the latter is the case. What did Rep. Fallin do in this movie?! Was it a nude scene? Coke lines off Thai hookers? We must know!
Spacehunter: Adventures in the Forbidden Zone
Plot: Three women makes an emergency landing on a planet plagued with a fatal disease, but are captured by dictator Overdog. Adventurer Wolff goes there to rescue them and meets Niki, the only earthling left from a medical expedition. Combining their talents, they try to rescue the women.
Rating: PG
Reason Mary Fallin "cannot recall" that she was in this movie: Again we thought that perhaps it was because this film was bad. Still though, we think it may have something to do with that pesky word "Forbidden" you see in the title. Just what happened in this so-called "Forbidden Zone?" We don't know, and probably never will, because wild horses could not drag us to see a movie with this title.
Sixteen Candles
Plot: Samantha's life is going downhill fast. The fifteen-year-old has a crush on the most popular boy in school, and the geekiest boy in school has a crush on her. Her sister's getting married, and with all the excitement the rest of her family forgets her birthday! Add all this to a pair of horrendously embarrassing grandparents, a foreign exchange student named Long Duc Dong, and we have the makings of a hilarious journey into young womanhood.
Rating: R (Lost Ogle editor's note: WHAT?!)
Reason Mary Fallin "cannot recall" that she was in this movie: Come on. Do you really think Mary Fallin is going to admit being in a film that has a character named "Long Duc Dong?"
There you have it. The facts are in. We report. You decide. Which of these movies did Mary Fallin appear in?
Stay in touch
Sign up for our free newsletter