OKC Media
Oklahoma Initiative Ideas: 90-81
5:02 AM EDT on October 1, 2007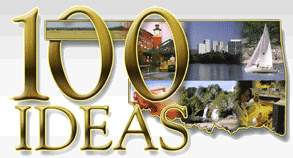 Last January, State Speaker Lance Cargill created some weird thing called the Oklahoma 100 Ideas Initiative. Here's how it was described:
The 100 Ideas initiative will change the way business is done at the State Capitol. Instead of legislation originating from lobbyists, special interests and government employees, this initiative seeks ideas from the private sector and from citizens across the great state of Oklahoma. Once the initiative is complete, the top 100 ideas will be published in a book and presented to the Oklahoma State Legislature.
Since we are citizens from the "great state of Oklahoma," we decide to contribute our own 100 ideas for the initiative. But since we're pretty sure that Speaker Cargill and his friends won't put any of them in his book, we figured it would be better to share them here over the next few weeks.
After the jump: Ideas 90-81
90. During all Zoo Amphitheater concerts, randomly feed one drunk guy to a bear or lion.

This would be an excellent way to spice up all those boring Poison and Lynyrd Skynyrd reunion shows that make there way to the zoo. There would also be a couple of provisions:

"¢ The next time Hinder performs at the Zoo, feed one member of the band to alligators.

"¢ The next time The Flaming Lips play at at the zoo, feed one member of Hinder to alligators.
89. Dye the Red River green on St. Patrick's Day. Promptly blame it on Texas.

I'm not sure why this is a good idea, but it seems kind of fun. Green is also my favorite color.
88. Play the "Soul Bowl" and "Polo Bowl" at Gaylord Family Memorial Stadium as a doubleheader.

The "Polo Bowl" is the annual rich-kid football battle between Heritage Hall and the Casady School. The "Soul Bowl" is the yearly East Metro clash between Millwood and Douglass. At the "Polo Bowl," the kids playing in the game have names like Clayton, Aubrey and Jeffrey. The "Soul Bowl" is now played on Saturday afternoons to deter gang violence and fights. Yeah. These games have to be played at the same place on the same day.
87. Make the Gazette the official "newspaper of record."

The Gazette is our second favorite "alternative" newspaper, right behind Look at OKC. Just kidding. We actually thought that the Gazette should be the "newspaper of record" before they wrote about our Top 100 Oklahoma Embarrassments in the Chicken Fried News. That's because we think it's cool for the "newspaper of record" to not only provide good writing, interesting features and cool stuff about the art and culture scene, but also publish ads for "massage parlors" and "date lines." They have a hot "ass-pub," too. Go Gazette.
85. Create the group "Oklahomans for Old and Archaic Laws" to rival "Oklahomans for Modern Laws."

Listen, we are very supportive of Oklahomans for Modern Laws and their efforts to create an open Oklahoma marketplace for the sale of wine and beer. But we feel that to keep things fair and balanced, somebody needs to create an organization dedicated to preserving the restrictions and prejudices of the many old and archaic laws the have been forced upon Oklahoman's for the last century. We also think that the Daily Oklahoman would be an excellent sponsor of this new group.
84. Name Curtis Fitzpatrick as the Grand Marshal of the Oklahoma City Gay Pride Parade.

This Sports Animal talking head would be an excellent choice to marshal the annual Oklahoma City Gay Pride parade. He's thin, single, and neat, and has a job in the sports media, which tears down some gay stereotypes. Of course, we are not sure if Curtis is gay, but we don't really think it matters.
83. Name Brent Skarky as Vice-Marshall of the Oklahoma City Gay Pride Parade.

About the only thing we know about Brent is that he couldn't succeed in Oklahoma City as a weekend sports anchor, and is now the host of some weird thing called the OklaTravelNet. However, we did find this ghey picture of him, which seems to qualify him for the Vice-Marshall position.
82. Ban any individual named "Bob" or "Barry" from working on television or radio in Oklahoma.

Not only will this law get Bob Barry Sr. and Bob Barry Jr. removed from the local TV and radio airwaves, but it will also protect future generations of Oklahomans from being forced to watch or listen to future Barry offspring.
81. Declare Ashlynn Brook as the city's Tourism Ambassador.

As we discussed in the past, Ashlynn Brooke is Oklahoma City's best porn star. She would also be our best tourism ambassador. Seriously, with Ashlynn appearing in tourism commercials and billboard advertisements all over the country, tourist would flock to Oklahoma City in droves. Plus, embracing Ashlynn and showcasing her success may inspire future generations of attractive Oklahoma City girls to become porn stars.
Other Ideas: "¢ Ideas 100-91 P.S.- Please note that unlike our Top 100 Oklahoma Embarrassments, our 100 contributions are not "ranked" in any way. And if you have any ideas that you would like to see on our list, send us an email. We may include it!
Stay in touch
Sign up for our free newsletter