Enjoy FREE Team Trivia at Theopolis Social Club!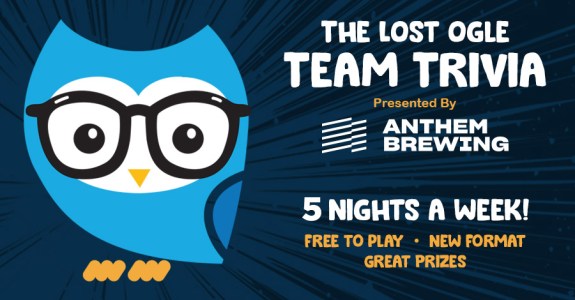 If you like good food, classic cocktails and at least think you're smart, it's time to gather up your friends for trivia night at
Theopolis Social Club
! Presented by
Anthem Brewing
, Lost Ogle Free Team Trivia is the state's most popular and regaled trivia night, bringing big smiles, quizzical looks, and feel-good buzzes to thousands and thousands of people across Oklahoma since 2010. Taking place on the first and third Thursday of each month at 7:00pm, FREE Team Trivia is a timeless and classic way to have fun with friends, and win prizes in the process! Here's how it works: • Gather up some friends and form a trivia team! Team sizes can be as big (or small) as you like. • Bring your team to Theopolis and compete against other teams in a live on-site trivia event. • After four rounds, 21 trivia questions and hopefully a couple of laughs in between, the top three teams take home the following prizes:
First Place:
$50 House Cash
Second Place:
$25 House Cash
Third Place:
$10 House Cash It really is that simple! For rules, details, and our full bar entertainment schedule – including bingo and music bingo –
click here,
or just follow us on
Facebook
or
Twitter
. We hope to see you out!