Hoot Holiday Trivia & Singo Schedule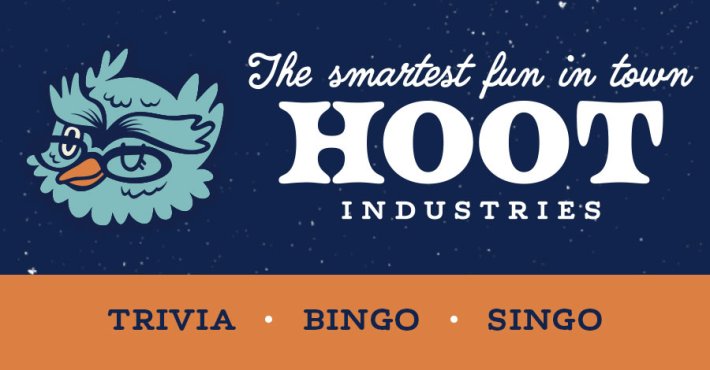 Grab the friends, cousins, and reindeer for some holiday fun with FREE Team Trivia, Singo and Jackpot Bingo with Hoot Industries!
We'll be asking heavy doses of Holiday-themed trivia questions at all Free Team Trivia locations – including a special Seinfield-themed night for Festivus – and spinning sing-along Christmas classics at all Singo locations. We'll also be giving away over $1,000 worth of prizes in the process!
FREE Team Trivia
Monday:
Bar Cicchetti (Deep Deuce) • 8pm
Tuesday:
Fassler Hall (Midtown) • 8pm
Solo's Park and Pub (Chisholm Creek) • 7pm
Wednesday:
Cock O' The Walk (N. Western) • 8pm
McNellies (Midtown) • 9pm
Thursday:
Anthem Brewing • 7pm

Friday:
Buffalo Wild Wings (NW Expressway) • 9pm
FREE SINGO & JACKPOT BINGO
Monday:
Fassler Hall • 8pm (Jackpot Bingo)
Tuesday:
Cock O' The Walk • 8pm (Jackpot Bingo)
McNellies • 8pm (Singo / Bingo Mix)
Edmond Ice House Project • 7pm (Singo)
Wednesday:
Solo's Park and Pub • 7pm (Singo)
Thursday:
Water's Edge Winery • 7pm (Singo)
Solo's Park and Pub • 7pm (Jackpot Bingo)
Mack & Ike's • 7pm (Guthrie)
Friday:
Anthem Brewing • 5:30pm (Singo)