The one where you can play Friends-themed trivia in Norman!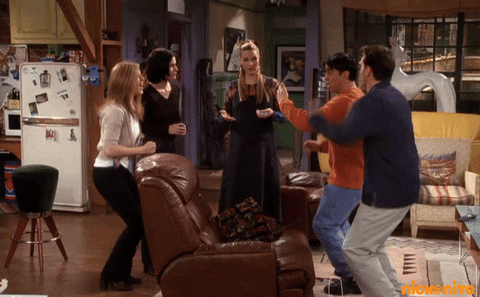 How you doin?! This Wednesday (September 8th) at 7:00pm we'll be hosting a free and special Friends-themed team trivia event at Buffalo Wild Wings in Norman! Yes, that's right. Every single trivia question we ask on Wednesday will be about the still-hit TV show Friends. They'll range from the easy ("What field of science did Ross study?") to the challenging ("What was the name of Joey's stuffed penguin?") to the impossible ("How did they afford and find such nice apartments in NYC?"). If you're not familiar with how team trivia nights work, here's a rundown: • Gather up some friends and form a trivia team! Team sizes can be as big (or small) as you like. • Bring your team to Buffalo Wild Wings on HWY 9 and compete against other teams in a live on-site trivia event! • After four rounds, 21 questions and two or so hours later, the top three teams take home the following prizes:
First Place:
$50 House Cash
Second Place:
$25 House Cash
Third Place:
$10 House Cash If you can't make it out this Wednesday for Friends trivia, we're also hosting The Office-themed trivia event at BWW's on Wednesday, September 22nd at 7:00pm! We also host Free Team Trivia (and Jackpot Bingo) all across the metro. You can view our full weekly schedule by
clicking here
. You can also follow us on 
Facebook
 or 
Twitter
. We hope to see you out!