Free Team Trivia comes to "Yo! Pablo" on Campus Corner!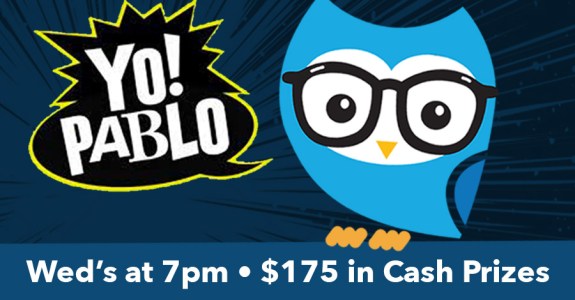 We have some great news to announce! Starting this Wednesday, October 20th, Free Team Trivia with The Lost Ogle makes its debut at
Yo! Pablo Tacos and Tequila on Campus Corner.
Whether you're an aspiring grad student, new Greek pledge, or just a regular old college dropout, it's the best trivia night in town, and a great excuse to hang out with friends, have a good time, and test your trivial knowledge! And to sweeten the pot like a long pour of Triple Sec, "Yo! Pablo" is also giving away CASH prizes to the top three teams. That's right – no house cash here. We're giving away the cold, hard, American stuff. Here are the payouts to the top three teams:
First Place:
$100
Second Place:
$50
Third Place:
$25 Presented by
Anthem Brewing
, Lost Ogle Free Team Trivia is the metro's most popular and regaled trivia night, bringing big smiles, quizzical looks, and feel-good buzzes to thousands and thousands of people across the metro since 2010. For rules, details, and our full bar entertainment schedule – including bingo and music bingo –
click here,
or just follow us on
Facebook
or
Twitter
. We hope to see you out!