Education
Ryan Walters more concerned about Bud Lite ads and "Protecting Girls Sports" than sexually abusive teachers…
9:07 AM EDT on April 18, 2023
Last week, a couple of all too familiar stories involving Oklahoma educators sexually abusing students hit the local news wire. 
On Thursday, Cody Barlow – a youth minister who served as the principal of Wewoka Middle School – was charged with two felony counts of lewd or indecent acts with a child under the age of 16.
Based on what allegedly happened, lewd and indecent seems like a kind way to describe them:
Barlow was said to often "roughhouse" with members of the boys basketball team in ways that made students uncomfortable.

"Barlow also spent inordinate amounts of time with boys alone in his office, despite there being no indication such boys were in trouble or otherwise there for disciplinary reasons," the lawsuit reads...

On the morning of October 12, 2022, a WMS counselor walked into Barlow's office and witnessed Barlow standing behind a 7th grade boy, rubbing the teen's shoulders and thrusting his hips back and forth against the boy, according to the lawsuit.

"[The WMS counselor] let out a yelp, but Barlow did not stop," the lawsuit states. "[The WMS counselor] then screamed. Barlow then sat back down and placed the boy in his lap, over what [the WMS counselor] observed to be Barlow's erect penis."
Well, that's disgusting. Hopefully, the abused students and yelping counselor get heavy doses of counseling, and Barlow spends a long time behind bars. 
Even though the case touched on core topics that he likes to talk about – grooming, homophobia, etc. – Oklahoma State School Superintendant Ryan Langston-Walters hasn't addressed the accusations. 
He hasn't run out to his SUV to film a video apologizing to the victims. He hasn't announced he's launching an investigation to see why there was such a slow response to address other allegations against Barlow. He hasn't announced he's forming a commission to figure out ways to prevent other pervs from harassing and targeting youth basketball teams. 
Nope, he hasn't done any of that. Instead, he's more focused on the literally non-existent problem of "boys playing girls sports."
At last check, there aren't any "biological" boys who identify as girls playing girls' sports in Oklahoma, but we sure do seem to have a problem with "biological" male coaches who identify as males doing inappropriate things with boys and girls who play basketball! (Example 1, Example 2, Example 3, Example 4).
Since that's a real problem that affects real students, you'd think that Ryan would be more concerned about tackling that issue than wasting his time addressing manufactured wedge issues that right-wing flack operations use to divide us. It's almost like he's nothing more than a stooge who isn't qualified for his office and is content to let groomers do their thing.
On the topic of stooges and groomers doing their thing, Barlow wasn't the only Oklahoma educator to make news last week. Meet Delaney Hancock: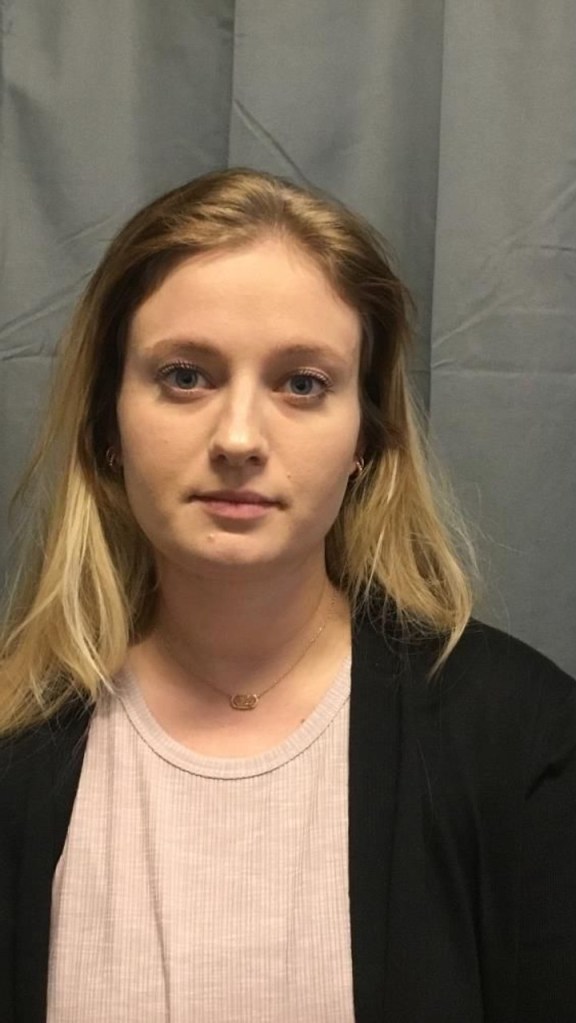 As you may have heard, Delaney – a substitute teacher from Wellston who is married to the police chief and is also the mayor's daughter – is accused of making out with a Wellston student, sending him nudes and touching him inappropriately. 
Here are some details via News 9:
According to an affidavit filed in Lincoln County District Court, an OSBI investigator interviewed the 15-year-old student who allegedly had an inappropriate relationship with Hancock.

Hancock began texting the 15-year-old boy in October to send him a school assignment, the affidavit said. After a few weeks, the teen allegedly sent a shirtless photo of himself to Hancock through Snapchat.

The affidavit said Hancock then responded, "Are we sending half naked pictures now?"

"I don't know, are we?" the teen allegedly replied.

"Are you trying to get me to lose my job?" Hancock wrote back, according to the affidavit.
Right or wrong, let's give that 15-year-old mac-daddy some credit – "I don't know, are we?" was a pretty smooth reply. If he was trying to get Hancock to lose her job, well, mission accomplished.
Probably because Delaney looks sweetly innocent yet very guilty in her mugshot – and is the daughter of the mayor and married to the police chief – news about her arrest has gone viral on the international tabloid news circuit:
With the continued problem of Oklahoma female teachers with low self-esteem getting caught up with horny yet vulnerable Oklahoma teenage boys (Example One, Example Two, Example Three, Example Four, Example Five, Example Six, Example Seven), you'd think Ryan would be focused on addressing this issue and protecting Oklahoma students from predators, but just like with abusive basketball coaches, he's totally ignored it.  
Instead, he's more concerned with sharing his "witty" responses to beer advertisements:
I'm not sure what's worse. Is it Ryan's lame attempt at a transphobic joke that projects his own insecurities like an unsure barista at the Harbor Mountain Coffee House, or the fact that he tagged Nathan Dahm in a desperate attempt to seek validation? 
Fortunately for Ryan, his attempt was successful: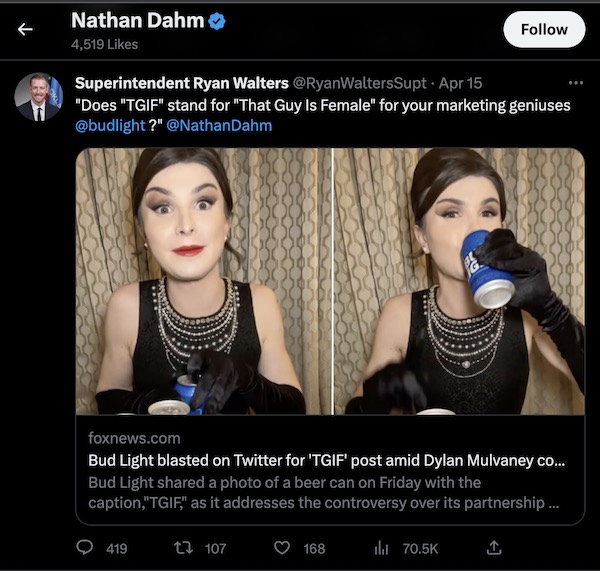 When it comes to Ryan and Nathan, I think a good acronym for TGIF is "Two Goddam Imbicilic F*cknuts."
Anyway, what were we talking about again?
Oh yeah, Ryan Langston-Walters being more concerned about the manufactured wedge issues of the day instead of trying to address real-life issues and concerns affecting Oklahoma students, parents, and the 99.99% of teachers who don't use their classroom as an opportunity to catch some juvenile tail.
It's something we've brought up a few times on this site over the past few months, and as Ryan Walters and our state's small minority of sexually abusive educators who target students continue to do their thing, something we'll probably have a chance to bring up again. 
Stay with The Lost Ogle. We'll keep you advised. 
Stay in touch
Sign up for our free newsletter