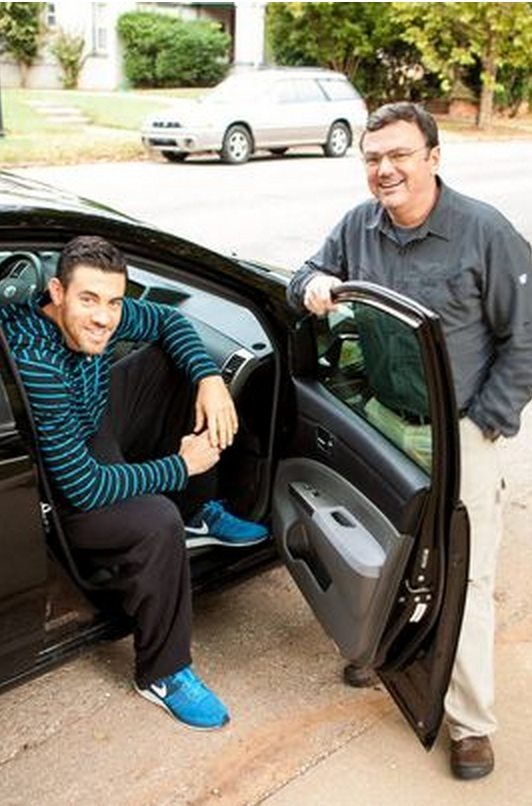 When Uber first popped up in Oklahoma City, I was skeptical.
They had an aggressive PR team, hired David Glover as their first driver and, well, something about having a stranger drive you around town in their own car seemed kind of weird. But like a good protagonist in a book, my opinion of the service has now changed.
I used Uber several times during my recent totally legitimate for tax purposes research trip to Denver. I loved it. I tried all three services – Uber X, Uber Black Car and Uber Huge Fucking Black SUV – and they were all great. It was convenient, the cars were all clean, and unlike the Oklahoma City real estate broker mentioned in this Brianna Bailey article, I didn't get bitch slapped by a driver.
Via NewsOK.com:
Oklahoma City Uber passenger sues after scuffle with driver

An Oklahoma City real estate broker claims in a lawsuit that he needs dental surgery after a late-night ride through the ridesharing service Uber ended with a punch in the face in the parking lot of an Arby's restaurant.

Phillip Mazaheri is suing former Uber driver Tyler McEuin for damages in excess of $75,000 after he claims McEuin assaulted him during a ride back from a Christmas party at the Colcord Hotel to Edmond in December 2013...
Mazaheri claims that McEuin became hostile and called his fiancee an obscene name when she began questioning the route he was taking up Interstate 44 to Edmond.

Mazaheri claims McEuin said "Do you want a ... [expletive] ride or what?" before letting the couple out of the car, and punching Mazaheri "without provocation," according to the lawsuit.
Let's be honest, nothing's worse than a backseat driver, especially when she's drunk and has no clue where you're taking her. They always scream and complain. Of course, there are two sides to every story:
McEuin, an Air Force veteran who recently separated from the military, claims in a police report that Mazaheri became belligerent and assaulted him...

McEuin claims Mazaheri and his fiancee began to complain loudly about the route he was taking to Edmond after he picked up the couple in downtown Oklahoma City.

McEuin pulled over into the parking lot of an Arby's restaurant at NW 23 Street and Interstate 44 to drop the couple off, but Mazaheri's fiancee refused to exit McEuin's vehicle, slapped him and tore off his hat from the back seat of the car, according to a police report.

McEuin also told police that Mazaheri grabbed him by the shirt and that he "feared for his safety," according to the police report.
I think this proves my theory that literally nothing good happens in an Arby's parking lot. Well, except for the curly fries. They're not so bad.
Anyway, this appears to be the case of a classic he said versus he and she said. To get to the bottom of it, let's be every day Americans and judge a book by its cover. Here are pics of the people involved. You tell me which one is telling the truth.
In one corner we have the Phillip Mazaheri and Caitlin Dempsey: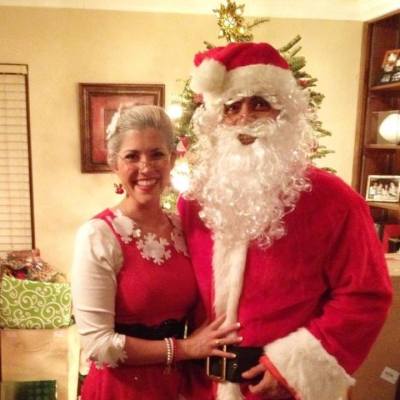 And in the other corner we have the Uber driver, Tyler McEuin: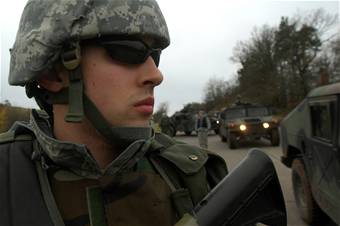 Okay, so our options are the commercial real estate broker and his fiance that dress up like Mr. and Mrs. Claus for Christmas parties, or the guy who served in the armed forces and risked his life protecting our country. Who would you believe? If you ask me, probably everyone is to blame. I bet it played out like this:
• Sober Uber driver picks up intoxicated Edmond couple from Christmas party at Colcord.
• Mouthy girl who forces fiance to dress like Santa Claus complains about route Uber driver is taking to Edmond, which depending on where they live in Edmond, is either a very absurd or very legitimate complaint.
• Sober Uber driver overreacts, loses cool, pulls over at an Arby's and asks couple to exit car.
• Girl gets mad. Fiance sticks up for girl. Chaos ensues. Dude loses tooth.
• Arby's employees have a funny story to tell their friends.
Again, that's all just a theory. I think we'll know how accurate it is based upon the number of angry, defensive comments Phillip and Caitlin's friends leave on the site telling us how awesome they are. If it's 10 or less, he probably deserved to lose a tooth.
Thanks to this incident, the taxi people are screaming about ridesharing programs being unsafe. From the same column:
Ridesharing services lack adequate insurance coverage and other safeguards to protect passengers, said David Sutton, spokesman for the Who's Driving You? campaign, launched by the industry group the Taxicab, Limousine & Paratransit Association. The campaign claims that ridesharing services are unsafe and unregulated.

"These services are under invested in their public safety costs, and it results in this type of thing— it's not that much of a surprise," Sutton said.
Listen, out of the eight times in my life that I thought I was seriously going to die, two of them occurred in the back seat of a cab. The most memorable was the time some friends and I rode in a mini-van taxi down I-35 from Edmond to Downtown. The driver was some tiny dude from the Caribbean who smelled like marijuana and burnt beans. He was blaring some weird form of reggae rap fusion and treated the highway like it was the Fuji track on Pole Position. His favorite thing to do was speed up behind a car, tailgate it, and then slam on his brakes. Seriously, it was like his favorite thing to do in the entire world. A couple of times, he even tried to drive in all three lanes at once. I'd take the risk of being punched in the face by an angry Uber driver over dying in a car wreck any day. Even with a broken tooth, you can still eat curly fries.

Stay in touch
Sign up for our free newsletter